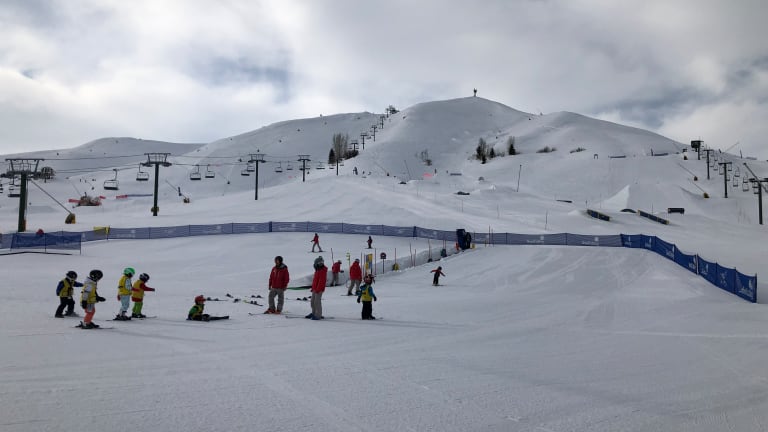 Should Families Invest in Ski Passes This Year
Gathering early season information to help all of us decide if our families should invest in ski passes this year, and if so, which pass.
We're already planning for our 2020-21 Family Ski Guide and praying that COVID-19 doesn't keep us all from enjoying the pow. As we are all reeling from the new reality, I'm starting to see offers come in from the multi-mountain passes. To make life easier for ski parents, I'm going to gather the information in one place to help all of us decide if our families should invest in ski passes this year, and if so, which pass. 
Related: Luxury mountain life at Powder Mountain, Utah
What the Multi-Pass Options Look Like Right Now
Let's dive into the options. These are multi-mountain, multi-state options. This is a work in progress. As the resorts sweeten the offers, we will update this information.
Ikon Pass
Here's what the folks at Alterra have come up with so far to help families plan for winter. Ikon gets you to 41 destinations -- 15 of them unlimited. Base price is $999. 
COVID UPDATE: Before you ski with your Ikon Pass, head to this page to see if you need to make reservations www.ikonpass.com/en/reservations
Renewal discount. Ikon is offering a discount of up to $200 when you renew before June 17th, 2020. This discount brings the price down to $799.
Longer Renewal Period. June 17th, 2020 is the cut-off date for these deals. It's unlikely we will know how winter will pan out, but the extension sure is nice.
Payment Plan. You can lock in your pass for just $199 down with 0% interest. 
Something new Adventure Assurance.  With Adventure Assurance, families can opt to defer a season. If the 20/21 winter season looks dicey, we can take a pass and go for winter 21/22. Like the pass pricing, this offer expires on June 17th, 2020. Note: You need to make a call on the season by December 2020. 
Get all the scoop and buy your pass here www.ikonpass.com/en/shop-passes/ikon-pass-2020-2021
Epic Pass
Epic is under the umbrella of Vail Resorts. There are close to 38 Vail-owned resorts with unlimited skiing and 7 more with partial access. For next year, the base price is $979 with kids offered at $499. Vail has an extremely generous offer making pass buying very enticing. They are providing credits to 2019-20 season pass holders, based on the price of their pass, to apply toward the purchase of a 2020-21 season pass of equal or greater value:
A minimum credit of 20% for season pass holders, based on the resort closures in mid-March impacting about 20% of the core season
Higher credits for season pass holders who used their pass less than five days
A maximum credit of 80% if you did not use your season pass at all, because they recognize that some of us were waiting until spring to use our passes
Epic Day Pass
For guests with remaining days on their 2019-20 Epic Day Pass, Edge Card or another Epic multi-pack pass products, they are providing a credit for each unused day, up to 80% of the price paid for your pass to apply toward a pass of equal or greater value for next season. Epic Coverage provides for a refund if you have an eligible injury, job loss, or experience other personal events that prevent you from using your pass. Epic Coverage also provides a refund for certain resort closures, including for events like COVID-19, giving you a refund for any portion of the season that is lost.
Epic Coverage: This is a free service for all pass holders and completely replaces the need to purchase pass insurance, which can cost up to $60 for other passes. 
For all passes, the credit will be valid through Labor Day (Sept. 7, 2020). This is amazing for folks like me, who are on the fence about passes.
Go here to get your epic pass https://www.epicpass.com/
Mountain Collective
As a refresher, with Mountain Collective you'll get 23 mountains in all with two days at each mountain for $469 ($99 for kids). There are zero blackout dates and half-off additional days.
They have five new destinations  to explore this upcoming season: Sun Peaks Resort, BC, Grand Targhee, WY, Panorama, BC, Sugarloaf, ME, Chamonix, France. 
What about the backup plan? They are also offering the "No Questions Asked" guarantee will allow you to receive a full refund on your pass purchase any time prior to October 16th, 2020.
Get your Mountain Collective Pass here mountaincollective.com
Indy Pass
If you want to visit a lot of different resorts at a great price, try the Indy Pass. For $199 you get two all-day or all-night lift tickets at each resort with limited blackouts. Most Indy Pass resorts will NOT have ANY blackouts but there are a few (check them out on the website). In addition to your two free lift tickets at each Indy Pass resort, you can purchase a third ticket at each resort for 25% off the daily rate.
You don't need a physical pass, once you've received a confirmation email that your Indy Pass is registered, you can go to any participating resort ticket window to get a free lift ticket (be sure to bring your driver's license, you'll need an ID to claim your pass). At some resorts, you will need to get an RFID card. 
New this year is the Indy+ Pass . This version is $299 and offers all the Indy Pass resorts with NO BLACKOUTS.
For kids , the rate is $99 for the basic and $149 for Indy+.  And we love the The Indy Pass "Get America Skiing Promise." You will receive an automatic credit to your account for a 2021-22 pass if, for any reason, you use your Indy Pass less than four days – no questions asked.
Zero days = 80% credit
One day = 60% credit
Two days = 40% credit
Three days = 20% credit
The price of all Indy Pass products including the Indy+ and Kids Passes will increase by 10% on December 1 and January 1.
Get your Indy Pass here www.indyskipass.com
4 Reasons to Wait Before You Get Your Multi-Resort Season Pass
This was a tough year for the Momtrends house when it comes to season passes. We all bought Ikon passes last year and, cue the sad violins, didn't get to use them because our two spring breaks were cancelled due to COVID-19 travel restrictions. Two of our family members didn't get any swipes on their Ikon passes this year. 
That hurts a lot. 
The "Adventure Assurance" program would've helped our family greatly. I'm not trying to be stingy and I recognize that mountains have taken a financial hit. I've gotten some pushback from the ski community that the season wasn't lost. But for us, we buy the passes for spring break specifically, so indeed, our season was lost. And I doubt we are alone. Here are my reason why it makes sense to wait or not buy a season pass this year. 
Lack of Transparency around travel. If we weren't at the mercy of school breaks to ski, we would've likely gotten some value out of our passes. The lack of transparency around travel restrictions for next year, is the number one reason we are waiting. Why buy a pass if we have to stay home?
Inadequate reimbursement from the previous season. As I shared, due to COVID-19, we didn't get value from our investment in passes last year. 
Health Implications. Skiing at larger resorts might not make sense. Looking at some of the lift lines at Vail might scare those who believe that social distancing is the key to moving forward. Skiing at smaller mountains where you can drive up, ski and then drive home, might make more sense.
Financial Insecurity. With unemployment skyrocketing, winter sports will certainly go in the luxury category. If your family is on rocky footing, it's best to wait on big ticket items like season passes. 
Reasons in Favor of the Getting a Season Pass
I shared the reasons why I'm waiting on my pass, now let's talk about the reasons why you might want to go for it. 
Money. No one ever said skiing was cheap. Sometimes I feel like I might as well open my wallet on the chair lift and toss out $20s. But experienced parents know getting a season pass can save you a bundle in the long run.
Convenience: You'll never have to wait in a ticket line again. Seriously, last year at Vail I waited in a 60 minute line for the "privilege" to buy a $120 lift ticket. When the powder gods are calling, you want to get on that lift as fast as possible.
Usage. A pass is pure magic when it comes to viewing winter as a "gift." It'll turn a so-so day into a ski day. Why? You won't feel like you have to pay for "just a few runs." If you've skied with tots (or tweens for that matter), you know enthusiasm can ebb and flow. The beauty of a season pass is that you are always in GO mode. Bottom line: Getting a ski season pass guarantees more family time on the slopes.
Variety. Passes are designed by master marketers. They build in all the little perks to get you to spend more days on snow and to try new resorts. A pass opens up new opportunities to venture off the beaten path on the hunt for fresh pow at a resort you've never tried.
Support the Industry You Love. Maybe this is the best reason to buy your family passes now -- IF YOU CAN AFFORD IT. Pumping money into the resorts will help the economy as a whole and get us back where we belong, outdoors on the snow.
Finally, A Pitch to Support the Small Guys
Let me put it our there that I 100% believe skiing with bounce back from this travel lock down. There will be snow and there will be skiing, what it looks like remains to be seen.
Since the larger mountains will likely get big federal aid, I'd first like to put my support behind the small hills that often get left out of big aid packages. These are the places where I'd love to see you invest your dollars and your season pass investments right now.
As I shared back in this article, a small local mountain is the place where the magic happens. 
Like the rest of the country, ski families have been battered both financially and mentally. I'm not sure if these discounted passes are enough to get us spending right now. 
As more mountains put offerings together, I will put together a comprehensive guide with our charts and checklists, as I did last year. All of this is meant to guide you through the options and help your family have the best possible experiences.
I know this was a TON of information to digest. Let me know if I missed anything! Will you buy a pass this season?
MORE SKI FEATURES FROM MOMTRENDS
PIN IT!
Use pinterest to save your favorite family travel features. Be sure to follow our Ski Moms Pinterest Board.
This is NOT a sponsored post. This was a labor of love.