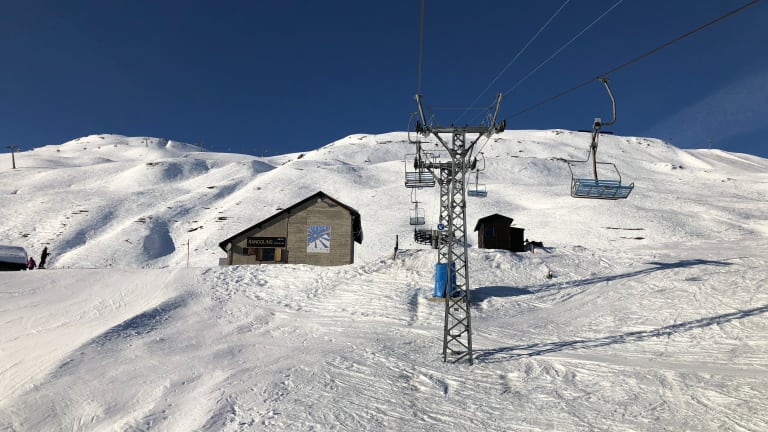 Seven Ways to Prepare Your Family for Ski Season During COVID
A checklist of things you can take care of NOW to make sure you have the best winter possible.
It's about 80 days until ski season, is your family ready? No doubt this will be an unusual ski and riding season. Reservations, limited access to lodges and COVID tests are some of the things parents will have to wrangle with. Here's a list of seven ways to prepare your family for ski season during COVID.
Related: Industry experts and ski moms weigh in on the ski season
Seven Ways to Prepare Your Family for Ski Season During COVID
We've got a checklist of things you can take care of NOW to make sure you have the best winter possible. 
Get a Flu Shot
We're all waiting on the magic COVID19 vaccine, which really won't be magic, and likely won't arrive until we are knee-deep in powder. One issue you CAN control is your yearly flu shot. Go ahead and get that early. 
The CDC says even though getting a flu vaccine will not protect you against COVID-19, it can still reduce your risk of becoming seriously ill from flu and even dying from it. In addition, getting your flu vaccine will also help to conserve healthcare resources like hospital beds, PPE, ventilators, etc. The less of a drain we all are on the medical system, the better. Head here to see where the flu is tracking. www.cdc.gov/flu/
Wear a Mask, Social Distance and Wash Hands
I'm not kidding, the best way to prep for ski season is to stay healthy. That means social distancing and wearing a mask. Head here to check out our favorite mask resources. 
Momtrends Tip: This one came from our exclusive Ski Moms Facebook Group. Jodi Sparkes says, "Pack at least 3 masks for your ski day. You're not going to want to wear you wet one around the lodge."
The above graphic came from the National Ski Areas Association and shows us what mountains are doing to keep us and their staff safe, we can do our part by being smart RIGHT NOW. That means doing all the things we see working to reduce the case load: masking, avoiding crowds, maintaining a 6' bubble when we are out, and washing hands.
Buy Your passes
Epic just announced that Reservations will be required to access mountains that use Epic Pass.  All the experts I'm talking to say the days of rolling into a mountain early and planning to get a pass at the ticket window are done. Epic says they anticipate being able to "accommodate everyone who wants to ski or ride at our resorts." The reservation system will act as crowd control on powder days.   
With Epic you can reserve up to seven "priority days." That means if you have a Christmas trip planned, book ahead! The exclusive reservation window runs Nov. 6 through Dec. 7. Find out more about the Epic reservation system here.
And if you are schooling from home, consider a midweek pass. Skiing and  riding makes for a great PE class as well as a mental health break. Of course, Epic has a pass for that too. Check it out here.
If you are still on the fence about which pass to purchase, read this article.
Momtrends Tip: This is also the year you will need to book lessons in advance. 
Get Your Gear Now
There will be deals to be had on ski and snowboarding gear. This will be the year to buy as no one will want to deal with day-of rentals. Another option is to get your skis early from your favorite rental shop. If you plan to ski for five or more days, seasonal rentals will pay for themselves.
Warm clothing will be important this year. There will likely be fewer spots on the mountain at the warming huts. Invest in good gear for the entire family (here's a resource list).
This is also the year to invest in a good ski/riding pack. Stash extra masks, snacks, and layers in here since we won't have the luxury of popping into lodges. Two packs to consider are the Osprey Women's 30L  and the Patagonia Descent (comes in 32 and 40L).
Jen Roe, who handles communications for Hunter Mountain and is a snowboard mom recommends some trial runs with the kids before ski season: "Have them practice getting in and out of their boots themselves at home. For little ones have them wear their boots around the house a bit to get used to walking in them. This will overall help you swiftly get on the hill and eliminate extra indoor time."
Consider a Seasonal Rental
This is the year to invest in a home mountain. If you can line up a seasonal condo rental, do it. It will minimize your time in busy resort areas. Contact a realtor in your area or start looking into seasonal rentals on VRBO. 
Ski Mom of four kiddos and VRBO home renter Kristen Haaijer says, "If your budget allows, and you're looking into a big ski trip this year, invest in on mountain lodging. I think the ability to walk to the chair, and go in and out of your own space for bathrooms and food, will be invaluable this season and possible next."
Momtrends Tip: Ski in/Ski out properties are going to be a premium. If the condo is close enough for lunch and bathroom breaks, book it now!
Get Snow Tires
If you don't plan on a weekend rental, you'll likely be a road warrior, this means driving in tricky conditions. Start researching snow tires NOW. Off-season is a great time to get deals. They are a super investment in safety. We've had both Bridgestone Blizzaks and Nokian tires and think both are awesome. Nokians, get the edge on performance.  
While you are at it, go ahead and join AAA too. It's nice to have that gold card in your wallet when facing snowy drives.
Think About an On-Mountain Homeschool Set-Up
I'm not kidding. Places like Jackson Hole are pitching families to come for the ENTIRE winter. If you have flexibility to work anywhere, why not? 
I was intrigued when I got a pitch from The Lodge at Jackson Hole. Located in Jackson, Wyoming, just a stone's throw from Grand Teton National Park and Yellowstone National Park, the idea would be to make Wyoming "home base" for families looking to take time away from their home offices/classrooms. With 154 well-appointed and spacious rooms, kiddos (and parents) can tackle their daily to-do lists before heading out into their new backyard for adventure and learning. 
Are You Skiing This Year?
Those are my tops tips? What else should we be doing to make sure we get on snow this year? I know there are still a lot of questions, but rest assured, I'll keep digging.
All the ski moms in my private facebook group (there are 500 of us) are concerned about how bathrooms will be managed. I reached out to Adrienne Saia Isaac, Director, Marketing and Communications at the National Ski Areas Association for information. 
Adrienne says that ski areas are developing cleaning and disinfecting plans, taking guidance from the CDC and EPA to determine the cleaning agents recommended to reduce the risk of COVID-19 transmission. She suggests that ski moms look at how our local area is managing bathrooms during their summer operation (if they have one). Ski area operating plans are thoughtful and thorough, so expect more specifics like this to be released closer to the start of the season, and be prepared for plans to be scaled or amended during the season in response to each locality's unique public health situation. 
MORE SKI FEATURES FROM MOMTRENDS
PIN IT!
Use Pinterest to save your favorite family travel features. Be sure to follow our Ski Moms Pinterest Board.
Momtrends was not paid for this post. We were given samples.