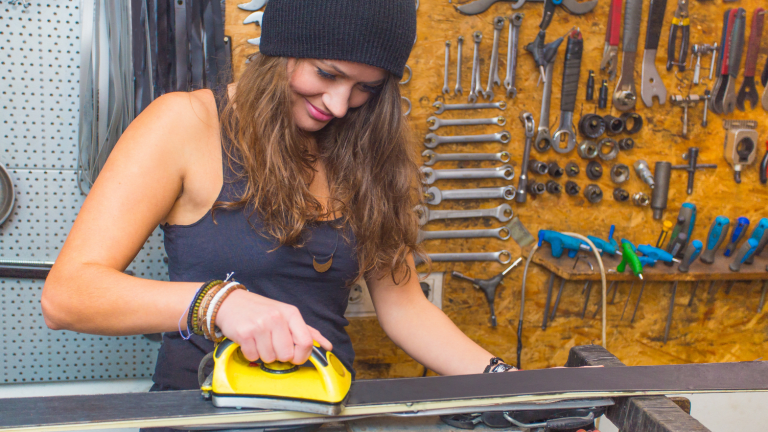 Prepping Your Ski Gear for Summer Storage
Tips for protecting your investment. Learn how to care for your snow sports gear to get many seasons out of your skis and boards.
April is the time many of us are hanging up our skis and boards for the season. The end of the season means it's time to do some end of season gear checks. We went to the experts to get tips for prepping your ski gear for summer storage and how to examine it for safety. Heidi Ettlinger is a professional ski instructor and works to help educate and empower women in snowsports. Read on for her advice.
Related: Comparing ski season pass deals for families
What is the best way to store skis/boots in the off season?
When your season is done, you need to give your gear a little TLC. With just a few hours worth of work, you can get a longer life out of your gear.
Skis and boots should be stored in a dry area with average room temperatures. Avoid areas that get excessively hot for long periods and lack ventilation.
Clean skis by removing excess dirt and grime while making sure to avoid using any cleaner in or on the binding.
Now it's time to prep the base. Wax skis and leave the wax covering the edges to avoid rust over summer.
Boots can be stored buckled with or without the liner in the shell. If you take out the liner shell, try tucking in some dryer sheets to keep any critters out of your gear.
Skis may be "tuned" in spring or stored with storage wax and "tuned" in the fall to coincide with other pre-season safety checks.
What do we need to do to check equipment for safety?
At the end each season, you should do a safety check of your equipment should include routinely inspecting your boots, bindings, and skis before you store your gear.
In the fall, it's time to head to your favorite ski shop for a thorough check. The boot, binding, and ski system should be checked by a Certified Binding Technician every 30 days of skiing and at the beginning of every season to ensure the system is functioning properly. Book your appointment in October, before the shops get busy.
A note about bindings: The binding is checked using a calibrater to ensure the system is functioning correctly including your personal binding release setting. Inspecting the binding also includes checking that parts are not cracked or corroded.
A boot check will determine if your boot can still safely connect you to your skis. If the boot contact area is worn, damaged, or contaminated, it's time to shop for new boots.
CHECK WITH A CERTIFIED BINDING TECHNICIAN IF YOU HAVE QUESTIONS ABOUT THE SAFETY OF YOUR GEAR.
When is it time to get rid of gear? Do skis, bindings or boots have a life expectancy?
Boots and particularly boot soles eventually need to be replaced fairly frequently. This may be due to excessive wear on the boot sole, or the plastic shell over time becomes weak and liable to crack or fall apart.
Bindings should be inspected by a Certified Binding Technician and determined if they are indemnified by the binding manufacturer. Once bindings are no longer indemnified, it means the manufacturer deems them unsafe and unable to be insured. 
Ski construction materials vary from ski to ski. Over time, and with use and exposure to the elements, they may not perform as well.
The base and side edges of the ski may become so thin after years of tuning that they can no longer be sharpened. When they are too thin, it's time to retire them. 
What should you know about buying used demo gear?  
If you are buying a used or DEMO ski, make sure to check with a Certified Binding Technician to determine that your ski boot sole is compatible with the binding on the demo ski.
Assess the condition of the base of the ski, and the edges. Determine if the demo ski you are considering meets the criteria for the type of terrain you enjoy skiing most often. 
Skis come in different widths, material constructions, tip to tail designs to perform better either on groomed, mixed terrain, or powder conditions, and varied lengths. Make sure the ski design matches your needs.
Ski technology evolves every year and particularly what is available for women specific skis. Locating a regional "demo-day" at a nearby resort or connecting with shops that offer rental demo skis is a great starting place to explore your options!
More About Our Expert
Heidi is an education developer and ski instructor who loves to design and implement exceptional experiences. She has taught families and guided their progression into lifelong snowsports enthusiasts across the globe. Heidi is on the current Professional Ski Instructors of America - Alpine Team, she serves on the PSIA-AASI Women's Task Force, Education Leadership Council, and the Western Division PSIA Education Staff. 
Heidi has dedicated much of her career to building and leading women's adventure programs (in winter and summer) for the public and professionals. Many of these have served as a catalyst for helping more women successfully pursue outdoor recreation, and for some professional endeavors in the snowsports field. She developed a nationally attended women's program (a collaboration of patrol, instructors, race coaches, and elite athletes) to help more women contribute to the diversity in leadership roles within the outdoor recreation industry.
Listen to Heidi's Full Webinar Here
MORE SKI FEATURES FROM MOMTRENDS
PIN IT!
Use Pinterest to save your favorite family travel features. Be sure to follow our Ski Moms Pinterest Board.
Momtrends was not paid for this post