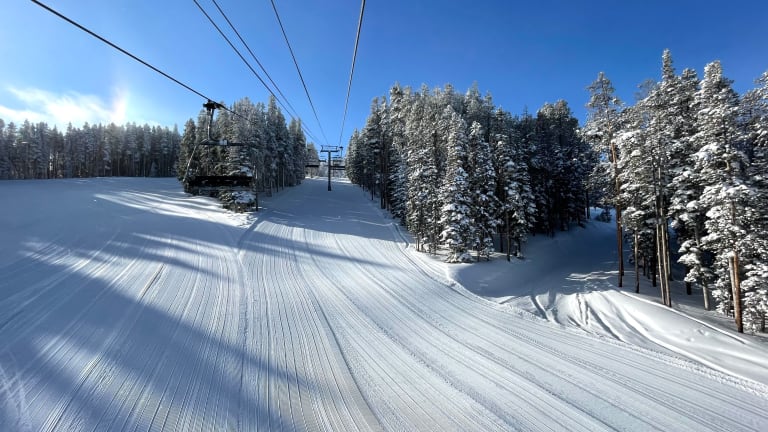 Playing in the Snow at Aspen Highlands
The least understood of the four mountains in the Aspen family offers a mix of serious skiing and serious partying.
The Aspen Company is lucky to have four mountains within an eight-mile drive. Each has a distinct personality and caters to a certain clientele. That being said, an advanced/intermediate ski family can have a GREAT time at each of these (though please note: some are better spots to learn than others). On my last trip to Aspen, I was able to ski Aspen Highlands for two days and got a feel for the character and charm of this special place.
Momtrends recommends using Ski Butlers for your Aspen ski and snowboard rentals. Use our link for 20% off.
The History of Aspen Highlands
Aspen Highlands mountain opened in 1958 and was independently owned by Whipple Van Ness "Whip" Jones. The mountain opened with a rope tow, t-bar lift, and both the Thunderbowl and Exhibition lifts. 
Fun Fact: Harvard once owned this ski hill! In 1993 Jones donated it to his Alma Mater, Harvard University. Harvard later sold the resort to a Houston developer for $18.3 million who then sold it to the Aspen Skiing Company.
Listen to the Ski Moms Fun Podcast
Listen here or find the Podcast on Apple Podcasts, Stitcher or wherever you get your podcasts.
Mountain Statistics
Lifts: 5 (3 high-speed quads, 2 triples)
1010 skiable acres
Vertical 3638'
Base Elevation: 8040'
Top Elevation 12,392
Terrain parks: 0
Snowfall: 300" annually
Longest run: 3.5 miles
118 runs: 35% Intermediate 10% Advanced 55% Expert
Skiing Aspen Highlands
My trip to Aspen was planned as a girls' getaway. Colorado had received a great dump of early snow. I was with my teen daughter for two days of skiing in awesome conditions and I had a perma-grin on my frozen face. I was smitten from the start with this wonderful place. We found a parking spot steps from the lodge entrance, quickly booted up and we were off. 
Most everyone starts the day at the Exhibition lift. You won't find gondolas here, but you will find some of the best skiers in the state. We arrived at 10am and found acres and acres of untouched snow. This is not a mountain with high traffic. The snow was in exquisite condition (fresh dump the night before) and we were in absolute heaven as we played; alternating between diving into the powder stashes in the trees and zipping along the pristine steep groomers. 
Seeing her bite into the hill with huge carving race turns put such pride in my heart. I was incredibly grateful for shelling out the big bucks for kiddie-camp lessons at Snowmass and all those years of ski racing camps. The payoff was this day.
No, I can't keep up with her, but that's ok, I was delighted to take in the views along the way down and meet up at the lift. We liked everything they had on the ski menu at the Highlands and came back for more the next day.
Day 2 was spent mostly doing laps off the Thunderbowl. My daughter was doing a slalom FIS race that day and I was there to cheer and watch the action while getting in my own turns. Aspen runs all the ski racing programs out of this hill. Aspen Valley Ski & Snowboard Club was founded in 1937 and is the Roaring Fork Valley's oldest and largest youth non-profit. Find out more about the club here www.teamavsc.org/Aspen-Valley-Ski-Snowboard-Club the race was well run and I was so impressed with the set up.
Since we were new to the ski area, we only stuck to the lift-served areas of the famous Highland Bowl. We will be back soon to explore the hiking options (maybe with a guide or friend who knows the area well). I'm told this bowl is where the real joy and fun can be found.
The Vibe at Aspen Highlands
The Highlands are tucked away in Aspen. The entrance is sheltered from the road around the corner from the local high school. Guests either get dropped off on public transport or, if they get there early, can get a paid parking spot in the small lot (bring your ticket inside to pay as the exit toll is not manned).
Many skiers hop off the bus in boots, others boot up in the small lodge area. Skiers will find some paid lockers indoors as well as free outdoor cubbies to stash gear. There's also a small ticket office if you are one of the few to come here without a pass (which makes absolutely no sense when you see the day rates below). 
The locals we met were very friendly and eager to get out to the back bowls, the groomed terrain was mostly left for the visitors. 
Uphill travel is BIG at the Highlands. A season pass is a bargain at $69 (the bulk of which goes to a charity). Uphilling is permitted from 5am until 10:30pm. Dogs are prohibited between operational hours of 8am-4:45pm at Aspen Highlands during the ski season. Before and after operational hours, your dog will need to be under voice control or on a leash so as not to bother other guests or wildlife. Please pick up any pet waste and pack it out with you. Yes, it's that kind of place where you dog can go OFF leash uphill with you (but please follow the rules). 
Planning Your Ski Day at Aspen Highlands
Note: Please book your Ikon Pass ticket in advance. I made the mistake of just wandering up to the RFID reader at the lift. It worked, BUT, I started getting nasty emails from Ikon Pass (or Aspen?) that my pass could be revoked if I didn't make a reservation. Yikes. The Ikon Pass gives you 5 days at an Aspen Mountain. The pass will work at any of the four mountains.
Day Passes at Aspen are $200+. I'm not joking. Either use your Ikon Pass or don't pay your mortgage. It's up to you! A season pass is $3099 (this includes a complementary Ikon Pass). There is also an option to ski one day a week for $1049.
Aspen is also on the Mountain Collective Pass. With this pass you'll get 2 days at any Aspen Mountain. Reservations are required with the Mountain Pass too.
Where to Eat at Aspen Highlands
The base area at Highlands is pretty small. There's a cafe and a few shops, most folks are locals that ski here so they simply head on up at the beginning of the day. If you make time for it, you can have a fancy meal at Cloud 9. The food is Swiss-inspired and there are lots of ways to spend money--you can get a $125 bottle of Veuve Clicquot to start. They serve lunch at 12 and 2 and go through bottles and bottles of Champagne every day. The early seating provides a "relaxing culinary experience" featuring traditional raclette, gruyere fondue and daily seafood inspirations. Beginning at 2pm daily, Cloud Nine becomes what it's most known for--a messy, champagne fueled dance party. Be prepared to get sticky as this often includes champagne spraying. Definitely NOT for kiddos. You need to book either of these online here. Visitors are the only ones dining at the pricey on-mountain restaurants, you won't find many locals here.
For the family, I suggest the Merry-Go-Round cafeteria. It's bright and sunny in there with a lot of kid-friendly options on the menu. Grab a tray and pick what you need to fuel your day.
While I haven't done it, there's also a Snowcat Dinner. Guest can ride up the mountain to dine at Cloud 9. Guests meet at 5:30pm inside the Aspen Highlands Welcome Center and enjoy a hot chocolate with schnapps. Guests must dress warmly as the ride can be cold; the snowcats are not enclosed, however, blankets are provided. The open-air snowcat departs at 6pm and you will arrive at the restaurant at approximately 6:30pm. The snowcat departs at approximately 9pm and arrives back at the base around 9:30pm. Contact asccatering@aspensnowmass.com.
All in, Aspen Highlands is an excellent spot to play in the back bowls and find your groove on long, wide open groomers. It's a skier's mountain with loads of challenges and a lot of character.
MORE SKI FEATURES FROM MOMTRENDS
PIN IT!
Use Pinterest to save your favorite family travel features. Be sure to follow our Ski Moms Pinterest Board.
This is not a sponsored post