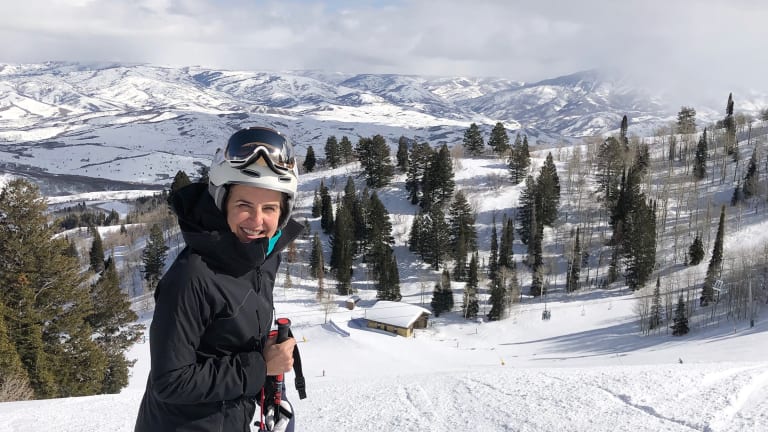 Publish date:
Plan the Perfect Family Ski Trip to Snowbasin Utah
Snowbasin is a perfect combination of sublime snow quality and excellent resort management. It's a dreamy spot for families to enjoy the Utah powder.
Snowbasin is a perfect combination of sublime snow quality and excellent resort management. It's a dreamy spot for families to enjoy the Utah powder.
There are 15 ski resorts in Utah. Part of my travel "bucket list" is to get to all of them. On my recent research trip, I paid a visit to Snowbasin. This Utah resort is a perfect combination of sublime snow quality and excellent resort management. It's a dreamy spot for families to enjoy the Utah powder. Now that I've been to Snowbasin, I'm a little embarrassed that it took me so long to get to this place. 
Be sure to get your Ski Utah passport before you go. Find out how 5th and 6th graders can ski FREE (you don't have to be from Utah)
Related: Woodward Offers Families a New Way to Play in Park City 
Plan the Perfect Family Ski Trip to Snowbasin, Utah
Snowbasin is located near Ogden Valley, Utah. It's about 50 minutes from the Salt Lake City Airport. It's an independent mountain owned by Earl Holding (who also owns Sun Valley Resort in Idaho) and it's loaded with character. Here are some fast facts about the mountain. 
Base Elevation 6450'
Top Elevation 9465'
Skiable 3,000 acres
Avg. Annual Snowfall 300"
A bit of planning can save you some money. When you buy online your get $20 off per ticket when purchased one week in advance; $10 savings with one day advanced. Snowbasin has a limited partnership with Epic Pass. Depending on your pass you can ski up to 7 days at Snowbasin.
I always advise first-time visitors to ANY mountain take advantage of the free tours. Snowbasin offers free mountain tours Friday thru Sunday and during holidays. Meet at the top of Needles Gondola at 11am or 1pm for one-hour mountain tour. 
Get more information about lessons, passes and planning your trip here www.snowbasin.com.
Skiing Snowbasin
I had a blast skiing this resort. Clearly the on-snow experience is the top priority. After a warm up run off the Needles Gondola, my guide led me over to Strawberry Peak (elevation 9265').
Snow had rolled in and it was quite foggy at the peak. I was happy to have a guide. I loved the wide open runs -- there was plenty of pitch to play with.
I'm going to go ahead and give away a simple way to make this ski mom happy: I need to get warm between runs. That's why I love the gondolas. Snowbasin has two of them and they are a great way to stay warm and regroup.
What else is awesome about Snowbasin? They aren't afraid of going big. Snowbasin is home to two World Cup runs and they hosted the 2002 Winter Olympic alpine skiing races for downhill, combined, and super-G. To access the start of the runs, take the Allen Peak Tram. From there, pick your course. Wildflower is the women's downhill course and the men's is called Grizzly. I had a blast flying down these runs and pretending I was fast -- even a ski mom can dream.
Check out our Snowbasin on-mountain video
If speed isn't what you are after, there are plenty of mellow runs and bountiful groomers. For kids, there are glades filled with bird houses to admire and the newly created Bear Hollow Woods. This family friendly glade is the perfect place to play in the trees.
They've put a lot of care into the facilities. I was pleased to always find spotlessly clean marble bathrooms on the mountain. At Snowbasin, the skier experience isn't ONLY about the snow they take into account all the little things that make life as a ski mom easier.

Here's What No One Tells You About Olive Oil
produce is at its absolute PEAK right now. It's the time to prepare fresh veggies and fruit with ease and simplicity. When it comes to cooking, the farmer's market is my muse. As I prepare some of my summer harvest favorites, I'm sharing a little secret, what you put ON the ...read more
Amazing Breastfeeding Accessories for Mom
As a breastfeeding mama I'm always on the lookout for stylish and functional accessories. Chewbeads and NuRoo offer moms products that pull double duty! Add an extra layer of style while also keeping it functional with Chewbeads necklaces and NuRoo nursing scarves. Both of ...read more
Where to Eat at Snowbasin
Earl's Lodge is where you start and end your day (it's open from 8am to 4:30pm). The chic lodge is where families will get set with lessons and it's also a wonderful place for breakfast. I knew I was going to like the place the moment I stepped into the lobby and saw an larger than life chandelier.
Skiers can fuel up on fresh baked gourmet pastries and breakfast sandwiches. Before scattering to lessons and to rent gear. 
On-mountain, you can enjoy lunch at Needles Lodge (at the top of the Needles Gondola) or head to John Paul Lodge off of John Paul Express
I was treated to lunch at John Paul's before taking on the women's world cup run. I grabbed a table by the enormous hearth and tucked into homemade tomato soup and a tasty Bavarian pretzel. If the upstairs room fills, John Paul's has plenty of seating downstairs to accommodate hungry skiers.
Cinnabar is the place to go for après ski and a terrific weekend brunch.
Where to Stay When You Ski Snowbasin
I stayed a the Mountain Luxury Lodging condos (more to come on that). The development is 15 minutes from the base area of Snowbasin. It's about 20 minutes from the nearest grocery store. Momtrends Tip: Get your groceries in Salt Lake City and haul them to your condo.
New to the area is the Compass Rose Lodge. It's a new boutique hotel (not great for young kids, but there is an awesome bunkhouse room for families with school-age children. 
Closer to the airport is the Little America and the sister property the large, five-star Grand America (775 rooms). For more information about lodging head to https://www.snowbasin.com/lodging
More About Snowbasin
Snowbasin is dedicated to growing the sport. They excel at lessons and first-time experiences and they really make it a priority to get more women skiing. 
They are partnering with Rossignol on the We Rise camp for women. The camp runs from March 13-25, 2020 and will be coached by two time Olympian, Jillian Vogtli at Snowbasin. Activities, including a professional boot-fitting, ski selection clinic, video analysis, 2/3 days of skiing & instruction. Get pricing and details www.snowbasin.com/womenscamps or call 801-620-1015.
For more details on ski camps for women, check out this article.
The Challenge of Snowbasin
The big drawback with Snowbasin is the lack of ski-in/ski-out lodging. With young kids, it's a hassle to drive, pack and then schlep them each day to lessons. It's so much easier to just roll out of your condo and head to ski school (one of the things I adore about Solitude).
Things can get a little congested at the base. On my visit, there was a ski race going on that required skiers to be funneled through a slow family area. 
Who Will Love Snowbasin
I'm a fan of gondolas, they are a great chance to regroup and warm up and they move skiers and riders up the mountain FAST. I also am biased towards posh, well-cared for facilities. Snowbasin checks both those boxes. 
Since the brain loves to categorize and compare locations to help us feel safe and secure, I'll go ahead and give you my thoughts. They vibe and facilities are comparable to Deer Valley and Beaver Creek, but like Snowbird and Alta, there are big bowls to dive into and plenty of long steep runs to challenge you. 
There are only five more resorts to go before I've seen all that Utah has to offer. Did I mention how much I love my work!
MORE SKI FEATURES FROM MOMTRENDS
PIN IT!
Use pinterest to save your favorite family travel features. Be sure to follow our Ski Moms Pinterest Board.