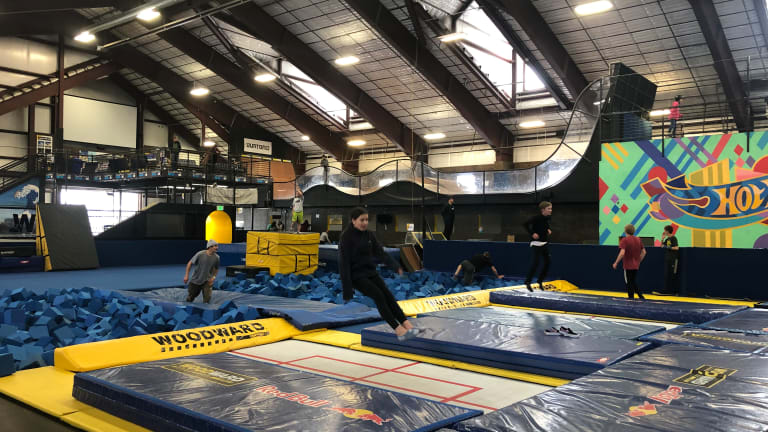 Plan an Adventure for Kids at Woodward Copper
Active adventures for kids at Woodward Copper indoors and on mountain at Copper Mountain Resort
I've been a huge fan of Copper Mountain for years. We made our first ski trip to Copper Mountain Colorado back in 2013 and it remains one of my top picks for families who ski with teens and tweens. It's also fantastic for snowboarding families. I've been back for the past six years and love updating our coverage. A huge part of why I love Copper is the Woodward experience. I love helping families plan an adventure for kids at Woodward Copper. It's unlike anything else in Colorado for kids and grown-ups who love to play in the snow.
Book Ski Butlers here and get 10% off your rentals.
What is Woodward Copper?
Woodward Copper is an action sports and youth mecca. There's a  19,400 square foot indoor training facility as well as designated on-mountain areas with jumps and awesome terrain features.  Woodward at Copper warmly welcomes any athlete, even a 40+ year-old mom! There's no previous experience is required, just interest.
Indoors at "The Barn" your family can explore the skateparks, Olympic-grade trampolines, foam pit jumps, jumps and more. Outdoors you can play in the snow parks. 
Woodward Copper has something for everyone. If you have no experience jumping or flipping you can learn. If you have experience, you can get better and find new challenges. It's not just the challenges, that are cool, it's the instruction. 
Woodward Copper has the best training tools and a talented professional staff that help you along the way. Skiers, snowboarders, skateboarders, BMXers, mountain bikers, scooter riders, you can find them all indoors and outside at Woodward Copper. 
The Barn at Woodward Copper
Everyone starts with an Intro Session. This is a group overview of how to play safe in the indoor facility. The Intro session lasts two hours and is anything but boring. You'll flip, bounce and play along the way. 
Our Woodward Coach walked us through all the features in the facility and gave us some basic tricks to try (like flipping into the foam pit). It guide you through your session. After the initial introduction we decided to play exclusively in the trampoline area. Others from the group ventured over to get more coaching at the Skatelite ParkSki™ (there's also a Burton ParkBoard™ intro) where they did indoor skiing and jumping. Woodward uses specially designed wooden skis and boards to simulate snow inside. 
After the intro session you can drop in any time for $49 and head right to the fun. Get more details about pass sessions here.
We had a blast playing inside. The Barn is a great spot to burn energy on a day where the weather isn't too inviting outside, it's also a super spot for summer training. Many folks come to play and bounce (like we did), and others come to work on specific skills that they plan to take to the mountain. Everyone is welcome.
Momtrends Tip: Get a Barn Pass. If you are a local, a Barn Pass makes a lot of sense. For $289 your kiddo can come into the Barn all season (Pass is valid June 8th, 2019 through April 19th, 2020).
Woodward on Mountain at Copper
The Woodward Mountain Park at Copper is a network of featured terrain zones that, together, offer a balanced variety of exciting on-mountain experiences for all ages and abilities. The Woodward Mountain Park is complete with base area learning zones, large freestyle zones and everything in between. 
It's all about progression. Woodward Mountain Park guides athletes through an evolutionary journey that is ultimately controlled by their own personal goals and individual style. 
Pick from three types of parks: Learning, Experiential and Performance. In each area there are different zones designed to provide innovative ways to "teach, learn, coach, progress and win."
Peace Park at Copper Mountain
Copper offers some of the most creative and cool on mountain parks in the country. It's a haven for freestyle skiers and snowboarders and attracts top talent from around the world to play.
If you want to see some amazing athletes, head to Peace Park. Founded in 2011 by Danny Davis, a Grand Prix Winner, X Games Gold Medalist, Dew Tour Champion, and a U.S. Olympic Snowboard athlete. Danny created Peace Park to allow athletes to "freely and creatively express themselves doing what they love in the outdoors." The idea is that when we play outside we are as close to achieving peace as possible. This on-mountain experience offers freestyle terrain with a focus on fun and flow. 
New for Winter 2019/20 on Copper Mountain
Red's Backyard is the newest snowy playground at Copper. Set to open in late December of 2019, this new zone was inspired by Olympic gold medalist, Red Gerard.
Red grew up in Summit County, CO. Woodward Copper created a  "hike-style zone" to offer new challenges and thrills to their already amazing terrain offerings. It will have rails of varying difficulty, and will be the "go-to place for dialing in technical rail tricks." 
Plan your Woodward Copper Experience here
On Mountain Private Lessons at Woodward Copper
If you're visiting Copper and want to make some giant leaps in your freestyle skills, book a private lesson with an expert Woodward ski and snowboard instructor. I think one-on-one coaching can help make the fastest gains in your skills. You can design the day between the terrain parks and halfpipe.
Lesson Features:
6 hour full day (9:30am - 3:30pm) can combine both on snow and use of the Woodward Copper Barn.
3 hour half day (AM: 9:30am – 12:30pm or PM: 1:00pm – 4:00pm) on snow only.
Pricing includes up to 4 people in a half day private lesson, or up to 6 people in a full day private lesson for no additional cost.
An all-day private is $759 and a half-day private is $559.
Get details on Woodward Copper lessons here.
Park Rats
If your child is looking to spend their time in the terrain park and halfpipe, they can join the fun Park Rats group to develop freestyle skills. With both indoor and outdoor training, this is the best program to progress these skills. Students are grouped by age and ability with the same group of students and instructor for the duration of the program.
Sign up early! January's sessions are already booked. You can still get three-week sessions later in the winter for $380.
MORE SKI FEATURES FROM MOMTRENDS
PIN IT!
Use pinterest to save your favorite family travel features. Be sure to follow our Ski Moms Pinterest Board.
This Plan an Adventure for Kids at Woodward Copper is not sponsored.