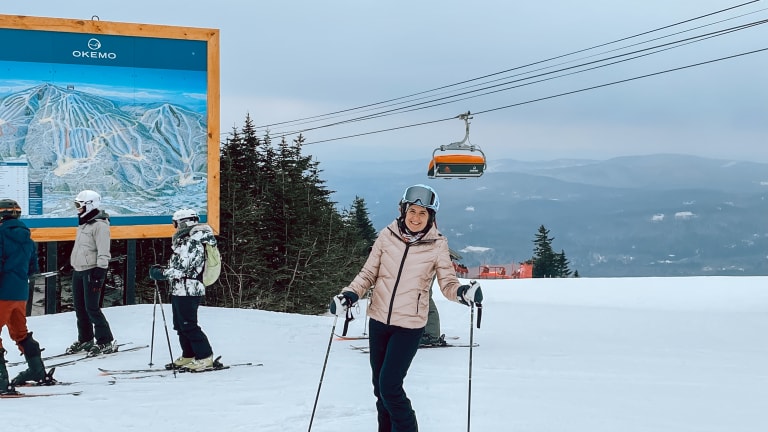 Plan a Perfect Girlfriends Ski Trip
Don't let the boys have all the fun. Grab your girlfriends and plan a winter ski trip to Okemo Mountain in Vermont.
If there's one thing we hold firm here at Momtrends, it's that moms are heroes. Heroes of the everyday variety. We don't wear capes, but we are doing the hard work of raising humans while also trying to live full, interesting lives. Sometimes the work of "momming" can be intense, that's where our BFF's come in. There's nothing like a trip with your besties to feel appreciated and to tap into your sense of humor again. When you start to plan your next getaway, don't forget about the mountains. Epic resorts offer moms 38 properties to explore, and I'm going to focus on one of them and help you plan a perfect girlfriend's ski trip.
Related: Where to eat near Okemo
Pick Okemo for Your Getaway
I know spas and beaches are the traditional destinations for girl's trips, but hear me out: a ski trip to Okemo has something for everyone. It's an active trip that'll get you moving and remind you how much fun winter can be. You'll also get to develop your ski skills. No matter if you are a beginner or expert, spending a few days carving turns and playing in the powder is good for the mind, body and spirit.
Chairlifts, hot tubs and roaring fires offer the perfect places to catch up with your besties. Plus with Okemo you'll be making new memories, not just reliving the past. C'mon moms, don't let the guys have all the fun. Make this the winter YOU embrace skiing.
Since my move to Vermont, I've been missing my Brooklyn mom friends, so we all matched up our calendars and protected a three day stretch in January to take a ski trip together and planned our trip to Okemo in Ludlow Vermont.
Plan a Perfect Girlfriends Ski Trip to Okemo Mountain, Vermont
I'm going to map out some of the specifics of my trip, but let's start with broad strokes on planning a successful girlfriend's ski trip. 
Location Matters: For our group, Jackson Gore at Okemo was terrific. It's a true ski-in, ski-out inn. We were minutes away from lessons and lifts and didn't have to worry about driving anywhere. Okemo was the perfect choice because it's quite convenient to New York City. Once you leave the city boundary, it's smooth sailing to Ludlow, Vermont. This is also true from Boston. 
Do the Prep Work: We all had Epic Passes. Getting a season pass makes trip planning a lot easier and saves money. Since we had the passes, we could go right to the lifts in the morning. It's also important to book your rentals and lessons ahead of time. We had our own gear, and didn't get lessons, but it's always a great idea to build on your skills--especially if you have a friend who is newer to the sport.
Travel Midweek: I know this isn't always possible, but if you can swing it, try to plan a Wednesday-Friday trip like we did. You'll have incredible access to pristine conditions and be able to score great seats for meals wherever you go.
Get the EpicMix App: See what lifts will have the shortest wait times every hour of the day so you can plan your skiing and riding experience. It's also the hub to make on-mountain dining reservations, book lessons, secure rentals and more.
Map Out Your Meals: While it's fun to leave some space for exploring, you'll also want to book some of your lunches and dinners. You can use your EpicMix App to book and also save 20% when you show your pass.
What to Expect On Mountain at Okemo
Let's talk specifics now. Okemo is a great pick for a ski break because it's got reliable snow. In addition to the powder god provides, Okemo has invested millions of dollars in snow-making equipment over the years--guaranteeing great trail availability even when the snow gods aren't kind. Knowing the quality of the trip is really important when planning a trip with your girlfriends.
They also have a state-of-the-art lift system that gets skiers dispersed on the mountain quickly. Okemo skiing has something for everyone. Let's look at the numbers.
Okemo Mountain Stats
2,200' vertical
667 skiable acres
122 trails, slopes and glades
20 lifts
200" annual snowfall
140 days in the typical season (right now closing day is set for April 17, 2022)
Okemo has snowmaking capabilities on 98% of the trails. This means there's plenty of room to spread out and explore. Long greens are plentiful, giving even beginners the chance to get up the mountain and really embrace the joy of skiing.  
Grown Up Fun at Okemo
Skiing with other moms at Okemo is pretty awesome. Unlike skiing with my kids, I didn't have to remind ANYONE to wear extra layers or apply sunscreen. We all shared a room at Jackson Gore. Our mountain-facing room had plenty of space for us and our gear and was in a perfect location right at the base a lift.
After a quick bite at the Roundhouse restaurant, we were off. Jackson Gore is an incredible home base thanks to it's awesome location. It's steps away from the Coleman Brook Express Quad. After breakfast, we made our way to the Ski Valet to pick up our skis. A valet is a lovely amenity (it's free, but please tip), as it helps keep the base organized and safe. 
Lessons start from Jackson Gore OR the Clock Tower base, so if your group wants to get a lesson, you don't even need the shuttle. We were on the lift by 9:15 and found our way over to the Quantum Six which zipped us up to the top of Jackson Gore Peak (2,725'). Since it was a cold day, we made our way over to the bubble lifts -- Okemo has two bubble chair lifts that offer shelter from the cold and wind.
This was our playground for the day. We explored all the delightfully groomed runs from the top of Okemo Mountain (3,344'). Our favorites were the gorgeous World Cup (a steep, yet wide black/difficult run) and the slightly more tame Jolly Green Giant. We stopped for an early lunch at The Bull and found a seat right away even though we hadn't booked a reservation (don't try that on a weekend). We skied until 2:30pm, using the EpicMix app to navigate where to go next, and we had a lot of fun seeing our stats at the end of the day.
After a soak in the hot tub, we sat by the fire in Jackson Gore lobby and caught up over a cocktail (note, they also carry a GREAT non-alcoholic brew called Rescue Brew, it was quite tasty for those who don't drink), before heading to dinner at the Coleman Brook Tavern. I highly recommend the stuffed mushrooms appetizer. 
By 8pm, we were pretty wiped out. It's fantastic to have a full-service inn on property. We simply wandered back up to our rooms for a quick check in with the kids and an early night of sleep. Plenty of other moms stayed in the lobby to keep the conversations going, but we wanted to get another day of fresh tracks!
Play Like Kids
An important part of a girl's getaway is remembering to NOT take yourself too seriously. At Okemo, there are plenty of ways to PLAY, especially as an adult.
Steam and Splash--Head to the pool and spa area at Jackson Gore and catch up on all the gossip and news as you treat your tired legs.
Snack--Getting a cocktail is a nice treat, but so is a waffle from the iconic Waffle Cabin. The best news is when you are with other moms, you don't have to share! There are two Waffle Cabins located at Okemo.
Explore Ludlow
Give yourself an afternoon to head into nearby Ludlow. It's a charming mountain town with excellent restaurants and charming shops. Each time I head to Okemo, I always set aside time to explore.
There's a new coffee shop in town, tucked into the TPW Management Real Estate Office on Main Street. Combine a treat from nearby Sweet Surrender and you are onto a perfect way to start the day.
This year, we popped into the 3 Graces Boutique to try on yummy cashmere sweaters and check out the trendy denim selection. They carry a few of my favorite brands and then others that surprised and delighted me.
Vermont is home to amazing microbrews. On this trip we stopped into the Outer Limits Brewery for dinner. My friends and I tried the beer flights and got a great education on types of beers from the bartender. We also had some of the most amazing pretzels ever. The wood-fire oven was the secret, that and the delicious house-made mustards. It's a family-friendly and casual option for ski families and a super fun night out for girlfriends.
Start Your Okemo Trip Planning.
It was a huge success and we can't wait to go back and bring more moms next year. A girl's trip to Okemo is the perfect way to remind yourself that you are a FUN mom.
Book your holiday and get more information: www.okemo.com
PIN IT!
Use Pinterest to save your favorite family travel features. Be sure to follow our Ski Moms Pinterest Board.
This is a sponsored post.