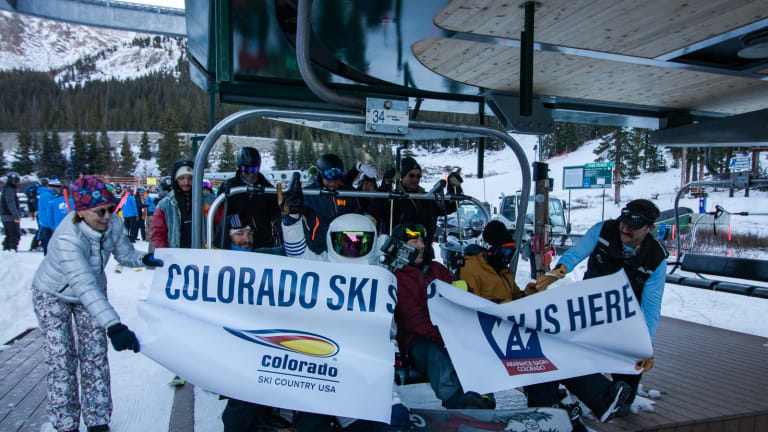 Opening Days for Colorado Ski Resorts
Arapahoe Basin Becomes First Ski Area to Open Continuously for the 2021-22 Winter Season
Today I put the snow tires back on my SUV, and that means ski season is coming. In fact, I can see snow at the top of Lincoln Peak here in Sugarbush. And there's more news, out West, they are already open at A-Basin. Here's the scoop on openings as you start to plan your ski holidays.
Once again, Arapahoe Basin has beat all the other Colorado resorts to be become the first ski are to open continuously for the 2021-22 Winter Season. The the Black Mountain Express  lift was spinning at 8:30 a.m. and began delivering skiers and riders to the intermediate High Noon trail with an 18-inch base of packed powder. 
Related: Vail Resorts opening dates for 2021 22 season
Let's Get the Party Started
Significant snowfall and cold temperatures over the last week have allowed ski areas across Colorado to begin to make snow in advance of the season. "Opening day of the ski season is always an exciting event with smiling skiers and riders back on the slopes" said CSCUSA President and CEO Melanie Mills. "This year has a great vibe already with anticipation building for a big winter at ski areas across the state."
Colorado Ski Country USA (CSCUSA) is the not-for-profit trade association representing Colorado's 22 ski & snowboard resorts. CSCUSA is the global voice of Colorado's ski industry. They do a great job of uniting most of the mountains on messaging and safety. 
Projected Opening Days for Colorado Ski Resorts
Now that A-Basin has won the race, we look forward to more mountain opening. As for the rest of the state, Colorado Ski Country USA has gathered these estimated opening dates (and as always, Vail Mountains release information separately, I provided that link at the top of the article). Looks like Keystone (a Vail property) or Loveland will be next.
COVID News for 2021
The pandemic is still with us and things will be likely more normal than they were last year, but we skiers still need to plan ahead and stay safe. Ski areas and Colorado Ski Country will release additional COVID-19 information for the 2021-22 season as appropriate as the season approaches and progresses. Guests are encouraged to Know Before You Go by checking ski area websites and other channels for the most up to date information on what to expect during their visit. Guests may also visit www.coloradoski.com/covid-19 for tips and information from ski areas across the state.
MORE INFO FOR MOMS WHO LOVE SNOW 
PIN IT!
Use Pinterest to save your favorite family travel features. Be sure to follow our Ski Moms Pinterest Board.
Momtrends was not paid for this post. Photo Credit: Ian Zinner, Arapahoe Basin