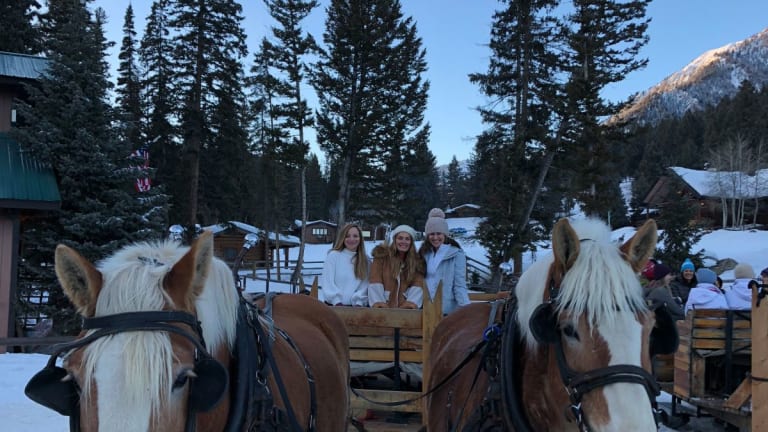 Off Mountain Activities Big Sky Resort
Big Sky has a ton to offer families who want to take a break from skiing on vacation. Check out these ideas for off-mountain fun.
There's so much to do at Big Sky when you want to take a break from skiing. A good ski resort has more to to offer families than just awesome powder--though that certainly helps. Here are some of our favorite things to do at Big Sky Resort that don't involve skiing and snowboarding.
When you want to dream up more things to do, start right at the base of Big Sky. As we said at the beginning a successful family trip includes much more than skiing. To plan your activities, head to Basecamp in the center of town. The Basecamp building is where you can organize activities and adventures. The staff there helped us picked the right zipline tour and were full of helpful information. They've got the 4-1-1- on all the non-ski fun.
Zipline Adventures
We were led by a very droll Willis and his side-kick Molly on a 2-hour adventure called the Nature Zipline. it combined a, uphill 20 minute nature hike and three zip-line cords. ($59). The course is perfect for brave-ish kids 6 and up.
Mountain Village Kid's Area
Located right in the Mountain Village this is extremely popular after ski-school pickup. Kids get harnessed into the Bungee Trampoline for a good 5-6 minute bounce session. Our older girl mastered the back double flip. Grab a local brew (might we suggest a Cold Smoke) and watch the kids flip and zoom all while carefully supervised by Big Sky staff. ($13 per session).
Nordic Skiing
Definitely try a day of Nordic skiing. We took two days off from downhill to try our cross-country at Lone Mountain Ranch. With 85Km of trails this is a worthy excursion and only a few miles away from Big Sky. Get more details here in our Lone Mountain Ranch feature.
At its peak in the summer, families can take advantage of incredible activities like horse-back riding, fishing, and mountain biking. And in the winter? Well, there's still plenty to do for day-tripping and lodging guests--and I can attest to that! If you don't want to ski, you can do a snow shoe tour around the soothing sights, sounds, and sweeping views; and wow--what a workout! The upscale ambiance and 27 private log cabins lend to a more serene experience for those who want to ski but also seek some solitude. 
Dog Sledding
When I found out we'd be dog sledding, I kind of assumed the three of us would be on a big sturdy sleigh together, getting pulled by a pack of canines. I figured the ride would be tame and the scenery would be lovely. Well, I was half right. Unlike, many other dog-sledding companies, Yellowstone Dog Sled Adventures puts you in charge and let's you actually drive the sled. We each took turns "mushing," turning and twisting, and speeding down hills and around corners. "Hold on for dear life" is the name of the game, and it's terrifying and exhilarating and absolutely amazing all at once. (Don't worry--Stephanie of City Moms Blog fell off twice with Brianne from Stroller in the City in the sled, and they both were just fine! The dogs wanted to run free, but our expert guide reigned them in and got the situation under control.) The three-hour learn-to-mush session doesn't come cheap at $235 per adult, but it's a rare opportunity that's worth every cent.
Spa Time
Yes, that's a lot of activity. When you're ready to slow down, visit the spa. A good spa is imperative at any ski resort.
Unwind and exhale at Spa Montage Big Sky. The new spa has over 11,000 square feet, with 12 treatment rooms including two couples rooms, heated plunge pools and steam rooms. There's a restful indoor pool area and sophisticated spa amenities, plus a full-service gym. This upscale service was sorely lacking prior to the opening of the Montage. Book your services here.
Back in the base area, The Solace Spa located in Mountain Village, is a bit more humble, but worthy of a visit. The 3000 sf spa is nicely furnished but missing a steam room. What they do have are very capable therapists. I opted for the Gallatin River Hot Stone Massage ($155). My therapist used warmed native stones and added in a bit of deep tissue work. It was the perfect massage for recovering from a long day on the slopes. Book your services here.
Shopping isn't a highlight at Big Sky. I tried to find a logo neckwarmer (nope) and some chic black ski pants (nope). The village mall has all the basics and the girls got some cute hats, but I'd say when it comes to shopping Big Sky it's more functional that fashionable. The one exception is the Provisions shop over at the Summit.
Make sure you give yourself time for all the off-mountain fun. And for more trip-planning details head to bigskyresort.com
What Else You Need to Know About Big Sky
MORE SKI FEATURES FROM MOMTRENDS
PIN IT!
Use Pinterest to save your favorite family travel features. Be sure to follow our Ski Moms Pinterest Board.
This is not a sponsored post. Some meals and experiences were comped so we could write about the experience.