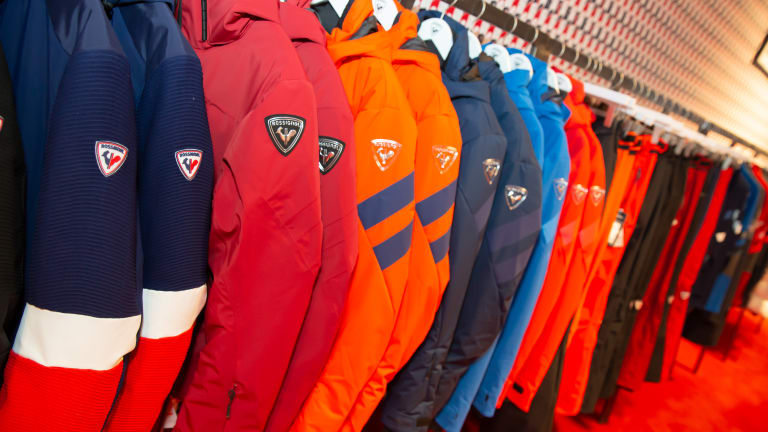 Publish date:
New York City Winter Style Event with Rossignol
Ski moms gather for a night of shopping at the Rossignol boutique in SoHo NYC.
Ski moms gather for a night of shopping at the Rossignol boutique in SoHo NYC.
What a treat it was to gather some of my ski mom friends for a night of shopping at the Rossignol boutique in SoHo NYC.  The New York City Winter Style Event was hosted by Rossignol  and it was the perfect opportunity for us to get ready for the February ski holidays. 
My friends all loved the Rossignol outfits I shared from my recent trip to St. Moritz. The stylish clothes were perfect on my trip to Switzerland. I wanted to share how versatile the Rossignol clothing can be for women.
New York City Winter Style Event with Rossignol
The team at Rossignol put together a nice little spread for us with wine, cheese and other snacks. My ski mom friends all swapped travel plans for the upcoming President's Day weekend. In NYC, it's a traditional, and busy, time to travel to ski and snowboard. 
Often, when it comes to prepping for a ski trip, mom's gear is the last thing to be considered. We all wanted to get a jump on the travel planning with a fun ski wardrobe update.
JC De Castelbajac and Rossignol Collaboration
The ladies immediately gravitated to the colorful collection from Jean-Charles, de Castelbajac. He's an international fashion icon with a penchant for bold colors and playful prints. Working with Rossignol, he's come up with a line of ski and riding gear that combines function with FUN.
The playful designs were our favorites and it's a treat to see a well known brand like Rossignol taking some fashion risks.  All the pieces, from technical ski jackets to premium wool knitwear, show off bright artwork with a hand-painted feel.
You can see the collection online here www.rossignol.com/us/#momtrends 

Five Tips To For a Girl's First Leg Shave
Do you remember your first time shaving? Mine wasn't pretty. I snuck my dad's razor and shaved my legs dry. It wasn't pretty. Get your daughter ready for this rite of passage with the right tools and a quick education. We've got five tips to help you navigate your daughter's ...read more
Why You Should Add Wild Blueberries to Your Diet
Do your New Year's goals involve healthier eating? Adding more fruits and vegetables to your diet? Or even adding tasty new recipes to your repertoire? We've got five reasons for you to add wild blueberries to your diet. Our friends from the Wild Blueberry Association have ...read more
Why Moms are Loving This Blueberry Couscous Salad
It's blueberry picking time. And while most blueberry recipes revolve around baked goods, we've got something different to share. First, a few sentences singing the praises of this lovely fruit. Blueberries are high in antioxidants, improve memory function and reduce the effects ...read more
JC De Castelbajac Bumpi Light Down Vest
What came home with me from this shopping trip? This new fur-accented vest. This glossy vest is embellished with wide, horizontal, faux fur stripes I've now worn it to two aprés ski dinners and simply love it. It's warm and cozy (it's filled with premium high-loft insulation) and looks totally chic with leather leggings or slim jeans.
My friends loved the white and silver coats from this collection too. The bold cut-outs made the pieces really stand out. 
The ladies also loved the new collaboration between Rossignol and Tommy  Hilfiger. We all have our fingers crossed for more fashion partnerships in the future.
Shopping Rossignol Soho
We all agreed the store is packed with fashion finds that work on and off mountain. And I must say the ski pants fit A-mazing. That was the best part of the in-store event. We all got to try on loads of things to get a feel for the fit of Rossignol. The trim ski pants were a huge hit. 
Like denim, getting a ski pant to fit can be frustrating. We were all thrilled with the attention to fit that Rossignol has invested into the ski gear.
Ready to update your ski wardrobe? Pop into the NYC store at 108 Wooster Street in Soho, NYC or head to www.rossignol.com/us/#momtrends
MORE SKI FEATURES FROM MOMTRENDS
PIN IT!
Use pinterest to save your favorite family travel features. Be sure to follow our Ski Moms Pinterest Board.
This post is in collaboration with Rossignol Apparel.