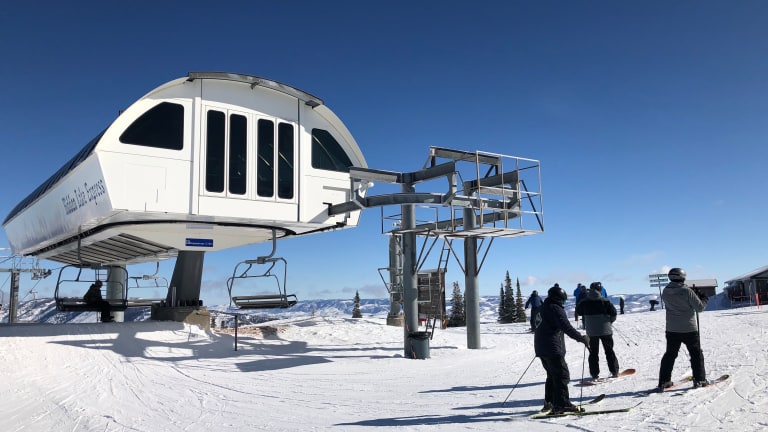 Luxury Mountain Life at Powder Mountain, Utah
It's all about preserving the POW at this quirky and cool Utah ski resort that knows how to blend luxury with love of nature.
Just about every urban family I know dreams of having a wide open space to escape to. While we all love the conveniences and excitement of city life, having a retreat where we can refuel and reconnect with nature is the ultimate luxury. This winter I was fortunate to travel to Ogden Valley, Utah to check out two ski resorts -- Snowbasin and Powder Mountain. After my visit, I can 100% see myself living a luxury mountain life a Powder Mountain, Utah. 
Related: Plan the perfect family ski trip to Snowbasin, Utah
Luxury Dwellings at Powder Mountain
I love to dream of owning the ultimate ski chalet when I retire. Once college is paid for and the kids have flown the coop, I want to be out West in the mountains. Every time I head out West to report on ski resort to help you plan your next holiday, I'm also busy scouting properties.
Why would I pick Powder Mountain? Let's start with the snow. The average annual snowfall is over 500" making it a fairly safe investment for a ski home. On my most recent reconnaissance mission to Utah, I visited the new developments at Powder Mountain. The resort is committed to limited the number of skier on the mountain, to pay for this sublime ski lifestyle, the resort owners are funding it with luxury developments. 
As far as I could tell, all the new homes being built are ski-in/ski-out properties. Powder Mountain is focused on building quite modern buildings that are sensitively placed into the mountain landscape with a focus on using environmentally responsible building methods. 
On my visit, I checked out a Horizon model that was a 3 bedroom, 2.5 baths fully furnished property.  Award-winning architect, Brain Mackay-Lyons, dreamed up the Horizon home in the area I adored. Its minimalist and elegant and integrated perfectly into the surrounding. 
The one I fell in love with had a $2,750,000 price tag for 1956sf. Did I mention the views? I loved the outdoor deck (it's covered, so we can even grill in the winter). I could picture myself finishing my ski day in this clean and spacious retreat sipping tea with Mr. Momtrends as I read bu the fireplace. 
The Powder Mountain Vibe
Falling in love with a new home is one thing, I also need to fall in love with the area that surrounds it. Powder Mountain is incredibly blessed. The resort is 1.25 hour from Salt Lake City airport and up a winding access road in the Ogden Valley (head here to find out more about the Ogden Valley). Once you are there, you certainly will feel away from it all. 
Check out Our Powder Mountain Video
What Powder is best at is preserving the "pow." Powder isn't in to making snow. They are all about working with what god provides. The area includes 8464 acres of skiing and mostly uses natural snow.
This resort is unusual in that it caps the amount of lift tickets each day. The magic number is 1500. Limiting the number of skiers means more pow for the lucky few that get there. It makes a ton of sense for locals to get season passes (they sell out in June) to make sure they are never cut off from the best ski days of the year.
Backcountry Skiing at Powder Mountain
All day cat skiing is an iconic experience at Powder. I recommend getting a Guided Mountain Adventure. This experience starts with a snowcat ride and ends with a shuttle. It's priced at $360 per person for a full day or $253 per person for a half a day. You'll need to purchase a lift ticket in addition to guide rates.
Inbound guides are also include Lightening Ridge Snowcat pass. For a full Day Inbound Guide it'll cost $194 with 1-2 guests, $228 for 3-4 guests and $258 for 5-6 guests (prices are the total fee, how you split them is up to you). Reservations are required.
Unguided snowcat rides a third option. Once you know the terrain, you can lead you own adventure. Rides are $25 or $20/ride with a season pass. Punch passes are available for $250 (buy 10 get one free).
There are a variety of lessons available, including a 4-week women's program. Check out the best women's camps here.
What Else Makes this Powder Mountain Cool
This is the kind of place where millionaires and lifties mix fairly effortlessly. There's plenty of money on this mountain (evidenced by the posh homes), there are also plenty of locals who ski here to hide from crowds and chase fresh tracks. 
They all end the day in the same place. Powder Keg restaurant is full of character AND characters. The limited menu has everything you need: local draft beers and the best ramen in town.
Located on the lower lever of the Timberline Lodge, things are festive during the day and a little rowdy at night. 
Skiing Powder Mountain
Unlike most other mountains, Powder is inverted. You start at the top and ski down to the lifts. There are three base areas. This makes navigation tricky, especially if you've got kids. Intuitively, it's not the easiest place for kids to learn to ski, but if you've got rippers, they will love it here. Lessons start from the Sundown Loge (the first base area you'll encounter on your drive up), but most folks start up at Timberline. It's a small lodge with homey feel to it. 
I started from Timberline and headed down to the Paradise lift. From Timberline, I had great views of the Lightening Ridge -- that's what I want to ski next time with the snowcats.
There are 9 lifts (almost all of them are slow) that service 164 runs. But the "good stuff" isn't serviced by lifts, you need a cat to get there.  On my visit, the off-piste snow was a bit rough. It had melted and then refrozen making it an uninviting crust. But I got to take the full tour of the lift-accessed slopes, and I was drooling over the acreage I couldn't get to. 
Of the lift-serviced terrain, here's how it breaks down.
25% beginner terrain
40% intermediate
35% advanced
Momtrends Tip: Take the FREE mountain tour that starts at 10am and 1pm daily. It's a tricky mountain to navigate. Meet the guides outside the Mountain Adventure Yurt near the Timberline base.
The last base area up way up the mountain. Summit Village is where the exciting construction is going on. They've built some gorgeous new homes and have a stunning clubhouse. The swank new clubhouse is for property owners ONLY. I loved the vibe inside (I admit it, I'm fancy!)
I dreamed of owning a house up here and zipping off into the Powder Country to get to the untouched powder. From my lovely ski lodge, I'd ski the fresh pow and then get picked up by the Powder Country Shuttle (included in lift ticket). The shuttle would run me back up to the base to do it all over again. What a way to avoid crowds! Then I'd finish my day in the fancy yurt with a cocktail and friends. Life is pretty sweet here. 
MORE SKI FEATURES FROM MOMTRENDS
PIN IT!
Use pinterest to save your favorite family travel features. Be sure to follow our Ski Moms Pinterest Board.