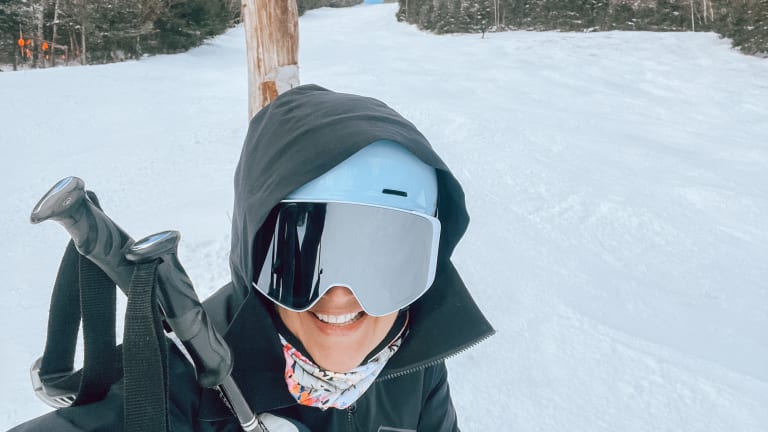 Low Light Goggle Lenses for Skiing
The right gear can make or break a ski day, every skier and rider needs two types of goggle lenses.
Every ski day is a little different. The snow changes with the weather. Skiers need to consider conditions before they head out. And they need to consider equipment too. The right gear can make or break a ski day. For sunny days dark lenses for your goggles work great, and I want to talk about a second lens a low light goggle lens for ski days that are cloudy, snowy or just not bright. 
Related: Ski Moms Fun Podcast
What is Low Light
Low light or FLAT light is a condition where the sun isn't directly hitting the snow. It can happen with a thick overcast sky or during a storm (rain or snow). It can also happen at dusk. When the sunlight can't reach the trail on which you are skiing, there's little or no contrast, and your eyes can't see the "texture" of the snow surface.
A dark lens, one you would use for a bright sunny bluebird day, isn't what you need for a flat light ski day.
Picking the Right Ski Goggle Lens
Let's start with the basics. Variable light transmission, VLT for short, measures the amount of light transmission through a lens. The lower the VLT the more tint the lens has. The brighter it is outside, the lower the optimal VLT for your lens. A dark (black) lens for sunny days will have a VLT of 9%. Meaning it lets VERY little light through. Bluebird days mean LOTS of light amplified by that white snow. A dark lens keeps your eyes comfortable as sun bounces off the snow into your face.
Clouds or storms reduce light. Using a higher VLT helps you see more contrast in that situation. I recommend arming yourself with both a low and high VLT lens. I like a dark lens and a yellow lens. And if you do back country skiing or ski at night, get a clear lens too!
What to Look for in Goggles
Since you will need two lenses, it makes sense to get a goggle that offers ease to switch them out. Many manufacturers now offer interchangeable lenses on goggles. I have a great pair from Wildhorn ($99). They are easy to switch out and they offer a ton of different lens options. 
Before I head out, I check the weather and select my lens. It usually takes less than 30 seconds to swap out the lens. 
Head here to find out more about the Pipeline Goggles from Wildhorn. 
Check out our informational video here:
About the Pipeline
The PIPELINE snow goggle has a magnetic changeable lens and clip locking system allow you to quickly adjust your goggle for optimal performance in almost any light condition. There are over 70 lens/color combos are possible. Pipeline lenses are $34.99 each. Get them here.
MORE SKI FEATURES FROM MOMTRENDS
PIN IT!
Use Pinterest to save your favorite family travel features. Be sure to follow our Ski Moms Pinterest Board.
Momtrends was not sponsored for this post.