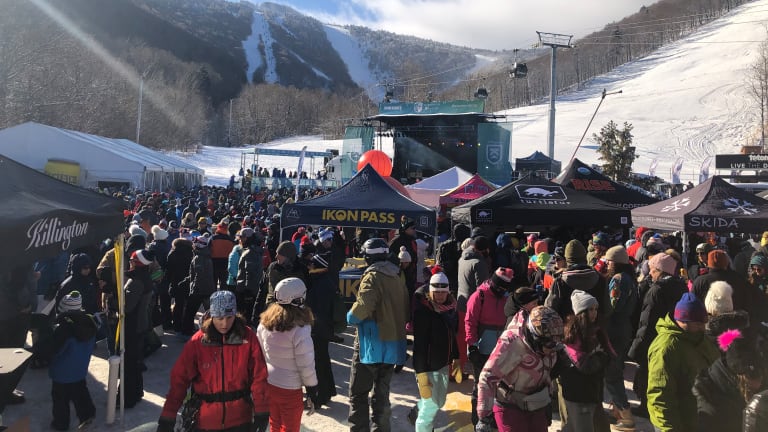 In our house, we celebrate the arrival of winter, and we love girls who ski fast! I'm so excited that World Cup skiing is returning to the East Coast. Killington 2021 Women's Ski World Cup Tickets go on sale September 9, 2021. 
Don't Worry Killington Ski World Cup Tickets are Still Free!
As always, general admission is FREE, but since we are big fans, and we have never been to a race LIVE, we are going for the " enhanced viewing options." 
Free viewing areas are located all around the base of the Superstar Trail and adjacent to the race course. Two video boards will provide top-to-bottom race coverage while approximately 35% of the course will be visible from these areas.
Check out the Killington World Cup
Paid Tickets for Killington 2021 AFIS Women's Ski World Cup 
Tickets will be available here.
When: The events takes place November 27 & 28, 2021
Who's Racing: The best women's giant slalom and slalom racers in the world. Racers should include U.S. Ski Team superstar Mikaela Shiffrin as well as new up-and-coming American talent AND the best racers from Europe.
Where: Killington, Vermont, the largest ski and snowboard destination in Eastern North America and a POWDR resort. It's also on the Ikon Pass.
Getting to Killington
From NYC, Killington is about 5 hours away (if traffic is good). My Momtrends tip is to take the train to Albany and rent a car and drive from there. This takes the worst part of the drive off the table. 
Where to Stay for the World Cup Race Killington
We'll be staying an hour north in Warren, Vermont. I don't know much about the lodging in the area, but I know Pico will be the quieter spot. If you need to stay in the area, stay at Pico and shuttle over to Killington. Bonus: If you plan to ski that weekend, Pico will be less crowded. 
It's More than Just Racing at Killington
Killington Resort will host free concerts throughout the event, in addition to an already action-packed, fun-filled weekend. Other entertainment includes the World Cup Festival Village, fireworks, athlete parades and the Friday night bib draw featuring top athletes. Herwig Demschar, chair of Killington's World Cup Local Organizing Committee, says:
Tickets Details for Killington 2021 FIS Ski World Cup 
New this year, tickets for the Saturday and Sunday events can be purchased as a weekend package. Paid ticket offerings for 2021 Killington Cup include:
VIP Tickets - $550 Sat/ $500 Sun/ $1,000 Weekend: VIP tickets are available at kwcfgivesback.org in partnership with the Killington World Cup Foundation, which supports athlete hospitality and provides grants to bolster winter sports infrastructure and access to winter sports throughout the region. Last year, the KWCF raised $250,000 in grants that they distributed to 21 winter sports programs in seven different states.
4241' Finish Pavilion - $175 Sat/$150 Sun/$300 Weekend: The 4241' Finish Pavilion, located on skier's left of Superstar (below the KMS bag jump), provides, a semi-heated tent and premium viewing area featuring a continental breakfast and lunch buffet with soft drinks and hot beverages catered by the Peak Lodge. A beer and wine cash bar will be available.
Premier Grandstand – $100 Sat/$90 Sun/ $175 Weekend: The Premier Grandstand offers guaranteed access to the highest five rows of the grandstands at the base of Superstar trail, providing one of the best vantage points of the course. Premier Grandstand tickets are limited in quantity and 100% of the proceeds benefit the Killington World Cup Foundation.
Grandstand – $45 Sat/ $40 Sun/$75 Weekend:  Ticketed Grandstands are located at the base of the Superstar trail, adjacent to the race course, and are general admission for all rows except the top five. The grandstand provides an elevated view of the race course, along with two jumbo screens broadcasting top-to-bottom race coverage. Limited accessible seating is available in the front row of the grandstand.
Parking: Free parking and shuttles will be available around Killington Resort; however, attendees can purchase a preferred parking passes in the Vale parking lots for $25. Preferred parking passes can be purchased when tickets go on sale at killington.com.
Pin it!
Use Pinterest to save your favorite ski stories. Be sure to follow our Ski Moms board here.
This Killington 2021 FIS Women's Ski World Cup Tickets feature is not sponsored.