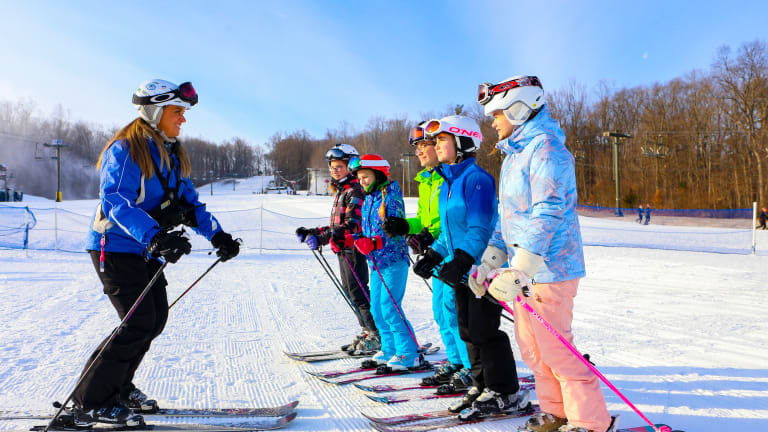 Publish date:
January is Learn to Ski And Snowboard Month in Pennsylvania
Did you know Pennsylvania has more than 20 mountains where families can learn to ski? The Snowpass program provides every 4th and 5th grader the opportunity to ski or snowboard for free, up to three times. The Keystone state is an amazing place to start skiing or riding. They've got programs geared towards family fun that can change how you look at winter. After you SkiPA, you'll start doing a snow dance every chance you can get. 
Kids Ski Free in Pennsylvania
Nope. It's not a trick. It's PA's way of sharing a sport with more and more people. Thanks to the Snowpass 4th and 5th graders can ski free all season long. You don't have to live in state and you don't need to know how to ski or ride. This is an INCLUSIVE program designed to get more and more people to try skiing and boarding.
Here's how the PA Snowpass Works
The Snowpass contains (1) FREE Learn to Ski/Board package. Your 4th or 5th grader will get a beginner lift ticket, lesson and equipment rental with a paying adult and can ski for FREE up to three times at 21 participating Pennsylvania area ski resorts.
And mom or dad can get in on the fun too! The Snowpass also comes with 50% off one adult Learn to Ski/Snowboard package to the resort of choice.
I've got more good news, the program is not restricted to residents of Pennsylvania. Any 4th or 5th grade student can participate. Mom or dad fill out a simple application (you'll need to submit a report card or other age-verifying document) and a photo of the student. 
Get Your PA Snowpass Here
You can apply online at www.skipa.com or download an application and apply by mail. There is a nominal administration/processing fee of $40. Quantities are limited.*
Why Should Your Family Try Skiing in PA
Skiing and snowboarding provide families the opportunity to exercise outside together during the winter months. Fun Fact: A ninety-pound youth can burn between two and three hundred calories per hour skiing and / or snowboarding depending on their activity level. Skiing and snowboarding are listed among the activities included in the President's Challenge organized by the President's Council on Fitness, Sports and Nutrition. Children and adults can earn points toward a Presidential Active Lifestyle Award by skiing and snowboarding. 
SkiPA this Winter with Your Family
Gov. Tom Wolf has declared January Learn to Ski & Snowboard Month in Pennsylvania. For the entire month, first-timers can take advantage of a $5 discount off an adult or child midweek learn to ski and snowboard package at any SkiPA resort. The 21-member resorts encompass all regions of the state from the Endless Mountains to the Philadelphia suburbs, central Pennsylvania from the Maryland to New York borders throughout the Alleghenies. The package includes: beginner lift ticket, rental equipment and beginner group lesson - visit https://www.skipa.com/deals/learn-to-ski-and-snowboard to download your coupon.
Additionally, the following SkiPA resorts have dedicated January Learn to Ski and Snowboard specials:
● Bear Creek Mountain Resort, Macungie
"Single-User Package," includes 3 lift tickets, 3 beginner lessons and 3 rentals for $145. Package is valid any date through 1/31/20 for a single user only.
● Blue Knob Resort, Claysburg
Learn to Ski & Snowboard package includes, 3 lift tickets, rentals and group lessons at $180 per adult. College, military and first responders can purchase the package for $150. Available through 1/31/20 and valid Sunday through Friday (non-holidays).
● Blue Mountain Resort, Palmerton
Family & Friend's package ($194) includes rentals, lesson and beginner lift ticket for 3 people. Must be 6 years and up.
● Camelback Mountain Resort, Tannersville
Beginners can enjoy a Learn to Ski package deal, which includes a 90-minute lesson, rentals and lower mountain lift ticket for $100 Midweek and $119 during weekends and holiday periods.
● Elk Mountain, Union Dale
Elk's January Learn to Ski or Snowboard package includes a beginner lift ticket, first-time lesson and equipment rental for $55 midweek and $70 on weekends/holidays. Snowboard package is $62 midweek and $72 on weekends/holidays.
● Hidden Valley Resort, Hidden Valley
Resort offers a group lesson for ages eight and older for $36. Beginners can also choose a lesson package, which includes a lesson, ski and snowboard ticket, helmet and rental equipment priced at $125 for adults and $119 for ages 8-12. Lessons are 60- minutes Monday-Thursday and 90-minutes Friday-Sunday and Holidays.
● Jack Frost Mountain/Big Boulder Blakeslee
Beginners can take advantage of a $50 Learn to Ski/Ride package every Tuesday in January. Package includes a restricted lift ticket, lesson and rental. Not valid for the SnowMonsters children's program.

Fun Ways to Discover Venice Italy with Your Family
Greetings from Italy wear the gelato is rich, the clothes divine and the scenery is inspiring. Now that I've been to this fine city in the north of Italy, twice, I've amassed a list of favorites to share. These are some fun ways to discover Venice, Italy with your family. ...read more
Here's What No One Tells You About Olive Oil
produce is at its absolute PEAK right now. It's the time to prepare fresh veggies and fruit with ease and simplicity. When it comes to cooking, the farmer's market is my muse. As I prepare some of my summer harvest favorites, I'm sharing a little secret, what you put ON the ...read more
● Laurel Mountain, Ligonier
Ski and snowboard every Friday night from 4 p.m. – 9 p.m. for just $45 for a lift ticket and rental. And, take advantage of a 60-minute group lesson Fridays for just $20.
● Liberty Mountain Resort, Carroll Valley
Learn to ski or snowboard for only $55 on Thursdays all January. Packages include a beginner lift ticket, rental, helmet and a beginner lesson.
● Mount Pleasant, Cambridge Springs
Mount Pleasant features a Snokids and Snoparents learning program, which features a six-week learning program including all-day lift tickets and group lessons at $160. Rentals are $50 additional for the season.
● Roundtop Mountain Resort, Lewisberry
Roundtop is offering a $55 Learn to Ski or Snowboard packages every Thursday in January. The package includes a beginner lift ticket, class lesson and rental equipment. No reservation is needed.
● Seven Springs Mountain Resort, Seven Springs.
First-time skiers and snowboarders ages 8 and up, can take advantage of Seven Spring's Fun-Based Learning System, which utilizes sculpted snow to create a fun learning environment. Learn to Ski packages are $124 Midweek or $147 Weekend and include lift ticket, rental and a 1.5-hour lesson.
● Shawnee Mountain, East Stroudsburg Took out Jan. 10 info.
Shawnee will offer an $85 Learn to Ski and Snowboard special Jan. 2 through Jan. 31(excluding Jan. 18 and 19). The package includes lift ticket, rental and beginner group lesson. Bring a Friend and receive 50% off your same day lift ticket when you sign them up for a first-time lesson. Available any midweek day at the ski school desk.
● Ski Big Bear, Lackawaxen
Beginners can take advantage of discounted Learn to Ski & Snowboard packages on Mondays and Thursdays through January for just $75. Package includes one full day lift ticket (surface lifts only), rental package and one-hour group lesson. Reservations are required. No other discounts apply. Additionally, purchase a Learn to Ski & Snowboard package in January and receive $10 off a regular/jr full day lift ticket.
● Spring Mountain, Spring Mount
Learn to Ski & Board packages are available for ages six and up and include a beginner lesson, lift ticket and rental for $60 weekdays/non-holidays and $75 weekends/holidays.
● Tussey Mountain, Boalsburg
Tuesday, January 21 and 28, beginners can purchase a Learn to Ski or Snowboard package for $35 per person, which includes a one-hour beginner lesson, lift ticket and rental equipment. Lessons are available at 6 p.m. and 7 p.m.
● Whitetail Resort, Mercersburg 
Learn to Ski or Snowboard packages are available every Thursday starting Jan. 2, for only $55. Free childcare will also be provided with the purchase of a package. Packages include a beginner lift ticket, rental and beginner lesson. 
Win a Gilson Snowboard
In celebration of the sixteenth anniversary of the Snowpass program, SkiPA has partnered with SHEETZ and Gilson to give away over 100 Snowboards and Skis to kids in the PSAA 4th and 5th grade Snowpass program. Get the details here.
The first 60 skiers and 60 snowboarders to reach five days on the mountain with their Snowpass will win a FREE Special Edition pair of Gilson Youth Skis or Gilson Snowboards. On February 1, one grand prize winner will be selected from the group that hits the milestone and will have an opportunity to tour the Gilson shop and build their very own custom pair of skis or snowboard (this will be free in addition to the one that they already received). The winner can work with the Gilson artist to create a personalized design and the artist will bring it to life.
For more information on the Pennsylvania Ski Areas Association visit www.SkiPA.com
MORE SKI FEATURES FROM MOMTRENDS
PIN IT!
Use pinterest to save your favorite family travel features. Be sure to follow our Ski Moms Pinterest Board.
This is a sponsored post. Snowpasses are issued on a first come, first serve basis. Details of the program including rules and black-out dates can be found on the SkiPA web site.