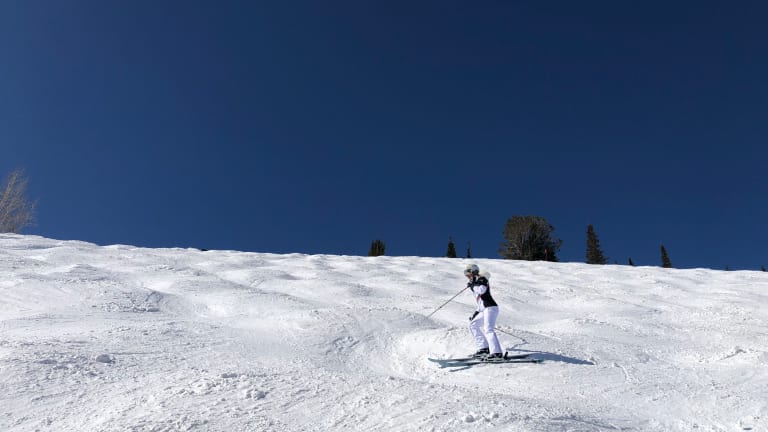 Industry Experts and Ski Moms Weigh in on the Prospects of the Ski Season
Preview of the 2020/21 Ski Season and thoughts for carrying on in the times of COVID.
Everyone who is passionate about winter fun is watching and waiting to see what will happen to the 2020/21 ski season. For many of us, our prime spring break days were cut short and our favorite winter passtime ended all too soon as we left chairlifts to spend time homeschooling and baking banana bread. This week I spent time online with industry experts and ski moms to hear how everyone is feeling about the prospects of the upcoming ski season.
Related: Should your family get a season ski pass
Hearing from the Industry Insiders About Ski Season
The NASJA organization hosted a zoom chat with the bigwigs at the resorts to help take the pulse of the industry. I listened in for an hour as representatives from resorts and the overall industry prepped us for the new normal. 
Pat Campbell, President of Vail Resort's Mountain Division, oversees 37 resorts and is currently keeping a close eye on Thredbo in Australia. It's early days into the ski season there and they are aiming to preserve health and safety. The Southern Hemisphere seems to be a case study for the US. Campbell is watching and learning as she gears up Vail's US resorts. 
The big news? Campbell says, "We plan to be fully open for the season and we are prioritizing safety." 
Gloomy Business Outlook
Now for the bad news. 
Kelly Pawlak is the new President and CEO of the National Ski Area Association. The National Ski Areas Association is the trade association for ski area owners and operators. It represents over 300 alpine resorts. She delivered a dismal recap of LY. Missing the important spring break weeks in March and April cost the ski industry well over 2 billion dollars. 
To me, this means the industry is starting the season with less money to spend on safety and infrastructure. Pawlak didn't dwell on this, but did share another concern--staffing. Until the end of 2020, President Trump has put a ban on international workers. Resorts are saying American workers are not enough to fill the void of J1 workers. Her research shows in past season's 50% of ski resorts could not fill all the on-mountain positions with domestic workers. 
We know resorts are going to need a beefed up staff to keep mountains secure and clean. Not only are we looking at a health crisis, but we're also facing a staffing crisis if we can't get in more workers to these mountain towns. The ski industry is hoping lobbyists can help ease the restrictions.
How to Manage Human Traffic on the Mountain
Once we got the business news out of the way, we all wanted to hear about logistics. 
How do we control how many people ski per day? 
What's a fair way to manage distribution of tickets?
Pawlak reminded all the journalists on the call, that skiing is inherently well situated to meet the challenges of social distancing. "The average ski area has 1000 skiable acres. The majority of time is spent outside," said Pawlak. 
And it's true, unlike most other sports there's little contact and we're all naturally wearing PPE with all our cold weather gear.  
Here's my plea to skiers: DO YOUR PART
Follow the rules. Now is the time to stay safe and help pull the numbers down. Wear a mask, socially distance and wash your hands. Experts tell skiers: "If you want us to stay open, you are going to have to help us."
Get your pass. If, like the rest of our ski mom community, you plan to ski, buy a pass. With all the insurance programs in place, it seems like a safe bet and it's a great way to pump much-need cash into your favorite mountains.
Plan ahead. Across the industry, there is consensus that ticketing will be limited. Pawlak says, "This is not the year to roll out of bed and head to your favorite ski area. Those who do a little planning and will have the best ski trips."
Connect with your mountains. Get on email lists, follow them on social media and make sure you are getting all the news you need to plan your ski days (and of course, keep following all our ski handles! @ski_moms on twitter and @skimomsfun on Instagram and the Ski Moms Facebook page.

Pawlak had some excellent advice for resorts and retailers: Now is the time to build a "robust online storefront." Ski mountains and retailers need to be able to communicate with the skiing community quickly and clearly across all channels. 
Here's what the passionate ski moms want the industry to know: 
Now that you know what the experts say, let's take a look at the moms...the real on-mountain heroes. We polled 500 moms in the private Ski Mom Community on Facebook (click here to join). Here's how moms are feeling about ski season. 
My question to our group of moms was: Do you plan to ski this year? As you can see, 82% said DEFINITELY.  Another 2% were LIKELY and the remaining 16% were undecided. For this devoted group, COVID isn't scaring them off. 
"I have never missed a season in 30 years and don't plan on missing this one but it will be awful if there's no safe ways to let kids ski," says Donna Vieira.
Moms are already planning ahead for the season. Stephanie O'Connor says, "I will absolutely ski, but avoid indoor spaces/eating on the mountain. Not hard to do when you live close, but much more challenging for visitors. It will be an interesting season for sure."
And of course, moms had some great suggestions for staying healthy, like warming huts in the snow. "I'm not sure how you fully distance in cold weather.... warming huts? Like pool cabanas but in the snow?" from Emily Stone.
Here's What Ski Moms want to know
The survey sparked a lively conversation. The main points we want addressed are these:
How do we maintain safety?
What's happening to ski school?
Where will we eat?
And everyone want to know about bathrooms!
Meredith Connelly Thuerbach says, "I really wonder how they will deal with lodges. I mean, they are already so crowded during lunch time with long lines and people vying for seats. How do you socially distance them? Require people to book an online time slot ahead of time? Close them completely, which would make it so hard for families? I also wonder what do you do about ski mountain daycare and ski school. Ski school drop off is always super crowded." Let me just say, I hear you Meredith!
Keep the ideas coming and let's all do our part to keep the spread from stopping our time on snow.
MORE SKI FEATURES FROM MOMTRENDS
PIN IT!
Use Pinterest to save your favorite family travel features. Be sure to follow our Ski Moms Pinterest Board.
Momtrends was not paid for this post.