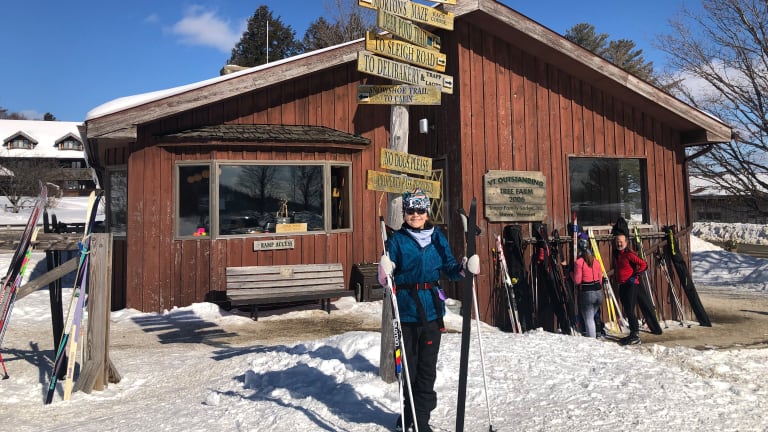 How to Safely Visit Vermont This Winter
Here's the thing, Vermont still wants you to come ski, but you've got to do it safely. Let's talk rules and creative ways to play this winter.
This week I talked to the Vermont winter experts. I wanted to know how this winter was going to compare to season's past. I got good news and some straight talk from the Vermont tourism board, Ski Vermont and many of the Vermont-based resorts about how to safely visit Vermont this winter. To be clear: businesses and locals want you to come here to enjoy winter in the Green Mountain State, we just want you to do it in a mindful fashion. Here's what it's going to look like this ski season and tips for how to safely visit Vermont this winter.
Related: Ski gear you didn't know you needed this season
I really love my new state. It's an outdoor playground and home to some incredible skiing and riding. I'm incredibly proud about how responsible Vermonters have been during COVID. We've kept our numbers low and have been able to enjoy our mountains safely. Before the pandemic, I envisioned becoming Vermont's biggest advocate and influencer, inviting families from far and wide to come here and dive into the culture and powder. Here's the thing, I still want you to come, but you've got to do it safely. 
Know Before you Go
This is the catch phrase of the ski season: KNOW BEFORE YOU GO. For locals and visitors, the rules are mask up and keep your distance, here in Vermont we say, stay "one cow apart." Know before you go, means two things: locals need to plan ahead when mapping out their winter adventures and visitors need to carefully navigate the rules before arrival.
It's not the year to follow the powder and take last-minute trips. Ski Vermont has organized a ton of information for travelers on their website here.  Scroll down and you'll get mountain-by-mountain links to winter operations. If you have Type A organizational skills, this is your season to shine.
Vermont Government
Let's start with how you can travel to Vermont if you don't live here. Vermont has a quarantine in effect. Travelers who come by plane, train or bus need to quarantine in isolation for 14 days upon entering the state OR they can do seven days with a COVID test. Read more about quarantining at the Vermont Department of Health website.
Quarantining before coming IS an option if you come in a personal vehicle.  Vermont is currently restricting who can travel into the state of Vermont and visit our resort as part of its COVID-19 response plan. Non-Vermont residents traveling, and Vermont residents returning, to Vermont must adhere to the quarantine guidelines:
Travelers arriving to Vermont in a personal vehicle must complete either a 14-day quarantine or a 7-day quarantine followed by a negative test in their home state and enter Vermont without further quarantine restrictions.
Travelers arriving to Vermont who have not completed a pre-arrival quarantine must complete either a 14-day quarantine or a 7-day quarantine followed by a negative test in a Vermont lodging establishment or with friends and family (travelers must stay in their quarantine location for the duration of quarantine other than to travel to and from a test site). 
One big question is: how is the quarantine being enforced? It's predominantly up to the individuals to follow the rules, but hotels and inns are supposed to interview guests upon arrival. There are no COVID boarder patrols and the locals aren't running around slashing tires if you have a license plate from New Jersey. Like everything else with COVID, the rules rely on people being responsible. 
What Will Happen When you Arrive on Mountain
There are two big changes that the Agency of Commerce and Community Development released:
On Site Verification: Skiers and riders must attest when they arrive at a ski area that they have read, understood and complied with Vermont's existing guidance on travel and quarantining, and ski resorts must collect and maintain contract tracing information from every guest, as well as reduce their lodge and lift capacity, Ted Brady, deputy commerce secretary, said.
Reduced Capacity on lifts: Lift capacity must be reduced by half except for a party that is traveling together, and an enclosed lift, such as a gondola, may serve only one party unless it's large enough to allow for 6 feet of distance between customers
What's Going on at the Vermont Ski Resorts
Ski resorts are getting creative to manage the skier experience this winter. Largely they are catering to locals and season-long transplant families. For locals, Vermont is a safe haven for rule followers who love the outdoors. This is the year to support your local hill, brewery and bakery, and most importantly, BUY THAT SEASON PASS. Here are more than a dozen ways to make the most of the Vermont ski season.
Family Lessons: Smuggs (aka Smuggler's Notch) is making lemonade out of lemons and revisiting the learning experience. They will be developing learning pods and skill stations. The leadership at Smuggs touted the family lesson. I love the idea of a new-to-skiing family mastering turns together. 
Nordic Skiing: Many ski resorts are promoting cross country skiing as a great addition to a ski vacation. This year Stratton is opening their Nordic center 7 days a week. The folks at the Trapp Lodge are ready to meet the expected increase in Nordic skiing families. The family runs one of the biggest ski areas for skinny skis and they are expecting the trails to stay busy, but naturally distanced. 
Limited Season Passes: Mad River Glen cut off season pass sales on October 15th. They saw a huge surge in sign ups this fall and made the decision to limit pass sales to control numbers on the mountain. If you want to ski it, you can still become a MRG Co-Op member (around $2500+ season pass).
Reservations Only: The Vail resorts: Mount Snow, Okemo and Stowe will require a booking in advance. This is the company's way to control numbers and keep everyone safe. The reservation system opens on November 6th and is exclusive to Pass Holders through Dec. 7 so you can lock in your Priority Reservation Days and early season skiing and riding. There are a fair amount of rules and dates to go over. I highly recommend a visit to the Epic pass website. Head to www.epicpass.com to get the scoop. 
Food Trucks: Stratton added a fun dining option via a 1980's diner on wheels, the food truck will offer comfort food without having to go inside. 
Work Remotely: Why not call Vermont home this winter? The term is "relocation vacation." Catchy isn't it? Jay Peak is advertising two-bedroom ski in/ski out condos + lift passes for $15,000.
Healthcare Workers Pass: Suicide Six has a new "heroes pass." This year, in addition to military personnel, they are including any and all healthcare and healthcare support workers for $249.
Cabanas are hot: This isn't your beach cabana we're talking about, instead, Sugarbush will be installing a half dozen cabanas near the base area. Families can rent them by the day or half day to stash gear and warm up.
Uphill Travel: More and more skiers will be earning those turns. Resorts like Bolton Valley are benefitting from this trend. From the Bolton Valley base area, skiers and riders can access well over 12,000 acres of untouched wilderness on some of the highest faces in the Green Mountains. This means there's always social distancing in effect. They also have a limited number of back country set ups to lease for the season. Get the details here.
Diversity on the Mountain: Vermont's ski leadership is focused on inclusivity as well as safety. Okemo mountain is focusing on getting more women involved and all the mountains are striving for more diversity on the slopes. Headline news: Magic Mountain now has the first Black Ski School Director on the East Coast. 
Ski Midweek: Midweek passes are seeing a huge increase this season. With everyone working from home, it's easy to sneak out for a few runs in the morning and still make that 11am zoom call. The Epic Resorts have a high-value Northeast mid-week pass for $349.
Snowshoeing has its moment: The Mountain Top Inn and Resort
has over 40 miles cross country ski and snowshoe trails. Snowshoeing has NO learning curve an is a great way to enjoy the winter for families. At The Mountain Top Inn a trail pass is included in the stay.
The Best Way to Come to Vermont
Stay longer. It's as simple as that. If you are a weekly skier from out-of-state or 2nd home owner in VT, the best option to consider is to stay and work remotely. Why not move your family up here for the winter?
I'm really hoping we can work together to make this season happen. There's a lot of joy to be had and businesses that are banking on folks acting like grown ups. With a bit of planning, you can get up here and tap into all the things we love (snow, cheese, maple syrup and flannel to name a few).
MORE SKI FEATURES FROM MOMTRENDS
PIN IT!
Use Pinterest to save your favorite family travel features. Be sure to follow our Ski Moms Pinterest Board.
Momtrends was not paid for this post.