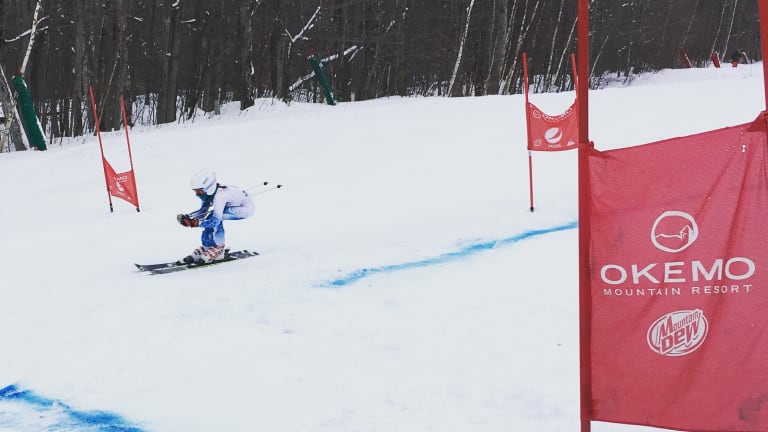 How to Get Your Child Involved in Ski Racing
Resources and tips to make it easier for parents who are setting off on the ski racing adventure.
Do you ever watch the Winter Olympics with your family? We sure do at this house. Seeing the ski racers fly down the mountains was a big part of what attracted our girls to ski racing, but the biggest draw was friendship and time spent in the snow. If you are wondering how to get your child involved in ski racing, we've got some resources to get you started. 
Related: Comparing ski season pass deals for families
Ski Racing is the Best
Our girls have been involved in ski racing programs for the past eight years. I cannot say enough good things about the winter ski programs. They foster independence and teach grit. 5am alarms on race mornings and icy slopes really do build character! But races are a just a fraction of the fun. Your kids will meet other hardy souls and learn to be self-sufficient in a way soccer can never provide.
If you're like me, the ski racing learning curve is steep. I grew up playing lacrosse and soccer in Maryland, and was only vaguely aware of skiing every four years when the Olympics rolled around. Thanks to a bit of serendipity, we purchased a country home that was minutes away to a small ski hill with a ski racing program. A few of our neighbors encouraged us to sign our 5-year-old daughter in a weekend program. 
Three years later, she was trying out for a spot on the U10 race team at Mohawk Mountain. Fast forward and we're in Vermont now and both girls are still racing in 10th and 7th grades. 
Since I had to bumble my way along, I thought I would make it easier for parents who are setting off on the ski racing adventure with tips and information to get started. 
What's the Perfect Age
First, let's talk about age groupings. Age groupings are done in buckets of two years. In ski racing, the birthdate cut off is December 31. That means for a U10 program they will have racers who are 8 and 9 in the program. Some children will turn 10 after the program starts and but will remain in the U10's until the next calendar year. The ultimate ski racing birthday would be January 1st, as you will always be the oldest in your age group. December birthdays will always be the youngest. As with all things, talent and grit know no calendar cut off. Strong racers will come up just fine with a late winter birthday.
I've asked a lot of racers and a lot of coaches this question and 7/8 seems to be the magic age. While there are kids who will thrive in a U8 racing program, the consensus is kids needs less structure and more play when they are younger.
On the other end, joining a race program after the U12 age grouping will be tough (but not impossible). From ages 7-12, kids will amass a lot of time figuring out gates and carving. It would be a challenge to catch up and be competitive. 
Starting older is also a powerful experience. Even if they're not competitive with the top racers, competing against themselves and constantly advancing their skills are such important lessons. That said, it's important to set that expectation early, understanding that a large proportion of the racers will be more experienced.
Start Small
First things first, your child needs to learn to ski and must at least like the snow. Whether you teach them yourself or opt into a program at your local hill, most racing programs are not geared towards never-ever skiers. That being said, they also don't need to be pros. A basic checklist would include:
Can get on and off lift solo
Can carry own equipment
Can listen to instruction and put it into practice
Can make connected turns 
Can stop with precision
Willingness to learn new things
Tolerance of cold and damp conditions
DEVO Programs
Many mountains that offer alpine racing also offer DEVO programs. These are development programs that provide the skills racers need without the added stress of traveling to race and buying expensive equipment. DEVO programs can start as early as age 5 or 6 and should maximize FUN while allowing kids to acquire new skills and most importantly meet peers who are also avid skiers. 
Don't worry, your kiddo will have a ton of fun, but be prepared that this is a team, and just like other teams, there are expectations. I think DEVO is a great place to start if you think your kiddo might like racing.
What's Expected from the Parents
Now that you know your child is ready, how about you? There are responsibilities involved. 
Be on time and help out. This could be helping to schlep gear and provide snacks. On race days this means volunteering for duties like sign-in and gate judge. It truly takes a village to run a race. Volunteering is a great way to make new friends--I've met a few lifelong buddies thanks to ski racing duty.
Let the coaches coach. If you sign up for a program you are signing on to let another adult provide inspiration and guidance. 
Provide the Gear. Make sure your child arrives to practice with the right equipment -- especially safety equipment. Gear can get expensive. Make sure you LABEL EVERYTHING. We like Mabel's Labels multipacks. DO NOT EXPECT THE COACHES to return your child's ski gear at the end of the lesson. Momtrends Tip: you don't need new gear. Most teams have a swap where you can get used equipment. 
Care for the Equipment. Your kids won't be able to handle tuning skis until they are 12 or so. You'll need basic knowledge on how to tune and wax skis OR you need to find a sports store that will do a fast turnaround for you.
Pass on Knowledge. Once you've mastered the art of signing up for races at AdminSkiRacing.com, share the wealth. Build a community where you can and pass on used gear and your hard-earned ski mama wisdom.
Finding a Program
If you're convinced ski racing is the sport for your family, it's time to start doing research. I've listed resources below. As you do your research, here are things to consider. 
Cost? Make sure you are comfortable with the financial commitment. Some programs have scholarships available.
How many days a week will they practice? Some programs are geared towards weekenders and some are more serious and have weekday components.
Coaches? Ask if the coaches have SafeSport training and how much coaching training they've received. 
Drive Time? Make sure you are aware of the race schedule and distances. Some teams may drive 3-4 hours for races. Know what you are getting in to.
Competitiveness? Some programs are more serious than others. Consider how much competition your family can handle before signing up. Some teams also require a try-out. That means even if you are willing, there might not be an immediate spot for you.
Programs by State
Now it's time to look for programs near your home. I started this list of resources and hope it's helpful.
MORE SKI FEATURES FROM MOMTRENDS
PIN IT!
Use Pinterest to save your favorite family travel features. Be sure to follow our Ski Moms Pinterest Board.