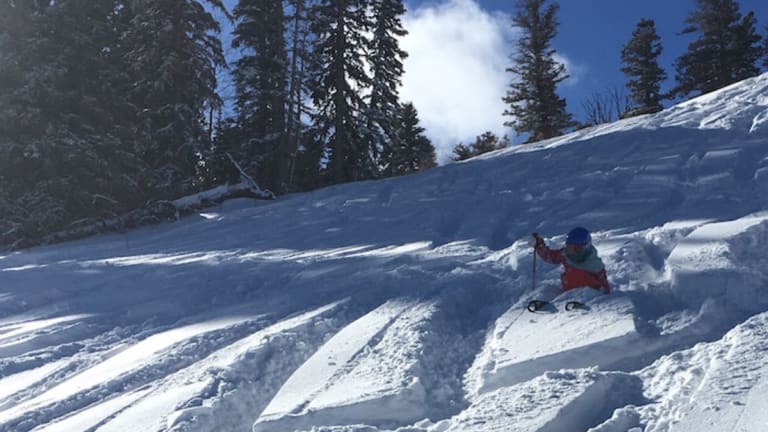 How to Embrace the Snow this Winter
Here are 4 ways to manage a runny nose so you can get back to having fun outside
You can't let winter make you bitter. Before I had children, winter used to be the enemy. I held a grudge until spring arrived. Nowadays, I relish my time in the snow. Winter is the season when my family bonds in the snow! 
Related: Beginners guide to snowshoeing
You see, we're a ski family. Thanks to Mr. Momtrends' devotion to skiing, he got me hooked on the sport. Then we decided to raise our girls as skiers. By age two we had each of them on skis. Here's a photo from the way-back machine, when the magic carpet was where they spent their days...
Now my oldest daughter is 10 and she skis faster than I do! To celebrate the arrival of winter, and her love of the sport. we took our first mother-daughter ski trip last week to Solitude, Utah. We headed out West to find some powder. Score! We were in luck.
My girl is now a total powder hound. She's growing up with an appreciation for winter that I never had. Seeing the joy of skiing through her eyes is special. When I heard her giggling through the fresh powder, well, my heart just swelled. Sometimes, you've just got to get out of your comfort zone to make memories.
Out on the hill she sees me trying...and falling. She sees me laughing and gritting my teeth as I try terrain that's challenging me. What she doesn't see? My face buried in my laptop. I can't lock eyes with my phone when I'm skiing. Ah, the life lessons that our kids teach us!
Who knows it we'd be as connected if we didn't have those lift rides together; telling tales of our epic runs and epic falls. Skiing's definitely brought our family together.
Now you may find skiing a bit daunting, but armed with the right gear and good attitude, anyone can enjoy a day on the slopes. We used a little mountain bribery to get the girls started, stickers, candy...little bits of positive reinforcement. Now that they are hooked, we still reward them with hot cocoa!
Here are 4 ways to manage a runny nose
Here's one more trick that keeps them happy all winter long. Since we're out in the brisk air so much, sniffles are inevitable. Even if it's not a full-blown cold, we all get sniffly running from the slopes back inside. 
Don't dry out your sinuses: When we are up in high altitudes in Colorado and Utah, things get mighty dry. Dry climates can cause irritation that leads to nose bleeds and/or a runny nose (we call this mountain boogers--gross but true!). A good humidifier will counteract the dry air. Just be sure to keep the humidifier clean.
Get rid of the musty smell: If you detect that scent in your home—it often occurs in basements—there's likely too much moisture in the air (the opposite of the scenario in tip #1). An air purifier can be all you need. But if the smell persists, make sure to get your house checked for mold.
Keep it clean: Especially in the winter when you don't get as much fresh air in your house. Dust mites can wreak havoc on your nasal passages, so make sure your home is part of your runny nose remedy rather than the problem. Vacuum regularly.
Blow gently: Tell your kids not to attempt to push out gray matter. My girls used to attack the tissues. Now we tell them to lighten up. There are plenty of tissues in the box and with soft tissues like Puffs Plus Lotion they don't mind using them.
So what do you say? Are you ready to join me on the mountain for some winter fun?
MORE SKI FEATURES FROM MOMTRENDS
PIN IT!
Use Pinterest to save your favorite family travel features. Be sure to follow our Ski Moms Pinterest Board.