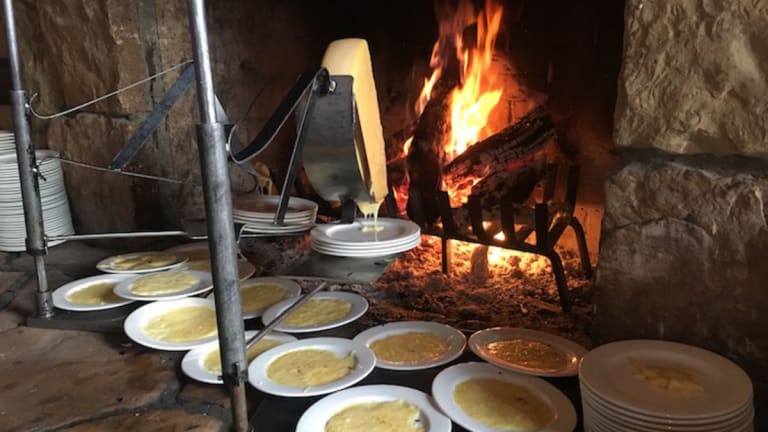 Help with Deer Valley Dining
Here's some help with booking special meals for your family at Deer Valley.
Food and skiing go hand in hand. At Deer Valley, you'll find the resort cares just as much about the snow quality as they do about the foodie experience. Families can have memorable meals that enhance the vacation experience. Here's some help with your Deer Valley dining experience. 
Related: Deer Valley the Ultimate Luxury Ski Resort for families
Deer Valley Dining Guide
First off, let's talk bubbly. Leave it to Deer Valley to have a champagne yurt on the property! The Montage hotel hosts the Veuve Clicquot champagne yurt. Located at the base of the yurt is an oasis of chic. Sip bubbly while the kids are in ski-school? Yes, seems like a good idea to me. Check out this fun video:
Fireside Dining
Every family deserves a special dinner and sleigh ride at Deer Valley. Fireside Dining will likely be the experience your kids remember for years to come. Inspired by favorites from the European Alps, this restaurant is a true delight. Start with the Swiss raclette cheese. I could easily make a meal of that alone paired with charcuterie and bread, But I always save space for the roast lamb and stews. Everything is served from five stone fireplaces. Go ahead, you've earned it after a long day of skiing!
Horse-drawn sleigh rides are available by reservation Wednesday through Saturday, starting Friday, December 17, or consider an adventurous trek before dinner on snowshoes. For more information on these options, please call 435-645-6632.
Fireside Dining is located on the upper mountain area at Empire Canyon Lodge (Book here: 435-645-6632). Don't forget the sleigh rides after dinner. Our kids will never be too old for a horse-drawn sleigh ride, jingle bells and all. For adults the buffet is $90, Children (12 years and younger) are $30.
One last tip from my server, "Most people go in order...cheese, stew, lamb, fondue." That's a great way to navigate this buffet. Or double-down on cheese and skip the chocolate fondue (I'm not a huge chocolate fan).
Seafood Buffet
I've experienced the Fireside dining before, it's a favorite at Deer Valley. Now I have a second spot that will be on my "must experience" itinerary—the Seafood Buffet. Located in the Snow Park Village base area, this is a seafood lovers' paradise. Right now due to COVID the buffet is on hold, but we're told it will be back!
This Zagat-rated buffet has a cornucopia of underwater delights. I started with the poke bar and then got seriously sidetracked by the selection of four varieties of oysters. There are mountains of shrimp, soups, fish, and steamed delights too. Yes, there are non-seafood options. But why? Save a little room for dessert, or don't and just gorge on oysters like I did. Priced at $68 per adult and $34 for kids 12 and under, this is a relative value. Especially since I consumed 12 oysters. Don't judge.
Royal Street Café
Normally when I ski with Mr. Momtrends, I snack thru lunch or grab a quick bowl of chili somewhere. He doesn't like to waste time on things like food while skiing (but he will let me take water and pee breaks). Thankfully on this trip, I was with a group of women. Our midday break was spent with a gourmet lunch at the Royal Street Café.
Located mid-mountain at Silver Lake Lodge, the Royal Street Café is the spot to refuel in style. If you can, nab a table in the sun and watch the skiers come in. Don't miss the Fresh Dungeness Crab Tower. It's a vertical explosion of goodness. All the things I love piled high: avocado, tomato, pea sprouts, crispy spiced won tons, sauces of wasabi, soy and sweet chili. I had a little love affair with this dish. It's that good.
Fresh Tracks
For a little couples time, head Fresh Tracks in Snow Park Lodge. They have seating outdoors (with heaters) and indoors (where you can hear live music!). After the host seats your party, place your order using the QR code at your leisure. Of course you'll want to try the Champion Margarita and don't miss the Deer Valley chili nachos. Made-to-order selections are sent directly to our kitchen and delivered to your table as soon as they are ready.
Luxury Resorts on Property
Other can't miss spots include Stein Erickson's Golderner Hirsch. Book a table near the fireplace and settle in for a great meal. You'll feel like you were transported to Europe in this alpine haven, it's a meat-heavy menu (you earned it!) with heavenly fries. There are wonderful wines by the glass to pair with every item on the menu. For a lighter meal, try some soup or seafood. 
TIP: When you book lodging, call and make dining reservations so you don't miss out.
Venturing out into Park City? Check out our favorites in town here.
MORE SKI FEATURES FROM MOMTRENDS
PIN IT!
Use Pinterest to save your favorite family travel features. Be sure to follow our Ski Moms Pinterest Board.