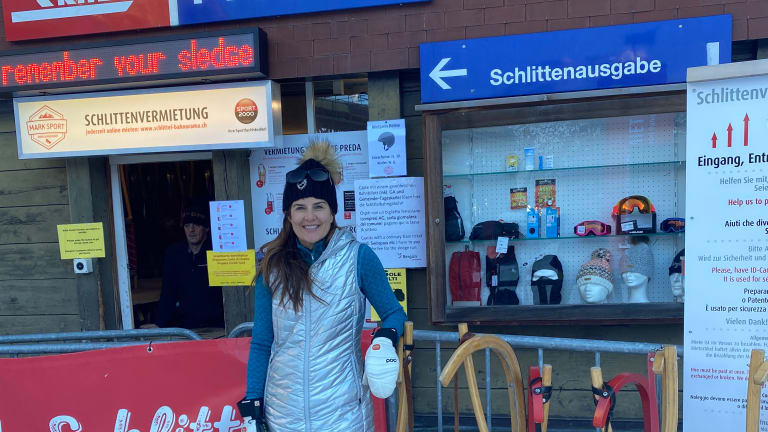 Grown-Up Sledding Fun in Switzerland
Tobogganing on the Preda-Bergün Schlittelbahn track in Switzerland
On our recent ski trip to Switzerland we were treated to a Swiss Travel Pass. It was one of the best travel bargains I've experienced in a while and it opened up our eyes to some less traditional options for playing in the snow. Thanks to the Swiss Rail system we were able to get in a day of grown-up sledding fun in Switzerland. 
The Swiss Travel Pass
MySwitzerland.com is a wonderful resource for travel planning. When we were mapping out our trip a representative from the PR team connected us with passes. We were thrilled with our Swiss Pass. In 5 days, we took 5 Swiss trains. The cars for hire are VERY expensive taking trains helps cut down on costs and allows you to really see the countryside and appreciate Swiss engineering. Plus Swiss trains are clean and very, very punctual. 
The details of the Swiss Travel pass. The Rail Pass for Switzerland gives you unlimited access on the network of Swiss Travel System. The Swiss Travel Pass is sold for 3, 4, 8 and 15 days and allows a free entrance to over 480 museums and exhibitions. Our Swiss Pass was $500 per person for 4 days of unlimited travel plus discounts at many attractions.  To frame this a bit, we took a 5-minute cab ride in St. Moritz that was $35. 
A wonderful rail system connects the entire country. A few mountains won't get in the way when it comes to Swiss engineering. I can't recommend these passes enough for families. It's a wonderful way to see this amazing country.
Getting to Preda to start the Tobogganing Adventure
Other than one cab ride, we pretty much relied on trains throughout Switzerland. We flew into Zurich and then took a train (with connection) to St. Moritz to stay at the Giardino Hotel. On route, we enjoyed the jaw-dropping Unesco Heritage Train rail in Switzerland.
The Rhaetian Railway is a feat of engineering . The route twists through loops, tunnels and over viaducts. The journey has been named a UNESCO World Heritage site since 2008. 
As the train careened through the alps, Mr. Momtrends and I saw this cool tobogganing track near the Preda train stop. I was intrigued. Working with our concierge at the Giardino, we were able to figure out a trains schedule that would get us to the start of the course and then after our sledding get us on to Bad Ragadz. Here's the thing: the Swiss are really, really good at planning and at executing said plans. 
We figured out a route from St. Moritz to Preda and then from Bergün to Bad Ragadz. 
But this isn't the only sledding option. Click here for all the sledding (or sledging) options from Swiss Tourism
Preda-Bergün-Schlittelbahn
We hopped off the train at Preda, rented sleds and were on our way.  It's a 6km track that drops 440 meters along a winding snowy road that is only open to sled traffic. There are moments the descent is a little intense, but the Swiss seemed to handle it with aplomb. Many of them had small children on sleds with them. Since Mr. Momtrends and I are new to the sport we were a lot less in control. I think a few more runs on the track and I would be a better sledge driver. 
The route winds under viaducts and along the Alvra and ending up gently in Bergün. Fun Fact: This route is the longest illuminated toboggan run in Europe.
Getting Set Up with a Sled
Toboggans and sledges can be rented in Bergün as well as in Preda. We hired a sled at Mark Sport and paid $5 per piece to have our luggage transferred to the next train station. You can also rent sleds in Bergün and train up to Preda to start.  Hourly services operate on this section of the line.
Fortunately, my husband speaks German (and French, he's a keeper) and he sorted out the luggage and basics on how to steer the sled. As far as I could tell, it's about flinging your weight left and right and tugging on the sled rope. Oh and a little foot steering is required too. 
How do you stop? Like Fred Flinstone. Drag your feet. 
Did we crash? Yes. Repeatedly. It was a blast and I was able to control my speed well enough that there was no danger of injury, but do note -- this is a highly unsupervised activity. The Swiss think we are all grown-ups and should be able to assess risk for ourselves.  
Video of the Sledding Adventure
More details on the route are available here 
After about 45 minutes (we stopped a few times along the way to take video and photos) we arrived in the charming town of Bergün. We dragged out sled through horse fields and by the local ski lift into town. There were a few stands outside to purchase hot drinks or snacks. The charm factor was HIGH.
From there we made our way to Mark Sport to return the sleds. The Bergün train depot is another short walk away.  
Snacks and More at the Bergün Train Station
Once we returned the sled and walked in town a bit, we headed to the train. Bergün railway station is a delight with a full-on museum and nice littel restaurant inside. We had a delicious post sledding snack (cheese toast) and tea and then were on our way to Bad Ragadz.
Bergün railway station is located on the Albula Railway line from Chur to St. Moritz. The Bahnmuseum Albula (Albula Railway Museum) is located at the station and tells the history of the construction of the Albula Railway. There are more than 600 exhibits that educated visitors about the railway.
It's a full day of adventure and history and a ton of fun. Definitely put this on your Switzerland bucket list this winter.
MORE SKI FEATURES FROM MOMTRENDS
Pin it!
Use pinterest to save your favorite family travel features. Be sure to follow our Ski Moms Pinterest Board.