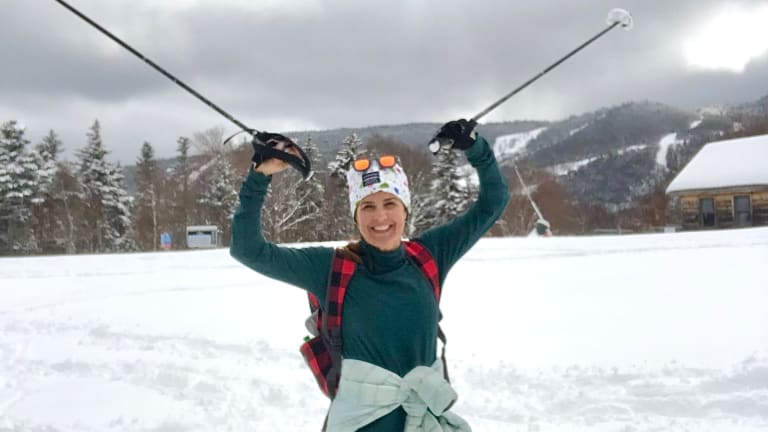 Go Green for Mother's Day with Protect Our Winters
Preserving nature matters. What I really want for Mother's Day is to go outside, here's how I'm helping protect our winters.
Now more than ever, I realize the power of nature to heal. Being isolated here in our new Vermont home has given me so many reasons to be grateful for nature. To celebrate my first holiday in the Green Mountain State, I've found the perfect gift from the Protect Our Winters merchandise collection. I encourage you to go green for Mother's Day by celebrating moms and supporting Protect Our Winters (POW).
Related: Should families invest in ski passes this year
Why Snow Matters
Homeschooling and video chats are my new normal. Getting outdoors to unplug is essential to our mental health. We live right on a mountain and our rambles offer us a chance to be socially distant while being connected to something larger...the Earth and Mother Nature.
I've been meaning to write about POW for months. POW was created in 2007 by professional snowboarder Jeremy Jones. The group's goal is to turn outdoor enthusiasts into climate advocates. I've been to an event they hosted in NYC and have admired the work they've done lobbying on behalf of environmentally minded candidates. I'm getting more active as an environmentalist in an effort to preserve snowsports for my family. Since some of my happiest times as a parent have occurred in the snow, I want to save this sacred space. 
How POW takes action
POW helps passionate outdoor people protect the places and lifestyles they love from climate change. It's not a Republican thing or a Democratic thing -- it's a love of snow thing. Supporters of POW include athletes, scientists, creatives, and business leaders advancing non-partisan policies that protect our world today and for future generations. I'm hoping to get more moms involved in the messaging--we have a lot of skin in this particular game.
The biggest reason I stand behind POW is how they aim to protect public lands. POW believes in reducing fossil fuel emission to protect the environment for future generations. 
The extraction and burning of fossil fuels release carbon dioxide and other greenhouse gasses, including methane. POW believes that by protecting public lands, it will, in turn, protect the climate. Yep, I'm fully committed to saving snow for my girls and their kids down the road.
The Perfect Mother's Day Gift from POW
On May 10th, we all take a break to celebrate moms. This is a great opportunity to give better gifts! The older I get, the less stuff I want. For this Mother's Day, I want time outdoors with my family. A long run on a winding country road followed by a hearty homemade brunch would be the perfect day. As for gifts, I'll take a bouquet of locally grown flowers and a thoughtful gift like this gorgeous photo/travel book from Michelle Parker. 
Goldie is a celebration of exploring. Packed with photos from Parker's travels, this book celebrates a love of snow and girl-power. And you can feel good ordering this gift, 90% of all purchases directly to POW. 
My Mother's Day gift isn't just for me; it's for future mother's too. POW wants to keep things wild for moms. I want us all to be able to tap into the explorer inside. 
This Mother's Day, I hope you too can take a break from the quotidian parts of motherhood and get outdoors.
MORE SKI FEATURES FROM MOMTRENDS
PIN IT!
Use Pinterest to save your favorite family travel features. Be sure to follow our Ski Moms Pinterest Board.
Momtrends was not paid for this post