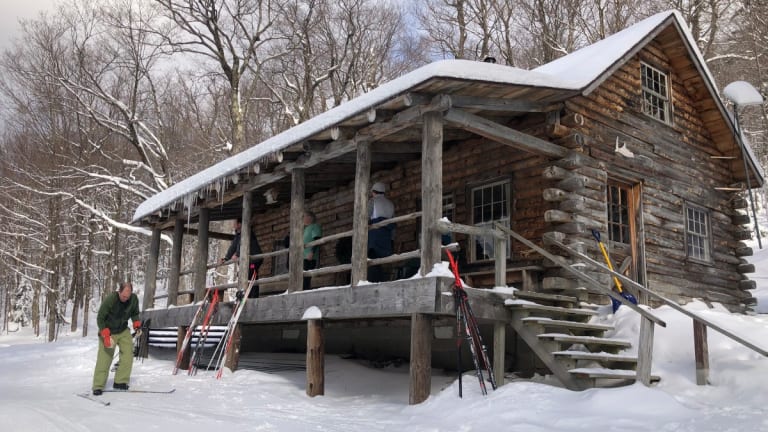 Favorite Cross Country Skiing Spots in Vermont
Increased your enjoyment of winter by spending time on Vermont's cross country ski trails.
My love for Vermont grows each winter. This great little state knows how to make the most of cold months. One of the ways I've increased my enjoyment is investing in time on the trails. I'm sharing my favorite cross country skiing spots in Vermont in the hopes that you will give this awesome sport a try this winter. 
Trapp Family Lodge
The resort is still family owned by the von Trapp family of Sound of Music lore and they have maintained an outdoor playground of 2,500 acres of pristine Vermont wilderness. The Trapp Family Lodge is home to the first cross-country ski center in the country, and it's the largest in Stowe. The trail network covers over 1000km and has spectacular nature all over the property.
It's a great spot to learn as rentals are available, and there's a tremendous ski shop on property. Private and group lessons are available with wonderful instructors. With group lessons being the most affordable option: rates are $30 for an hour of instruction. The size can range from 2 to 10 people. All lessons start at the Trapp Family Lodge Outdoor Center.
They have 40km of groomed trails that vary in difficulty. I recommend heading to Slayton Pasture Cabin. This is a 6-mile loop in total (3 miles each way) with a few challenges along the way. Warm up on the hearth of a roaring fireplace and replenish your energy with homemade soup, sandwiches, and hot chocolate.
Food motivates me to work out harder and longer. And the von Trapp Brewing Bierhall Restaurant is and awesome motivational tool. The restaurant is conveniently situated on the cross-country ski and mountain bike trails. After my 7+ mile excursion I was ready to dive in! They call the menu "a little of Austria, a lot of Vermont," and I agree. It's all about fresh food that's lovingly prepared in a setting that can't be beat.
There's more to do here than you can accomplish in a day, so I suggest you stay on property. The 96-room alpine lodge is located near the access road to Stowe mountain. The lodging is a mix of detached luxury cabins and rooms in the Austrian-inspired main house. 
Plan your trip here https://www.trappfamily.com/  700 Trapp Hill Road, Stowe, Vermont.
Blueberry Lake Nordic
I'm somewhat hesitant to share this one with you as it's my local haunt. It's about 10 minutes from my house and such a gem. They have 11 trails (35K) for classic skiing, skating or snowshoeing, as well as fat biking. These hill trails are dog-friendly and some of the prettiest you'll find in the whole state. 
They guys that run the shop are super friendly and make the absolute most of each flake of snow. They don't have snowmaking, but as they say, "Vermont provides." This spot is really dependent upon the weather. It's a good spot for beginners to intermediate skiers (no huge hills to climb).
They offer ski and snowshoe rentals and lessons. We get the family season pass each year which is $350 and the best investment in my mental health that I make every year. After your ski, head to the East Warren Community Market for a scone and tea! 42 Roxbury Mountain Rd, Warren, VT 05674
Blueberry Lake Nordic is located at 424 Plunkton Rd, Warren, VT 05674. Get more details http://blueberrylakeskivt.com/index.html
Craftsbury
This is a full outdoor center with water sports and running in the milder months, but in the winter, Craftsbury turn into a world-class Nordic skiing mecca. It's the largest facility on my list with 105k of meticulously groomed trails and it's home to some VERY fast skiers.
They offer programming at every level and for every age. When you become a member, you get access to some of the most advanced training and programming in the country. Seasonal programs start at age 6 with a group called the Catamounts and go all the way to seniors racing programs. This is where racers are made!
One of my favorite programs they host is the BKL Development program for kids ages 8-12 who already have a season or two of skiing experience (perhaps from our Catamounts program) and are ready to step it up a notch. 
The BKL development program, which is capped at 30 participants, will meet 2 days per week. Wondering what on earth the "Bill Koch League" is? Bill Koch (pronounced "coke") is America's first Olympic medalist in cross country skiing, and New England's youth ski league is named for him. This is a good group for kids interested in perhaps doing some BKL races, but also for those who just want to have fun and develop ski skills through play. The BKL "devo" group will have plenty of playtime on skis, but will also be introduced to more ski-specific training and technique work.
This site is home to many, many ski races that are very popular in Vermont, but they are also the go-to spot for folks who simply want to enjoy the views and trees on the property.
A few more notable things: There are 20k of trails open to dog owners. They have a great shop on the property and Craftsbury also offers lodging for guests in hillside cabins.  
Craftsbury is located at 535 Lost Nation Rd, Craftsbury Common, VT 05827. Find out more here https://www.craftsbury.com/ski
Rikert 
These beautiful trails in the Green Mountains inspired Robert Frost's poetry (his cabin is up a trail and through the woods!). It offers 55+ km of skate and classic skiing, snowshoeing, and fat-biking. You'll find plenty of tree-lined trails and some hills to get your heart pumping. The Nordic Center is fully ADA accessible.
Middlebury is a partner at this facility (and they offer a cool January Term credit class in Nordic skiing). Since the college kids train here (as well as some amazing local junior athletes, they make snow. Starting in November when the temperatures permit they start up the snow-making system. They are open about 140 seasonally. They offer a full rental shop as well as lessons.
They also partner with local elementary schools to make the sport available to even more participants. If you want to get your kiddos into racing, Rikert has wonderful seasonal programming for kids run through Frost Mountain Nordic. Get details here.
Rikert is located at 106 College Cross Rd, Ripton, VT 05766. Get more details here https://www.rikertnordic.com/
Bolton Valley
Bolton Valley is family owned an operated. After a bit of transition, the children of the original Founder, Ralph DesLauriers, have taken the helm of this ship (and it's great to see a Lindsay helping increase the numbers of women in charge of ski operations!). It's located just 20 minutes from Burlington and does a great community service of teaching the local city kids to ski. 
Bolton's 100-kilometer Nordic trail system offers terrain for skiers and snowshoe enthusiasts of all levels, with 15 kilometers of groomed trails.The Bolton Valley Nordic Center offers a wide variety of lessons and programs for Nordic skiing and snowshoeing. We love the weekend group lessons. For $60 you get a ski pass, rentals and a lesson.
Bolton Valley is located at 4302 Bolton Access Rd, Richmond, VT 05477. Get more information here www.boltonvalley.com/winter/activities/nordic-skiing-snowshoeing/
Woodstock Nordic Center
The Woodstock Nordic center is located right down the road from the picturesque Woodstock Inn (click here for more information on the inn, it's so charming). In the summer, the trails are a golf course, once winter arrives, the greens are turned into a playground for skiers. 
The Woodstock Nordic Center offers more than 45 km of skiing right in the town of Woodstock, VT on two trail systems. When possible, the trails are groomed and set with classic ski tracks (parallel lines grooved in the snow to make skiing easier).  There's also a wide track groomed for those who skate ski (as it sounds, skate skiing is a motion that mimics ice skating, it's zoomy for those who have skills).
Find out more about the Woodstock Inn here.
The Nordic center is located at 76 South Street, Woodstock, VT 05091. Get information on rates and opening times here (802) 457-6674.
Learn to Cross Country Ski
Check out the L.L.Bean Welcome Pass. The CCSAA Welcome Pass is included in the purchase of new cross country ski and snowshoe equipment at participating retailers and is good for three FREE visits to any of our participating ski and snowshoe areas. Get your L.L.Bean gear here.
Your Pass will be punched at the ticket counter of the ski area with each visit. The value of the redemption is the price of a trail pass from the redeeming ski center. You may be asked to show your new equipment at the ski area. The Welcome Pass is non-transferable.
It is suggested that you call in advance as some ski areas are requiring reservations. Find our more here.
Learn more about cross country skiing here xcski.org
MORE SKI FEATURES FROM MOMTRENDS
PIN IT!
Use Pinterest to save your favorite family travel features. Be sure to follow our Ski Moms Pinterest Board.
Momtrends was not paid for this post.