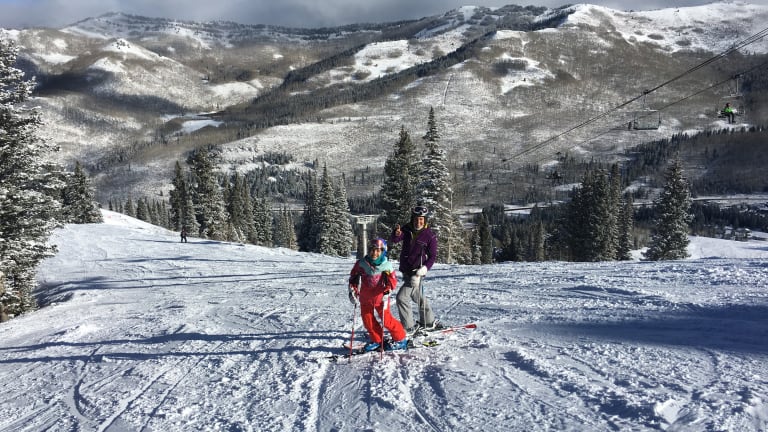 Family Ski Trip to Solitude Mountain
What's new for families at Solitude, Utah and how to ski there safely this winter.
Our family love affair with skiing started nearly a decade ago at Solitude Ski resort in Utah. It's been a while since our last visit, it's time to check in with one of our favorite family ski resorts. 
2020 COVID update:The season begins November 20, 2020 (weather permitting). Lift tickets are now on sale, with bookings for lessons and rentals available soon.
Related: Easiest ski and snowboard lease for families
What you need to know about skiing Solitude this Year
Maintain a distance of at least 6 feet from those not in your group.
Wear a face covering properly fitted over the nose and mouth when indoors or when appropriate physical distancing is not possible. This includes while in lines and when loading, unloading, and riding chairlifts.
Wash hands frequently with soap and water. Use hand sanitizer when hand washing is not available.
Follow all resort guidelines, signs, and staff instructions.
Stay home if you are feeling ill or experiencing any symptoms related to COVID-19 or any other contagious illness.
Avoid crowding or congregating anywhere at the resort.
How and When you Can Ski
As Solitude opens for the 20/21 season, Ikon Pass holders, Solitude season pass holders, and Solitude Ticket Pak purchasers will be able to proceed directly to the chairlift as usual. Lift tickets must be purchased in advance for a specific date. Ikon Pass Friends & Family tickets will be honored at this time and can be fulfilled same-day at the ticket office. As always, kids ages 4 and under ski free at Solitude.
Note: Same-day lift tickets will not be available for sale on-site. 
I've update the lesson portion with COVID details.
The Solitude Experience
Solitude caters to families that love the purity of the sport, the chance to reconnect over a lift ride, and a mountain that lets you fully unplug and unwind.
My first trip to Solitude was in December of 2004. I was relatively new to skiing and hadn't had the chance to get West very often. You'll absolutely adore the size of this destination resort. Solitude's lodging is all centered around a quaint little village. Everything is walkable...even in ski boots...even with kids. When we arrived, we quickly settled into Creekside condos in our inviting 1-bedroom, snow was gently falling, and it was time for bed and dreams of fresh powder.
Lucky us. When we woke it was a Friday in December when most everyone else was at school. We had early-season fresh powder at our pleasure. My contact arranged a guide for the day. After picking up my rentals at Powderhorn, we connected with Karl and headed to the lift. The best news is that all this took about 20 minutes. The village is like Mr. Roger's neighborhood. Everyone is friendly and everything is convenient. Look around. No one is frantic or stressed. 
Being early days into the season, we had limited terrain even with the overnight dump. No worries, despite several lifts being closed, there was plenty of quality terrain to keep us busy (favorite runs include Sunshine Bowl and Hal's Hollow). Since we New Yorkers don't see much powder, we focused on that. Karl gave us some great pointers (don't lean back and keep your tips together) and off we went.
Solitude by the numbers:
8 lifts (4 high speed)
1200+ acres of terrain
500+ inches of snowfall a year.
82 runs (10% beginner, 40% intermediate, 50 advanced/expert
Top elevation 10,488
Vertical 2494'
Who Skis Solitude
As the season progresses, the mountain attracts plenty of expert skiers who get lost (metaphorically) on the back side of the mountain in Honeycomb Canyon. There are acres and acres back there where you can ski with freedom. For those who love a groomer, Solitude has plenty of those to keep you busy.
And for beginners, there's a whole quiet enclave off of the Moonbeam base area to explore without the fear of getting mowed down by a speed demon.
Moonbeam can be accessed from the Village via the Apex lift and a run down Fleet Street to Little Dolly. Fleet Street has a steep start so don't attempt this with inexperienced skiers. But families don't have to worry about skiing down to lessons with kids--the complementary shuttle travels back and forth from Moonbeam to the Village.
Learning to Ski at Solitude
Moonbeam is home to the Snowsports Academy and it's situated right by the learning slopes. It's ideal for families who want their tots to start a love affair with skiing. This is the resort where we chose to expose our girls to skiing for the first time. The staff spends painstaking effort to select ski instructors that lead with kindness and fun. "I can coach great ski technique," said Tim Wolfgram, the Director of Snowsports Services. "I can't coach fun." True enough. This means Tim looks for skiers with winning personalities.
No one wants his or her child's first ski lesson to be with a crabby coach. Solitude focuses on the fun. Oh, and they try to keep the expenses in check too.
COVID LESSON UPDATES
Group lessons for children 6 and under will not be offered.
Group lessons for children ages 7-12; Fly Like an Eagle, our multi-week program for children ages 7-13; and adult group lessons will be offered with modified hours (10:00 a.m. to 1:00 p.m.) and no lunch will be served. 
The Solitude big mountain, race team, devo program, will be offered as usual. 
Women on Wednesdays multi-week lessons, and Hidden Tracks mountain tour will be offered as usual. 
There will be more options for private lessons to meet anticipated demand. Get the latest offerings and prices will always be at https://www.solitudemountain.com/plan-your-trip/lessons-and-programs/ski-and-ride-lessons.
Let's talk a little about money. After coming off a week in Vail (ouch), We appreciated the affordable lift prices. Solitude is now on the Ikon pass and they have some of the most competitive lift prices around. Solitude wants families to fall in love with the sport and to start young. That's why they make it affordable (learn more about the great Utah program where all 5th and 6th graders ski free here).
Lessons aren't cheap anywhere. Solitude does a great job keeping that in check. Here's what you're looking at for lessons.Youth Snowsports Academy: For ages 6-13, $142 10-3:30pm. Includes lessons, lift ticket and lunch. For younger kids try the Ski & Play: For ages 3-5, 9am to 4pm. Includes lessons, lift ticket and lunch. $200.
If you're planning a longer stay try the Explorers Lesson Packages. Includes lessons, lift ticket and lunch for three days for $346. And if you want to really explore the mountain i suggest you opt for a private lesson (lift tickets are NOT included), you get a three hour experience with an amazing coach/guide, like Karl, for up to 5 people. The fee is $350 and reservations are recommended. 
Note for Locals: The season-long youth programs have been expanded. My daughter skied with the excellent instructors involved in the DEVO team. They meet regularly on weekends and participate in local races.
Where to Eat at Solitude
While the quality of the skiing hasn't changed, the quality of the food has. There's new options at the mid-mountain lodge called Roundhouse. Try the vegetable plate from the Himalayan-inspired menu.
Start your day with a special breakfast sandwich from Stone Haus Pizzeria. When we stopped into the pizza place to grab a quick bite, the chef asked if we wanted to try something new. "Sure!" we sampled his creation--egg, avocado, tomato and cheese on whole wheat. A perfect way to start a ski day.
Our daughter gave it this review.
Dinners can be quietly had at home if you want to go the DIY option. I advise building in at least 1-2 dinners out. We headed to St. Bernard's located at The Inn at Solitude (also the location of the spa) for the new elegant buffet. Select from grilled meats, fresh charcuterie and gorgeous vegetables. It was a handsome fireside room and we loved tasting a bit of everything. They are still settling in on children's fare but my 10 year old loved the Wagu steak and roasted carrots.
I adored the veggies. With each new dish the chef was asking for feedback. We were the happiest guinea pigs ever.
And let's not forget the dessert.
Over at Honeycomb Grill things are equally splendid. This is an a la carte affair. I give rave reviews to my cioppino. A flavorful tomato stew packed with seafood. My daughter ordered the schnitzel--it was a little thick for our taste and the portions are immense. We really had no room for dessert. Thumbs up for the service at both spots the staff was so friendly and welcoming to families of all ages.
Don't forget to spend some time exploring the village.You can head out on Nordic skis right from the village--rent your gear at Powderhorn. Solitude has amazing cross-country trails. There's a sweet little souvenir shop, an ice rink and The Club at Solitude. .All visitors that stay at Solitude can visit for a bit of R&R. Check out the outdoor pool and spa.
Apres Ski at Solitude
There's also a gym, a media room, a billiards room and a screening room. It's great place to meet new kids and warm up after a day of skiing.
A trip to the slopes wouldn't be complete without a trip to the spa. I signed on with the signature Ski Performance Sports Massage ($140 for 60 minutes)-- the masseuse got all the kinks out. Solitude Mountain Spa is located over at the Inn. Be sure to book ahead as the services are popular.
Lodging at Solitude
That's a lot to do, and exploring the village is nice, but there's nothing like home. It's handsome with heave doses of mountain-style hardy furniture. There are options at Solitude for families of all sizes. I highly recommend a condo which allows you to cook in (at least for breakfast) and gives you a laundry option.
Over the years we've seen dozens of ski lodges. Creekside was more than compatible to our needs. There was a "real" wood fireplace, fully outfitted kitchen and plenty of room for all of our ski gear. We stayed in room 103--it was right off the Apex lift just minutes from skiing. Stash your skis in the lodge's locker room at the end of the day to control the clutter.
And it's the perfect place to play board games and share tales of the thrills and spills of skiing.
Plan Your Trip
Are you ready to make some ski memories? Solitude is the perfect place to introduce your kids to skiing OR to take a family that's earned their stripes on black diamonds.  One of the draws to skiing Utah is the promise of powder and the proximity of airport to the mountains. Once you land in Utah's well appointed airport, it's a quick 45-minute drive to Big Cottonwood Canyon and Solitude.
There's no need to rent a car. For a 4-5 day visit, you can rely on shuttles and skis to get everywhere you need to be. (Note: call Canyon Transportation for shuttles to and from the airport. They are affordable, clean, and courteous).
Book your family package to Solitude here www.skisolitude.com Solitude Mountain Resort is located at 12082 Big Cottonwood Canyon, Solitude, Utah.
MORE SKI FEATURES FROM MOMTRENDS
PIN IT!
Use Pinterest to save your favorite family travel features. Be sure to follow our Ski Moms Pinterest Board.
This is not a sponsored post. Accommodations and lift tickets provided to facilitate the review.