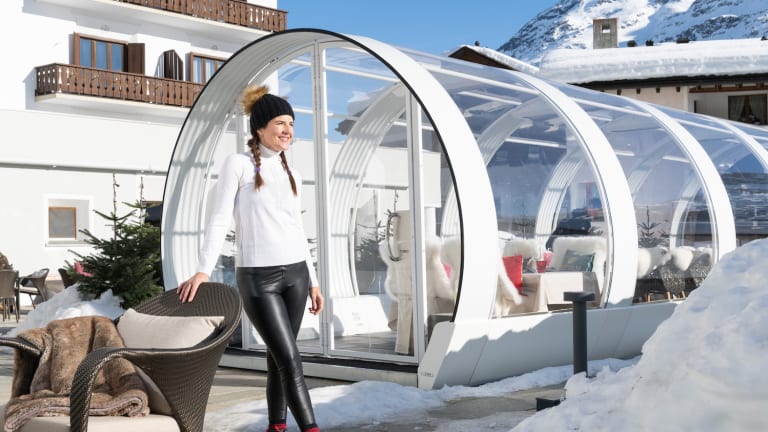 Family Friendly and Effortlessly Chic Giardino Mountain Resort St. Moritz
The Giardino Mountain is all about subtle elegance and it's the perfect spot for your family ski trip to Switzerland.
Finding the best winter experiences for families is my life's work. My latest assignment took me to Switzerland to investigate how the Europeans embrace ski life. My home base for this visit was the family friendly and effortlessly chic Giardino Mountain Resort in St. Moritz.
Giardino Resort Experience
Giardino offers four properties in Switzerland (Aascona, Locarno, St. Moritz, Zurich). The Giardino model is to create properties that offer high-touch services, exquisite settings and a nod to health. It's a perfect match for the way our family loves to travel. 
I'm a fan of independent hotels that can offer both service and style. Many chic boutique hotels hire model look-a-likes and fill the space with tragically overwrought designs. The Giardino mountain doesn't sacrifice an ounce of style while also being incredibly warm and welcoming.
With 70 rooms, the Giardino Mountain is all about subtle elegance. The international guests have a sporty, independent vibe. It's the type of place where you'll see dogs soaking in the sun at lunch and parents enjoying a second cup of coffee at the amazing breakfast buffet that will please even the pickiest eater. For worldly families in search of a stress-free ski holiday, look no further than this Giardino resort.
Our Video Highlight Reel
30 SECOND OVERVIEW of the Giardino Mountain Resort
Type of Resort: Boutique Luxury Mountain Resort
Best Age Range for Kids: 3 years to teenagers.
Food: Three restaurants, one Michelin rated. Wide variety of options with excellent attention to quality. 
Activities: Loads. From a full service spa, to a huge pool there's plenty to do on property and world-class skiing is minutes away.
Childcare: There is a kids club on the property and childcare can be arranged. St. Moritz also offers a renowned ski school.
Spa: Dipiù spa offers divine offerings. In addition, Aveda has a full haircare salon on property.
Clientele: Well-traveled Europeans who are interested in winter sports. 
Charm factor: Extremely high. The cheese and champagne solarium is stunning.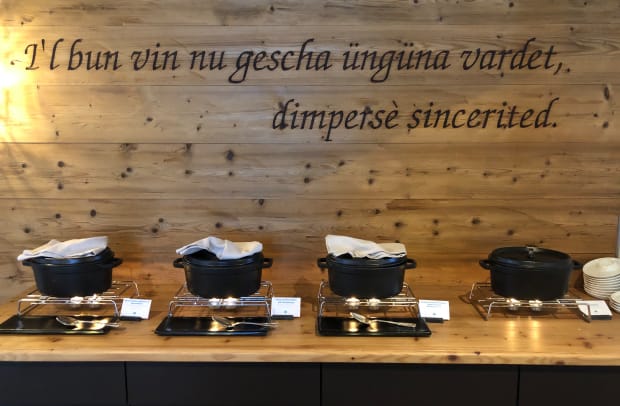 Food at the Giardino Mountain Resort St. Moritz
One of the big differences between skiing in the US and skiing in Europe is the food. For families who can't fathom spending $36 on a mediocre hamburger in Vail, St. Moritz offers an alternative. There's no better place to combine eating well with winter adventures than the Giardino. The hotel is home to four restaurant and two lounges. The food is excellent and of the freshest quality. 
Breakfast is served in the Hide & Seek. The menu focuses on local and seasonal cuisine with a modern spin. A ski breakfast is the most important meal of the day. The selection of Swiss breads made this carb-lover very happy. Mr. Momtrends swooned over his muesli and I opted for the smoked salmon and veggies. Feel free to order off the ala carte menu too. The omelets are excellent.
Momtrends Tip: I highly recommend getting a package when booking with meals included.  With ½ board, we enjoyed breakfast and dinner (no alcoholic drinks included). 
When it comes to lounge life and the aprés ski scene, start at the outdoor deck. This area off the Hide & Seek restaurant. Grab at late lunch here or a warm drink after your ski day. The resort has blankets ready to wrap you up as you take in the sunset. Steps away, the luxury RSRV Cheese & Champagne solarium is the perfect place for an adult celebration in St. Moritz. 
For dinner, we dined twice at the Hide & Seek restaurant. Hide & Seek is a concept that is used throughout the Giardino portfolio of hotels. It's a menu that can be customize for vegetarians, vegans or omnivores. We had two divine dinners there and also adore the special wines by the glass. The menu is inspired by Ayurvedic practice and a bit of the chef's imagination. We opted to add on the caviar starter and it was worth every penny. This trip was all about balancing luxury and health.
Momtrends tip: try the Swiss wines. I find it's rare to see a Swiss wine at the US, they make lovely whites and I thought the Pinot Gris was splendid.
If you have a hankering for traditional Swiss food, the Stüva delivers a delightful dose of traditional Alpine charm. Picture the classic wood-paneled restaurant that's loaded with charm. Tuck in to a cozy meal that will offer you all the calories you need for a big ski day.
There's also the Restaurant Ecco St. Mortiz that has earned two Michelin stars and 18 Gault Millau points. We didn't dine at either of these on this trip, but I know we will be back.
Access to the Slopes from Giardino Mountain Resort St. Moritz
All that food will come in handy as you head out to play in St. Moritz. It's a winter playground with the most stunning snowy landscape. Families come to St. Moritz because of the world-class skiing. The runs are long and wide and almost all the lifts are shielded with bubbles. It's a wonderful place to learn to ski and ride. 
If you plan to ski or ride, the concierge will get you set with lift tickets to the two local mountains. We focused on Corviglia (more on that later). The resort offers a complementary shuttle to the Suvretta lift and they will pick you up a the end of the day. All transfers are done in Mercedes vans or Range Rover SUV's.
Our family owns loads of ski gear, but on long trips we leave skis and poles at home and only bring our boots and helmets. We rely on local rentals for our skis. Giardino works with Ivo's ski shop across the way to get skiers outfitted with gear. I picked up a set of Head Joy's for my two days of skiing and Mr. Momtrends opted for heavy Salomon carvers. The shop was tiny, but well-appointed. 
To help make gearing up less stressful, Giardino has a full boot room to store your gear. There's an enormous boot warmer to dry out your boots overnight and leave them dry and toasty for your next day of skiing. It's also the perfect spot to get kids warmed up to start and end the day. Plus, it gets some of the bulky gear our of your hotel room.
Cross Country Access from Giardino
If cross-country skiing (aka Nordic skiing), is your thing, you can also get skis at Ivo's and walk to the trailhead. Note: Ivo's does rent Nordic (aka cross country) skis but they were closed for the afternoon when we arrived. St.Moritz is entirely connected by groomed ski trails, and many of if it lit for nighttime skiing. 
In addition, they put together excursions like a cross-country ski afternoon. With all these adventures, rely on the front desk to suggest itineraries and make plans. They are professionals and are there to help.
Amenities at the Giardino Mountain Resort St. Moritz
There's a full gym that's pristinely clean and quite modern. Unlike many hotels, the Giardino offers plenty of space to spread out and stretch or do a full workout. In addition, the hotel offers daily yoga classes and you can book a trainer by appointment. 
Whether or not you choose to play hard, you will most certainly want to relax in the spa area of the Giardino. The spa is gorgeous and immense. There's a full hair and beauty salon plus elegant treatment rooms. All Giardino spas use Dipiu products (which are heavenly). If you want to do recovery without an appointment, I suggest trying aquatherapy. The adult's only spa area has a mix of hot saunas and steam rooms and cold shower stalls. With a mix of cold and hot therapies, the spa a is an excellent antidote to sore tired ski legs. 
Where Families Play at the Giardino Mountain Resort St. Moritz
At the end of the day, it's nice to warm up and have some family time. The resort has a lovely indoor pool area with a soaking hot tub and plenty of lounge chairs. It's a perfect spot for kids to play.
Kids can also romp in the large and secure children's area with parents or during supervised play. The resort also has highchairs and another baby gear available. 
Room Tour at the Giardino Mountain Resort St. Moritz
Though we didn't spend much time enjoying it, our room was divine. We stayed in room 134. It offered us a stunning lake and mountain view. The room was appointed with hardwood floors and plenty of space for our luggage. My one criticism was that it was light on drawer space, and one more thing it didn't have a tub. 
The bed was heavenly with a fluffy duvet and there was excellent (and convenient) maid service. It will surely offer you sweet dreams for your next ski day.
Family Friendly and Effortlessly Chic Giardino Mountain Resort St. Moritz
With so many choices of where to go on your family vacation, it can be hard to pick the right spot. Here's the thing that sets this resort apart -- they have a team that is truly focused on your happiness.
The young knowledgeable staff really stand out. We put Samuel and Mateo at the front desk through their paces as we asked about logistically challenging adventures. For example, we were itching to get exercise after our long journey from the USA. We were keen to get out and explore the snow after a long flight and train trip.
Upon our arrival in St. Moritz, Samuel got us outfitted with a Nordic ski rental at 4pm. With a bit of research, he found us the Nordic ski shop in town, and we had a wonderful adventure.
Mateo was another hero when it came to planning. He was equal to the task of our second wish – figuring out a way to do the Predo- Bergun sledding trail. Without a car it wasn't the easiest enterprise, but he found an ingenious way to make it happen and to work it into our itinerary.
The resort might not be perfect for tiny tots, but for preschool and above, I can't think of a better way to embrace winter and the Swiss culture than a stay at the Giardino Mountain Resort.
Book your stay here: https://giardinohotels.ch/en/
MORE SKI FEATURES FROM MOMTRENDS
PIN IT!
Use pinterest to save your favorite family travel features. Be sure to follow our Ski Moms Pinterest Board.
Photos by Arnaud Delalande of www.ad-stmoritz.ch
This Family Friendly and Effortlessly Chic Giardino Mountain Resort St. Moritz feature is not sponsored. We were hosted at the resort, but paid for many of the experiences mentioned in this review.