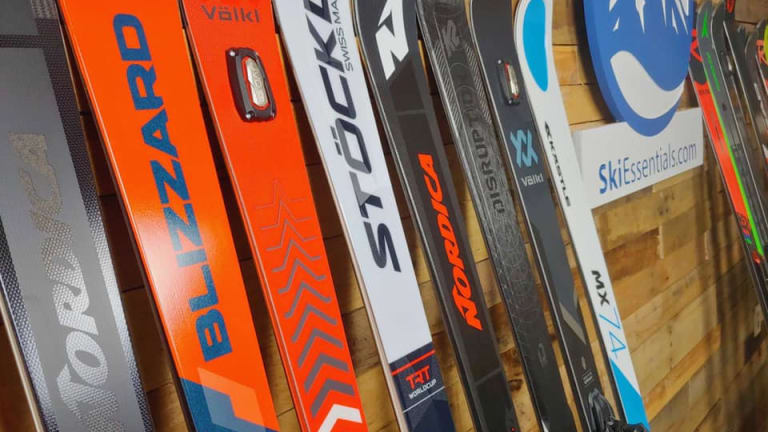 Publish date:
Easiest Ski and Snowboard Season Lease for Families
Ski Essentials partners with K2 Sports to make leasing brand new ski and snowboard equipment easier than ever for families.
Ski Essentials partners with K2 Sports to make leasing brand new ski and snowboard equipment easier than ever for families.
Here's where we are: the ski season looks like a go! As we get ready to ski and ride safely, it's time to think about gear. I have a great service that will SEND you rental for your kids. K2 and SkiEssentials.com have partnered to create an online, season-long lease program and home delivery service for parents to outfit their junior skiers and snowboarders with gear at a fraction of the cost of buying new. It's the easiest ski and snowboard season lease for families. 
Head here to get your season lease. Save 10% off a lease package with code: momtrends9350.
Related: Seven ways to prepare your family for ski season during COVID
Why Leasing Makes Sense
I know you are ready to get outdoors and play. The trouble is, acquiring gear is not often nearly as fun, especially gear for kids. Rental lines are long, tiring, and at times borderline claustrophobic. SkiEssentials.com wants to change the rental process.
Easiest Ski and Snowboard Season Lease for Families
Available in both boys and girls options, this junior lease ski package is a perfect way to put your youth skier on brand new skis without the expense of purchasing them outright and without the health risk of having to go to a fitting in person.
You'll get skis, bindings, ski boots, poles, and FREE SHIPPING. For snowboards, you'll get the board, boots and FREE SHIPPING. Packages start at $249, but with our code you'll save 10% with code: momtrends9350.
How the Ski Essentials Lease Works
Step 1: order your package online
Step 2: Provide skier information
Step 3: Receive your lease (an email to confirm sizing, adjust the bindings). Receive your shipment
Step 4: Ski and enjoy all season long on new, never used, 2021 product.
Step 5: Send it back at the end of the season. Ski Essentials covers the cost of shipping both ways. Please keep the box your gear is shipped in until it's time to send it back. They will provide a return shipping label at no extra cost.



5 Pretty Ways To Organize Your Jewelry
I admit - I'm guilt. Despite my best efforts, my "jewelry drawer" has become a tangled mess of necklaces, bracelets and earrings. This cluttered collection not only makes it hard to see what I have, but difficult to untangle the pieces I do want to wear! This summer, I'm ...read more
This Year's Coolest Jumbo Pool Floats
Pool season is almost here! I can't wait to relax, read a book, and sip a cocktail while lazily drifting in an oversized float. (Just kidding, I have two toddlers--but a swim mama can dream, right?). If you've got a staycation planned, check out this year's coolest jumbo pool ...read more
Crystal Clear and Pristine: Pool-Cleaning Tips
Tropical Storm Isaiah gave us quite the midsummer surprise here in the suburbs of New York City. We just got our power back on after a whole week of darkness! With trees down, debris everywhere, and lots of uncertainty, one thing we forgot to check on: our above ground Intex ...read more
Why Lease Ski and Riding Gear for Your Kids?
Save Money: Here's the thing. Kids are constantly growing. Buying new gear every year can get expensive and take a ton of time. With a lease you'll be saving roughly half the cost on a junior package when you lease instead of buy. 
Save Time: Do you live near a ski shop? If not, this program is going to save you a ton of time and energy. Paid for online and upfront, your full lease package is delivered to your door so you can be ready to hit the slopes when the snow flies.
Save Space: You'll free up space in the garage for lacrosse gear and bikes. At the end of the season, you ship the skis back.
Better Gear: Rather than pieced together packages at a shop, you'll get brand-new, high-quality gear. 
What Else Do You Need to Know
In addition to skis, you can get more safety gear to fully prep for winter. Add ons include helmets, goggles and ski pants. Looking to get into Nordic skiing? We have full XC ski packages available for Men, Women and Juniors from all of the top brands. Check out the Nordic packages here.
We're here to help you make this winter as magical as possible. We hope this helps.
MORE SKI FEATURES FROM MOMTRENDS
PIN IT!
Use Pinterest to save your favorite family travel features. Be sure to follow our Ski Moms Pinterest Board.
Momtrends was not paid for this post.