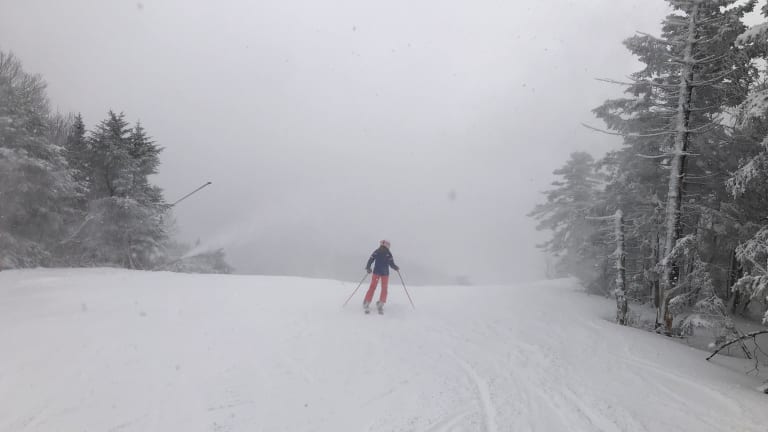 Early Season Skiing at Killington Vermont
This year, skiing at Killington is a little different with COVID protocols in place use these tips and guidelines for trip planning.
It's definitely not the usual ski year, but there are a few things we can still count on here in Vermont. One of them is that Killington will be the first resort to open and that they will blast snow ASAP to get skier and riders on the mountain as soon as they can. This year is a little different with COVID protocols in place. Consider these tips and guidelines as you plan your early season skiing at Killington, Vermont. 
Related: Ski gear you didn't know you needed this season
Killington, aka, The Beast, is known for being steep, big and for attracting a rather boisterous apres-ski crowd. All of this makes it a great spot for younger skiers. It's not my go-to family spot (I'd send families to PICO, right down the road until the kids are solid skiers), but it is a whole lot of fun. 
Host to the awesome Women's World Cup races, Killington is definitely a place where speed is embraced. The mountain is also home to a ski-racing academy and it's not unusual to see racers zipping all over the place. 
Planning Your Killington Ski Day
This year things are a little different. COVID precautions abound at ski resorts across the country. Vermont has some of the most strict rules in place right now. Head to this feature to read more about safely skiing in Vermont. Before you head to Killington, make sure you have met all the travel requirements. 
To limit the amount of visitors, Killington is using online parking reservations for crowd control. It's free to book a space, and I didn't have any problems getting the December dates I wanted. If you are heading there in a personal vehicle OR dropping kids off, you need to register.  Here's how the Killington Parking reservation system works:
Start by downloading the Killington App on your phone or heading here on the website. Pick your dates and be sure to have your license plate number handy when booking. 
All guests can have up to a total of 14 days reserved at a time during the season; seven "Advance Days" and seven "Week-Of Days."
I used the ParkWhiz app to organize the days I booked. This app easily syncs with my digital calendar.
Manage your reservations: Be sure to cancel unused reservations before the lifts open. DON'T OVERBOOK. If you do not cancel by 9:00 a.m. and you are a no show, or you abuse the system, it could result in loss of days booked or future privilege to book advance dates.
Once you get to the mountain, you will scan the QR code on your phone to get access to the lot.
If you have your passes, boot up in your car and head to the lift.
Killington Passes
Killington offers season passes and is also an Ikon Pass resort. Ikon Pass holders get unlimited days on mountain. With my Ikon Pass, I went directly to the lift. Guests can buy day passes online, but they are not always available. A season pass + parking reservation is the only way guarantee your ski day. Day tickets must be purchased online. Note: Lift tickets are free for ages 6 & under and 80+ though still require a ticket to access the lifts; these ticket types must be picked up on site at a ticket window.
Getting Ready without Lodges
This year your car will be your lodge. Plan accordingly. Killington wants you to boot up in your car and head right to the lifts. On our mid-week visit, we got a spot right next to the K-1 gondola. After wrangling the boots on in the car, we stomped over to the gondola to start our ski day.
There is a line of portable toilets at end of the parking lots. We didn't need to use them, so I can't report on the cleanliness. 
I suggest packing snacks in the car for before and after skiing. We had lunch before we arrived and then snacked on Vermont Jerky, GoGoSqueeze apple sauce and Lara Bars. We always stash plenty of water in the car too. 
Safety Protocols in Place
The good news is, on our visit, everyone was following the rules. Killington has social distancing signs everywhere. It's pretty easy to follow the rules: Keep 6' apart in the lift lines and only one family per gondola or chair. The gondola windows were open allowing for safe air circulation. Masks are required when you aren't skiing, so bring a few as they get soggy. Once we were up The Beast, we used the open-air lifts while wearing masks. 
On the Snow at Killington
Once we were skiing, it felt like Killington I know and love. Even though we have had weeks of warm weather, Killington had 17 trails open with very good coverage. Even in early season, Killington works to get top-to-bottom skiing. We did laps from Killington Peak (4241') and had a blast. On the trails, it is easy to forget we are in the middle of a pandemic. On snow, you can tap into the joy of zooming down the mountain with your pals. The snow guns were going full blast to open more and more terrain. The runs off of the North Ridge Quad were our favorites. 
Killington sits on 3,000 acres, when everything is open, it's a great place to spread out with 92 miles of terrain. On our visit, we only got to experience one of the six peaks. 
When the ski day ended, we headed out to the car and back to our house. Though we were happy to have our day on the snow, it was sad not to sip a cocoa or enjoy a warm-up chat in the lodge. That'll have to wait until next year. 
What Else is New at Killington
Text Alerts: Sign up to receive text messages and get critical operations updates as needed by texting BEAST to 64600 or use the opt-in form.
Killington App: Available in for Apple and Android users, the Killington App will enhance the guest experience with real-time lift and trail status, lift wait times, tracking and more. It's also a great place to book your parking.
Killington is now a Smoke Free Resort. Smoking is prohibited in all resort areas, except parking lots.
More About Killington
Killington also has a tremendous impact on the local community. There are dozens of restaurants and shops on the access road leading to the mountain. The local businesses make this place awesome. If you need gear or a beer, you will find everything you need along the way. A family-friendly favorite is the Wobbly Barn. Head downstairs for awesome meat-centric meals and definitely opt to get the soup and salad bar too. Upstairs is a rocking bar for those of you who get a kid-free night, go for it! If you can visit safely, please support these small businesses.
We will be back for more mid-week skiing at Killington and are looking forward to the 2021 return of the World Cup races. For now, I'm glad they have figured out a way to open safely. Let's all follow the rules so we can save ski season.
MORE SKI FEATURES FROM MOMTRENDS
PIN IT!
Use Pinterest to save your favorite family travel features. Be sure to follow our Ski Moms Pinterest Board.