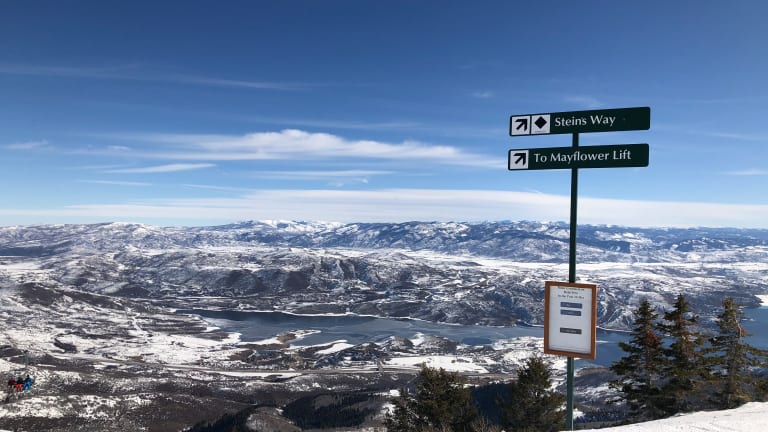 Publish date:
Deer Valley The Ultimate Luxury Ski Resort for Families
A complete guide to planning your family's Deer Valley ski holiday in Utah. How to book, where to stay, where to eat and what to do.
There's no getting around it. A family ski vacation takes two things: money and planning. It's likely one of the most expensive trips a family can take and there is a LOT of gear involved in the packing. Execution isn't easy. Here at Momtrends, we want you to spend your time and money wisely. That is why I'm leading off this review saying. You will feel fantastic about investing in a Deer Valley vacation. Money well spent. Memories well made.
Mark your calendar Deer Valley Opening Day Saturday, December 5, 2020.
Related: 10 States Where Kids Ski Free
2020 Deer Valley Safety Precautions
This ski year will be like no other. Now is the time to plan for your family's ski holiday to Deer Valley.
Wear a Mask. While on Deer Valley property, MASKS or FACE COVERINGS are REQUIRED. If you aren't skiing or eating, WEAR A MASK. Note: As per a Summit County Public Health Order, single-layer face coverings that can be seen through (such as buffs), and face coverings with two-way valves are not approved. N-95 or KN-95 masks with valves are approved for use.
Use your pass. Deer Valley Season and Ikon Pass holders will not be required to make reservations at this time. Day passes will be sold online, but your best bet is a season pass. Deer Valley will further limit daily winter guest capacity to provide a quality ski experience and to provide space for guests to physically distance at both indoor and outdoor gathering points. They will closely monitor advance purchase lift tickets and other undated products in an effort to limit on-mountain capacity, especially during holiday and peak periods. Head here to get your advanced daily lift ticket sales. Daily lift tickets will not be sold day of, on-site at Deer Valley
Partner Up. Deer Valley's lift policy limits chairlift occupancy to people from the same guest party; two willing individuals or staff, not from the same party, seated on opposite sides of a quad chairlift; or one individual guest per triple, double or gondola cabin.
Relaxed lodging reservations. Deer Valley will work closely with you to refund or credit your lodging deposits and payments if safety restrictions are put in place. Guests must notify Deer Valley 48 hours prior to arrival and be able to supply documentation of travel restrictions. All prepaid lodging deposits are refundable if cancelled greater than 45 days prior to arrival.
Plan Your Meals. For lunch, advance reservations are required (there will be some grab-and-go options available for eating outdoors). No walk-ins or non-dining guests will be allowed in the restaurants at any time. Advance reservations are required for evening dining, and evening dining reservations will launch on November 5. 
Book You Ski School. Lessons have changed substantially for this winter season and advance reservations are essential for all lessons, as well as ski rentals.
Why You Should Ski Deer Valley
If you are new to this website, let me fill you in: we are HUGE ski fans. We've been to over a dozen resorts over the years--all with the hopes to bringing you all the best in family ski coverage. Without a doubt, I can report that Deer Valley is the most relaxing family ski experience I've ever had. The lease amount of planning went into the trip for the maximum amount of fun.
Like you, I'm incredibly busy. Kids, husband, work, friends, church...you get the picture. Spending tons of time planning the perfect winter holiday takes time away from all these things. We want to travel, but we don't want hassles. Deer Valley cuts the hassle out of the equation--from lodging to lessons to activities, they have the staff available to take the stress out of planning and execution. Yes, there are other fantastic mountains to ski and other posh resorts to visit. But at Deer Valley the staffing makes the difference. Everyone at Deer Valley appears to have been meticulously trained, because every interaction was perfection.
Top three reasons I love skiing Deer Valley
Pure skiing. While I love snowboarding in theory, in practice the few times I've been taken out from behind while skiing have been by snowboarders. 
Groomed trails. The grooming team at Deer Valley is incomparable.
Happy kids. Picking up grumpy kids from ski school stinks.
Ready to book your holiday trip? Good. Now let's walk through the details of our stay in Utah to give you ideas on how to fill your days at Deer Valley. Let's break it down by category.
Lodging at Deer Valley
We stayed in The Lodges. It's easy to access the slopes and the restaurants via a free shuttle. Our lodge room was HUMONGOUS. We hosted a few other families for apres ski drinks just to show off the space. There are tons of lodging options for families, each lodge has a swimming pool and a gym. I advise working with a Deer Valley agent to walk you through the options, but I can highly recommend The Lodges. Head here to see all the lodging options.
The Skiing at Deer Valley
Made up of six mountains, Deer Valley has plenty of terrain to keep you occupied for a week. Bald Mountain has the highest elevation--9400ft. My favorite runs were off the Wasatch Express Lift: Stein's way (a groomed black diamond) and Legal Tender. If you loved groomed trails you are going to be so, so happy here.
Don't miss skiing on Bald Eagle Mountain--in 2002 this was the site for freestyle skiing and moguls. Download the app deer valley (click here for android) to track and plan your day.
My kids pick Last Chance as a favorite run, the houses along the blue trail have playful sculptures on them like soaring eagles and climbing bears (see feature photo at top).
Deer Valley Ski School
The ski school is right off the main entrance to Deer Valley. The staff is so competent, caring and qualified that parents are constantly dazzled. Forget about the drop-off tears, long lines and chaos one often associates with ski school. This is sunshine, roses and unicorns. We forgot sunscreen one day--of course they had it. Another day we had an issue with a lost pole. They found it. Let me stress this though RESERVATIONS ARE REQUIRED WELL IN ADVANCE. Lessons book up months out. Be organized and as soon as you book flights, get your lessons. 
Lessons are small 3:1 student to teacher ratio and your child is almost guaranteed to get better with each day. Our little one came back with a "reindeer progress report" every day complete with feedback from the instructors like: "She is working on leaning forward when she skis. Arms in front will help remind her."
If your kids don't want to ski (baffles the mind), there is also a licensed children's center with care available from 8:30-4:30. Get details here.
Deer Valley Ski Valet
I loved this check in for the skis and poles. Right by the entrance of the mountain (where you get your lift tickets) you can drop your skis at the end of the day so you don't have to lug them back to your room and secure them in a dingy locker. This area was always well-staffed and very organized. A must for families to make life easier. And it's free.
Deer Valley NASTAR
Race against the NASTAR pacesetter, Heidi Voelker. Every Saturday she zooms down the course and sets the pace. Then Deer Valley uses her times to set Platinum, Gold, Silver and Bronze medals. There's also participant medals if you're slow like I am! This was a HUGE hit with our girls and Mr. Momtrends. It's $10 for two runs (and two chances to medal).

Deer Valley Dining
We had breakfast at home every day. We like to start with a huge skier breakfast and since our kitchen was both enormous and amazing we had plenty to work with. Just a few miles away there's a well-stocked grocery store. Lunch was had on the mountain as was dinner. Notable meals were the lunch we had at the Goldener Hirsch Restaurant and the fireside dinner at the Empire Canyon Lodge. At the Goldener Hirsch there's a few traditions you won't want to miss--one the fries cooked with crispy bacon with parmesan cheese sauce and putting your helmet on the stairs of the hotel. The meal was hearty and delicious. MT Travel tip: Reservations recommended--best to go without the kids.
The Empire dinner was a real treat. After the ride we enjoyed the dishes from five stone fireplaces. Bring a healthy appetite! Definitely opt for the carriage ride with your dinner when making a reservation. See more about that experience in our YouTube video.
What else? There's some shopping to be done. But mostly it's all about heading to the hot tub and pool after skiing and swapping favorite runs and epic falls. This is the type of trip where mom can relax and everyone can enjoy skiing together or upping the ante and getting lessons. Whether it's your first time on skis or your family's annual trip, you know investing in Deer Valley will pay off.
For more information, visit DeerValley.com
MORE SKI FEATURES FROM MOMTRENDS
PIN IT!
Use pinterest to save your favorite family travel features. Be sure to follow our Ski Moms Pinterest Board.
This is not a sponsored post. Deer Valley supplied lift tickets and lodging. We paid for air fare and all the other expenses. We ski a lot, we really like ski families so trust my opinions on these resorts.