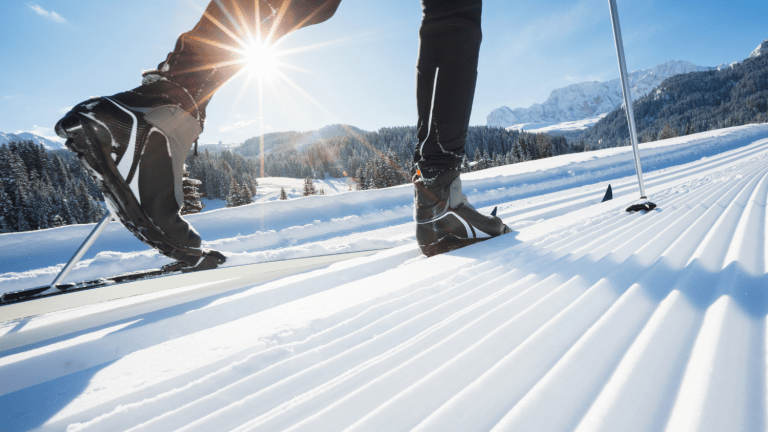 Cross Country Ski Camps and Events for Women
Try an active, outdoor getaway with your girlfriends this winter on skinny skis.
Guest Post by Roger Lohr*
Looking for an alternative to the annual girls' weekend at the spa? Why not try an active, outdoor getaway with your girlfriends this winter. Among some women, the "Girls' Getaway" weekend or program has become an annual tradition where small or extended groups of women, ladies, girls, mothers, daughters, or friends organize a get together unaccompanied by (one might even say unburdened by) or exclusive of men, boys, brothers, and fathers. The motivation and/or common denominator is about connecting.
A girls' weekend might include recreating or relaxing together, enjoying good food and libations, and a host of other activities that provide the backdrop for engagement and lasting memories. XCSkiResorts.com produced this list of women's programs for a past winter ranging from once-a-week group outings to week-long all inclusive packages but it is important to contact a given ski area to find out if the program is still ongoing, and the schedule and pricing.
Cross Country Ski Events in the EAST
Cross Country Ski Events in the Central Region
Maplelag Resort in Callaway, MN has hosted the Women's Ski & Be Yoga Retreat, which included getting outdoors in nature for cross country skiing and snowshoeing, healthy meals, and massage in the past...but a fire in October 2022 destroyed the Maplelag lodge. The trails are still open for skiing. A number of girls' getaways at Maplelag are organized by patrons, who have visited the resort with their families and then return another time with other women to enjoy a variety of activities such as quilting, knitting, book discussions, board games, and so on. Check their website for the status of any programs.
The Cross Country Ski Headquarters in Roscommon, MI has a free beginner ski clinic on Saturdays at 10:30 which would make a great experience for first time XC skiers. Great trails, great food, great folks.
Timber Ridge Nordic Center in Traverse City, MI has She-Ski a Wednesday Ladies Night with cross country skiing or snowshoeing.
Lutsen Resort in MN has the Girlfriends Getaway Package for anytime of year with a bottle of champagne, breakfast, dinner, a spa treatment, guided tour with complimentary XC ski or snowshoe gear (or hiking, biking, or sea kayaking in the warmer months) and galleries and shopping in nearby Grand Marais.
Cross Country Ski Events in the West and Mountain Regions
Devils Thumb Ranch Resort in Tabernash, CO hosts the Full Moon Ski Tour for a guided outing under the stars on January 7, February 4 and March 4 for lodging guests and experienced XC skiers only.
The Vista Verde Ranch in Steamboat, CO has the Share & Save (starts at $335 per night with a 3 night minimum) program offer during certain times in the season. There are three meals a day, cross country ski instruction, guided backcountry ski tours, equipment to use, cooking classes, wine tasting, sleigh rides, horseback riding, photography workshops, and evening entertainment. Such a package includes transportation from the airport to the resort and there are many extras offered to extend the memories such as dogsledding, alpine skiing, massage, and premium wines at an additional price.
Women's Skate Clinics at Frisco Nordic Center, Frisco, CO has two levels in a set of 4 two-hour classes. Mondays are for beginners and there are clinics for intermediate skate skiers on Thursdays. Check the Frisco site for specifics on schedule and prices.
One multi-year women's weekend participant jokingly cited "verbal profuseness" as the prime characteristic of her getaway experience with female friends. Such getaways may have a distinct purpose such as high performance fitness exercise or healthy wellness activities or they could incorporate different themes, but it is the composition of the group, which determines the vibe for the weekend. Check the XCSkiResorts.com Product News Page for info about Nordic ski equipment for women.
Roger Lohr is the Founder and Editor of XCSkiResorts.com. He loves skiing on XC ski trails, telemarking and snowboarding in powder.
Momtrends was not paid for this post