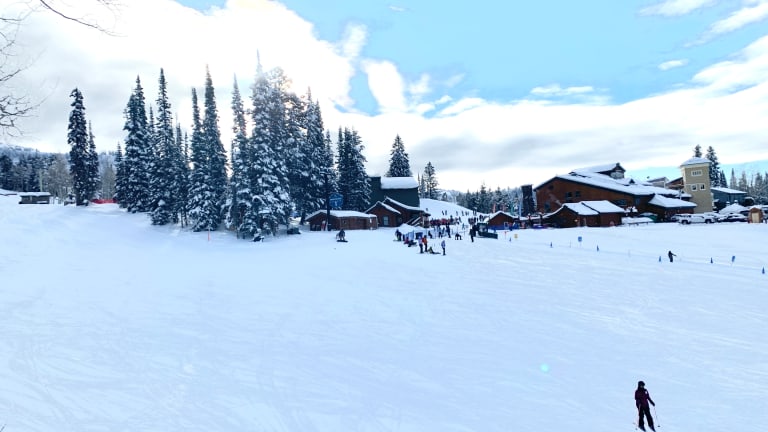 COVID Safety On the Slopes
Going stir-crazy? Get outside safely on the slopes during COVID.
Depending where you live, your kids may be doing virtual school (and PE) online. Your gym may be closed. Your kid's sports team may not be practicing. In some areas, even parks are closed. All this - and months of this! - can make an active family get pretty stir-crazy.
Luckily winter offers a way to get outside and active while still prioritizing safety: hitting the slopes.
Related: Ski gear you didn't know you needed
Of course venturing outside with others right now does have inherent risks. However, skiing or snowboarding both have some built-in safety mechanism to lower that risk in addition to added safety precautions that open ski resorts are taking. Here's how you can stay safe when you venture out to the snow.
COVID Safety on the Slopes
We all know the three Ws of dealing with the pandemic: WATCH your distance, WEAR a mask and WASH your hands. Here's how these safety protocols easily play out on the slopes.
Social Distance
While we are constantly being reminded to stay six feet away from others, skiing and snowboarding offer a built-in way to ensure everyone keeps their distance: your gear. The nature of skis and snowboards means that you are naturally kept about six feet away from others whether you are waiting in the lift line or taking a break at the top of a run.
In addition, many ski resorts like Mammoth Mountain in California are limiting lifts to only people in the same family, avoiding strangers riding together in close contact. That can mean fewer people moving through the lift line, so be patient and be prepared for potentially longer wait times.
Wear a Mask
We've all become accustomed to wearing masks at the store and around town, and many ski resorts like Grand Targhee in Wyoming are requiring face coverings for all, anywhere on the mountain. Luckily, skiing and snowboarding apparel makes it easy to mask up and cover your mouth. Whether you're a fan of the full-head balaclava or a neck-only gaiter, both allow you to easily keep you nose and mouth covered while you are in line, on the slopes, or inside.
Tip: Be sure to check the particular regulations at your ski resort. Some prohibit perforated or ventilated face coverings or gaiters that are only single layer.
Wash Your Hands
Because you are usually wearing gloves on the mountain and not touching much communal property, hand sanitation mainly comes into play in rental areas, restrooms, stores, and other common areas. Resorts have not only beefed up their sanitation of commonly touched surfaces but distributed hand sanitizer throughout the property.
Tip: Toss a mini hand sanitizer in your jacket pocket so you can ensure clean hands whenever you need to.
Tips to Make Your Snow Trip Safer
MORE SKI FEATURES FROM MOMTRENDS
PIN IT!
Use Pinterest to save your favorite family travel features. Be sure to follow our Ski Moms Pinterest Board.
Momtrends was not paid for this post.
Thanks to Grand Targhee for hosting our stay.