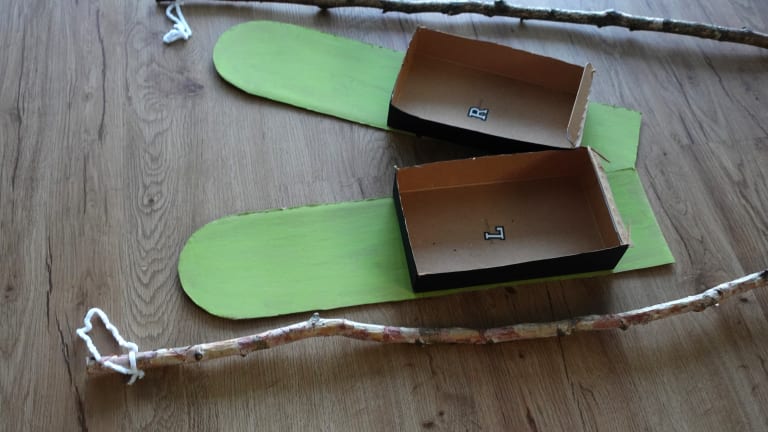 Cardboard Ski Craft for Kids
Bring a bit of mountain fun home with this fun ski craft that using recycled materials.
We got green and crafty by creating these fun skis for kids. Winter is still going strong, but not everyone can get to the mountains. This craft involves nature (check out those ski poles) and recycling. It's easy to put together and will spark your kiddo's imagination. These skis can take them just about anywhere!
Related: Cardboard mountain ski craft
GETTING INSPIRED
To help on this project, we enlisted master crafter Karimah Henry from the site craftingafunlife.com.
If you haven't checked out her site before do it ASAP. Karimah came up with a list of supplies and step-by-step instructions for creating this cool craft.
Cardboard Ski Craft Supplies
Recycled cardboard
Paint (any color)
Foam brush or paint brush
Large sticks (2)
Yarn
Hot glue with glue sticks
Recycled cardboard boxes (small like shoe box or snack box)
Scissors or craft knife
Stickers (optional)
Cardboard Ski Craft Directions
First, cut a large recycled cardboard in the shape of skis.
Next, paint your cardboard skis any color. You can also add designs to your skis or leave them plain. Set aside to dry.
Now it's time to turn your small cardboard boxes into ski boots. If you're using a snack box, cut off the top so that your child's feet can easily fit into them. Paint your cardboard ski boots black or the same color as your skis. Set aside to dry.
Glue your cardboard ski boots to your cardboard skis. You can add letters L and R stickers inside of the boots to help children who are learning how to put on their shoes.
Finally, search your yard or park for large sticks. If you can't find any, visit your local craft store to purchase birch sticks. Now cut a small piece of yarn then tie it around each stick to represent the ski poles. You can decorate your ski poles or leave them plain.
MORE SKI FEATURES FROM MOMTRENDS
PIN IT!
Use Pinterest to save your favorite family travel features. Be sure to follow our Ski Moms Pinterest Board.