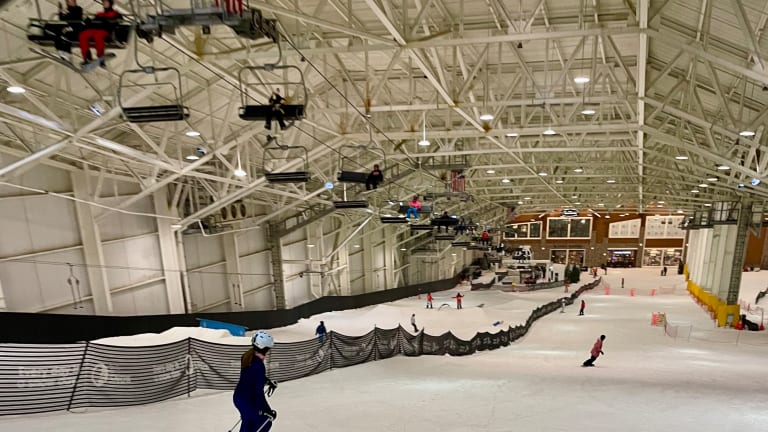 Big Snow Offers Families an Awesome Indoor Ski Experience
Give your family a snow day any day of the year at this exceptional indoor ski and ride facility at the American Dream Mall.
As the temperatures soared in Manhattan to near 95 degrees, I gave myself a snow day in the middle of August. I didn't have to fly to South America, all I needed to do was make it through the Lincoln Tunnel to the American Dream Mall where Big Snow offers families an awesome indoor ski experience.
Related: Mom recommended ski travel gear
What is Big Snow?
Big Snow is the only indoor skiing and riding facility in North America with actual snow. It's a clever and novel business model that is suited to beginners and seasoned skiers alike. Big Snow is a great place to learn and a perfect spot to tap into a ski-lover's thirst for snowy escapes.
Size: 180,000 Total Square Feet (150,000 sq ft of Slopes)
Skiable Acreage: 4 Acres
Vertical Drop: 160 Feet
Lifts: 4 Total

2 Magic Carpet Surface Lifts
1 Fixed Grip Quad Chairlift
1 Poma Platter Surface Lift

Operating Temperature: 28 Degrees Fahrenheit
Maximum Slope Capacity: 500 people
Snowmaking Capacity: 4.4 tons per hour, 1,100 gallons per hour
What to Expect on Your First Big Snow Visit
On my first visit, I was blown away by the thoughtful ski set up and cheerful enthusiasm of the staff. The ease with which I moved from check in to the slopes was effortless. Let me walk you through my steps.
Step 1/Orientation: I checked in for my 3:30 session a little late (damn you NYC traffic). I was greeted with a wristband and then sent off to the next station. In the "gondola" area, I watched a quick instruction video (the star was Big, the center's peppy yeti mascot) and then was off to the next station.
Step 2/Outfits: This is where visitors pick up outerwear…ski pants and parkas in every shape and size. From there, I used my wristband to unlock my locker to stash my gear. Lockers are free (are you reading this Vail…something FREE is always nice). 
Step 3/Lockers: I stashed my summer clothing and pulled on ski pants and a puffer from my bag. I brought my own helmet and ski boots (easy enough to transport) and headed to the gear rental area. 
Step 4/Gear: If you don't have boots and skis (and most people visiting don't), you'll get your boots first. I brought my boots so I scooted right to the ski area. The crew set my bindings and quickly got my Head rental skis ready. Next, I picked up poles and then whoosh I was off.
Step 5/Play! Head off to a lesson or to the lifts
It's So Easy to Get Started
It was so easy. And yes, I know I am an experienced skier, but I saw plenty of families who were "never-evers' navigating this route to the slopes with ease…and wait for it, WITHOUT TEARS. In fact, this may have been the first ski lodge I've ever been to that was free of toddler melt downs and whining. They are on to something.
It is well suited to beginners and new skiers. Big Snow is not steep. There is a 160 vertical drop. From the top of the lift, there are two options. The one without terrain features is a green. Wide and easy, no bumps. The side with the terrain features is more of a blue...mostly because of the features and that skiers need to be able to stop quickly since this side gets more traffic. 
For never-ever skiers, head to the magic carpet area. This has a VERY gentle slope. From the magic carpet, you will find the easiest skiing. There are no hard blue options, no expert slopes.
The On-Snow Experience
From the locker room, my ski partner, Sarah, and I entered the facility. It was incredible. The design team has turned a warehouse into a winter wonderland complete with cocoa warming hut, evergreens, and ice sculptures. It's loaded with charming touches.
We wanted to get the full experience, so we made our way to the magic carpet for beginners. It's a gentle ride to the top of the beginner slope. The protected area has banked turns and a very gradual incline to make the first runs less terrifying.
After a spin on the bunny slope, we headed to the quad lift. An indoor ski lift seemed so novel to me. We loaded up the chair lift (no lift lines on a Thursday afternoon) and were off to the top of the "mountain." On the chair, pop music wafted through the facility and skiers and boarders made their way down the terrain park below us. It all felt familiar--just like being in Vermont.
Once at the top we started down the pitch. I was delighted to find the snow even and enjoyable. I'm going to be honest and say I expected some icy patches, but there were none. That's the beauty of being able to maintain a consistent temperature inside 365 days a year.
After about 90 minutes of skiing, we were done. We headed back into the locker room, changed back into flip flops and shorts and were on our way back out into the sweltering heat. It was a delightful mini mountain break from the summer heat and a chance to start dreaming of the snow days ahead.
If you hate being pelted by high winds and ice, you'll also adore that the temps at Big Snow are consistent. There will never be a Polar Vortex blowing through. If you dial in the clothing, you will remain perfectly comfortable all day. It's wind free, precipitation free and that makes it free of tears!
How Big Snow Serves Skiers
Big Snow will never replace the winter wonderland of skiing in Utah, Colorado and Vermont. And it's not meant to. This spot is meant to supplement what god provides while also offering newbies the chance to give skiing a whirl without the pain and expense that often accompanies first time trips to the mountain.
Plus it's FUN. The design and feel of the place is all about bringing the JOY back to snow. I think BIG, the yeti, mascot, is a great example of this. You'll see the white fluffy guy making rounds at the facility and high-fiving folks out in the mall. He's the only known, and gainfully employed, Yeti in the state of New Jersey.
Book Your Package
Before you head to Big Snow, head online to book your ski package. Sessions last 2 hours and you can book an option with gear rental or opt to bring your own (the BYO is cheaper, but you'll have to lug your gear there). Packages range from $69.99-$89.99 +Tax. Head here for more details www.bigsnowamericandream.com/snow-day-packages/
Packages Included:
Ski or Snowboard Equipment Rental
Outerwear (Pants and Jacket – Gloves are not included)
Helmet
2-hour Slope Access Ticket
Complimentary access to our Terrain Based Learning™ skills areas and dedicated instructors
What to Bring
Base layers are all you need. And these can be as simple as a long-sleeve tee and leggings. Wool socks are helpful too.
You can't rent goggles or socks (you'll have to buy those if you don't have them). Goggles are not necessary, but always nice for safety (and remember to bring your clear lenses).
What to Rent
Like most ski resorts, you can rent skis, boots and poles, or boots and a board. What's different: You can rent 90% of what you need, including snow pants and waterproof ski jackets. In addition to the soft goods, you can also rent a helmet.
I was very impressed with the elevated boot rental area. Boots are often the thing that slows down the rental process. Thanks to clever design, you won't find a "boot bottleneck." Instead, you'll get sized and quickly matched to boots that should suit you quite nicely.
Planning Your Day
As you head to American Dream, grab a parking pass and park on the second level of section A near aisle E (it's the shortest way in on same floor as entrance). Walk along the exterior path to the mall entrance nearest Big Snow.
The first hour of parking is free, and after that, it costs $5.00 per vehicle (taxes included) throughout the day. 
Keep in mind, you don't HAVE to book ahead of time. During non-peak hours (midweek in the afternoon), you will likely be able to walk up and coordinate a 2-hour slope session. My friend Scherrie did this with her family on a recent trip to the mall and they had a blast.
You can get to Big Snow via car, uber or bus from Port Authority.
Get your tickets here www.bigsnowamericandream.com
What if you don't want to ski?
Your family can watch the fun from inside the ski shop. If you want your kiddos to participate without you, you'll need to sign them up for camp. Kids under 14 need adult supervision inside the facility. You can also go inside the facility for a $14.99 spectator fee. Remember to dress warm!
Is it a good place to learn to ski?
Absolutely. Big Snow was dreamed up by the parent company that also owns Mountain Creek. They want to grow skiers and Big Snow was one of the solutions. By demolishing some of the obstacles to learning (all that gear, travel cost and time to the mountains, etc.), they are ensuring that a new generation of skiers and riders.
Big Snow offers camps and after school programs for kids to learn to ski and ride. The 3-hour camps include instruction and coaching as well as all the gear and lift ticket. Find out more here www.bigsnowamericandream.com/childrens-programs/
Check out our Big Snow Video
What's the Snow Like
I've skied on a lot of surfaces. From champagne powder in Utah, to Sierra Cement in Palisades Tahoe to Loud Powder (read ICE) in Vermont, I've slipped and turned on just about everything. The indoor snow is uniquely uniform. For beginners, it offers an ice-free surface in which to find the "meat" required to carve a turn. It's idyllic for beginners as the snow rarely offers surprises. For advanced skiers, it's the perfect surface to work on new skills, test equipment or simply tap into the joy of sliding on snow.
More About American Dream Mall
American Dream is a retail and entertainment complex in the Meadowlands Sports Complex in East Rutherford, New Jersey, United States. It opened in 2019 and offers families incredible indoor experiences including a Nickelodeon theme park and DreamWorks Water Park.
Big Snow is located at 1 American Dream Wy, East Rutherford, NJ 07073
MORE SKI FEATURES FROM MOMTRENDS
PIN IT!
Use Pinterest to save your favorite family travel features. Be sure to follow our Ski Moms Pinterest Board.
Momtrends was not paid for this post,
but we were offered a complimentary passes to facilitate this review.