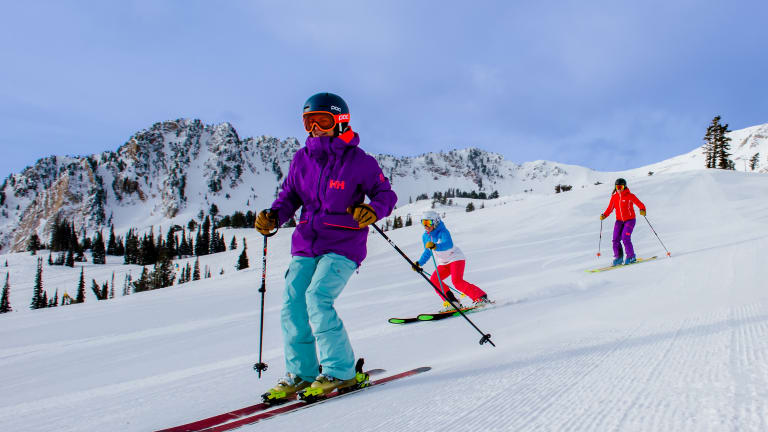 We all know when it comes to getting families to the slopes, moms are invaluable. But we are more than just the folks who pack the lunches and wipe the noses, we are also outdoor enthusiasts and athletes. In an effort to connect women with programs to develop both skills and friendships, Momtrends will be maintaining a list of women-centric ski and snowboarding programing throughout the country.
Did we miss your mountain? Email me at nicole@momtrends.com
Want to join the private Facebook group for Ski Mamas? Click here for an invite. 
Alaska Ski & Ride Events for Women
March 18, 25 April 1 & 8, 2020 Alyska Women's Wednesday Ski & Snowboard Clinics.  Enjoy the camaraderie of a women-only clinic as you noticeably improve your skiing, snowboarding skills. Now is your chance to get out for some fresh air and exercise this winter! The atmosphere is relaxed and supportive. The emphasis is outcome-oriented and student centered with plenty of challenge and fun. In order to fit your schedule best, you have the option to do either a 2-day clinic or the full 4-day clinic in each session. The 2-day clinics are held the first 2 Wednesdays of each session.
Get more details here www.alyeskaresort.com/mountain/learning-center-womens-clinics
California Ski & Ride Events for Women
Ongoing on Wednesday thru March 11, 2020.  SquawAlpine Women of Winter Clinics. Join an Intermediate/Advanced or an Expert group. Check-in at 9am at the Ski & Snowboard Sales and Rental Center to purchase. Meet at 9:15am at the Ski & Snowboard Meeting Area near the base of the Funitel. Rate $59 with advanced booking. More details here.
March 8-10, 2020 Women of Winter Camp Squaw Valley Alpine Meadows. Explore No California's legendary terrain with like-minded women. Included:
3 full days of skiing with companionable women in a supportive and inspirational environment
Explore the best terrain suited for current conditions
Priority lift line access which means more time on the slopes
Lunch each day, boot fitting and ski selection guide, apres ski social events, video review and lesson summaries
What you'll learn
Tactical tips from our ripping female instructors to maximize your ski experience
Skills and techniques designed for women to enhance all mountain skiing
An understanding of skiing to build your confidence to explore our legendary terrain
Get more details here https://squawalpine.com/skiing-riding/women-winter-camp
Colorado Ski & Ride Events for Women
February 28-March 1, Telluride 3-Day camp. This no-frills weekend camp is focused on ski improvement.
$625.00 without lift ticket and $775.00 with lift tickets
Intermediate through advanced skiers
3 days expert instruction by our leading women instructors
Assessment of alignment and ski equipment
Video analysis of your ski technique
The first morning we will meet at the base of chair 4 in Mountain Village. The entire group will ski together in the morning and based on skier profile as well as ability on the snow, smaller groups will be determined before lunch. The rest of the 3-day camp, coaches will provide activities and drills to help you improve and give you suggestions on where you should practice your newly developing skills and where to challenge yourself.
You'll be skiing in a small group setting with like-minded and like-skilled skiers who share similar goals. Instructors leading the groups are women who have taught for many years at the Telluride Ski Resort who will base all teaching on the Professional Ski Instructors of America core principles:
Stance – balance fore and aft and side to side.
Steering – actively turning both feet.
Edging – increasing or decreasing the amount the ski is on edge.
Pressure – increasing or decreasing the amount of weight applied to the ski.
Get more details https://www.tellurideskiresort.com/ski-school/specialty-camps/womens-week/
March 3-5, Steamboat. For ages 16 & Up. A motivational opening session with your host kicks off what is sure to be a great experience. Each day's activities run from 8:00am to 3:00pm. Small group sizes, "we focused" learning, and world class female instructors have contributed to the longevity of this 25 year-running program.
Classes will meet on the first day at Timber & Torch at 8am. Lift tickets are required.
Get more details here www.steamboat.com/plan-your-trip/lessons/snowsports-school/specialty/womens-camp-ages-16-and-up
Monday-Thurday thru March 12, 2020 Snowmass Women's Edge 4-Day program. For ages female skiers and snowboarders 18 & Up. Ability Level: Intermediate to Expert. Hours: 10 am to 3 pm, Please plan to arrive at your lesson meeting area at least 15 minutes before start.
Includes: Lessons and Thursday afternoon après ski party with group
Meeting Location: On the first day, meet in Snowmass Base Village Plaza. Groups may choose to travel to other mountains for remaining days in program. Meeting locations will be determined in advance with your group and Pro.
Get more details https://www.aspensnowmass.com/plan-your-stay/lessons/womens-edge
March 23, 2020 Ms. Mondays at Wolf Creek.  Ms. Mondays are a packaged deal with a discounted lift ticket, 2-hour morning lesson and rental. The morning lessons will be for women looking to start a new sport all the way up to refining your existing technique. All of the lessons, for all ability levels, will be taught by an excellent, qualified female instructor. $54 Adult Lift Ticket/$36 Senior Lift Ticket/ $43 two-hour lesson. Geared towards beginner to advanced levels
Get more details: https://wolfcreekski.com/special-clinics-programs/  
New Hampshire
Bretton Woods offers Wednesday women's only clinics. Last year's events were led by three-time Olympian Miki Fera. Plan for next year here https://www.brettonwoods.com/winter_sports/alpine/girl-powder-womens-alpine-clinic
2020 Cannon Women's Ski Program begins January 11th and runs every Saturday through March 7th. $35 per session, drop ins welcome. Instructor Patty Harrington, PSIA level 3 Alpine Instructor with over 45 years of experience in snowsports instruction will focus on improving your skiing skills whether an intermediate looking for a breakthrough or advanced skier seeking more challenge. Bring a friend or meet new friends and build your confidence in a fun and supportive atmosphere all while enjoying what Cannon Mountain has to offer.
Intermediate Skiers 9:45am - 11:45pm Intermediate skiers able to ski blue terrain. Focus will be on skill improvement that will break your plateau and boost your confidence in skiing on a variety of blue and black terrain and snow conditions.
Looking for more challenge? Then join our afternoon Advanced level group.
Advanced Skiers 1pm - 3pm Accomplished skiers who explore the entire mountain will hone their skills in all conditions and terrain, including powder, bumps and trees as weather allows.
Get more details here https://www.cannonmt.com/ski-ride/adult-clinics
Ski With the Girls: Every non-holiday Sunday from January 1-March 19 at Cranmore Mountain. Women's program meets from 10am-12:30pm. Participants can show up for any six days during the program; if they want to attend more sessions, a $35 rate applies.
For more information, call (603) 356-5543 or visit www.cranmore.com
Women's Program on Wednesdays at Crotched Mountain. This 5-week program from 9:30am-noon on Wednesdays includes a complimentary breakfast, indoor activity, and working on the mountain with instructors.  For more information, call (603) 588-3668 or visit www.crotchedmountain.com
February 27-28, 2020 Loon Mountain. You don't need to ski like a guy to ski better than a guy, and these camps prove it. Run by women, for women, the two-day Women's Performance Camps feature more than 12 hours of woman-to-woman coaching, video analysis, and the chance to demo the latest Volkl skis.
Guided by Loon's expert female coaches, you'll gain the knowledge and skills to tackle any type of terrain across the resort's three peaks. These camps offer the perfect opportunity for intermediate and advanced skiers to make new friends, explore the mountain, and take their skills to the next level.
All campers get a special gift from Volkl - and a chance to win a pair of Volkl skis! Get more details here www.loonmtn.com/camps-and-clinics/womens-performance-camp
Women's Only Wednesday Clinic (WOW) offered on Wednesday mornings for seven (7) weeks beginning January 8, 2020 (excluding February President's Week and NH Vacation Week) at Pat's Peak.
Meet for a Continental Breakfast at 9am in the Sleigh Room along with an exciting morning discussion, designed around the needs of the participants of the program.
Then head out onto the slopes for lesson clinics taught by women! To end the morning, enjoy lunch with your instructor.
Topics for WOW Program include:
Skiing/Snowboarding Fears And Risk Factors
Yoga, Skiing/Riding Exercises and Nutrition
Strength and Power
Stance and Balance
Physical and Psychological Gender Differences
Confidence Building
Equipment and Boot Fitting
Video Analysis to Enhance Basic Skills and Improve Personal Skiing/Snowboarding
Guest Speakers
Get more details: https://www.patspeak.com/Lessons-Rentals/Womens-Only-Wednesday.aspx
March 5,2020 Ski/Ride With Kristen Ulmer at Moutnt Sunapee. aAtwo-hour clinic in the morning for advanced skiers and riders, and a two-hour afternoon clinic for intermediate skiers/riders. Advance registration is required.
For more information, call (603) 763-2356 or visit www.mtsunapee.com.
New York Ski & Ride Events for Women
Wednesdays at Hunter Mountain. A girl's day out! Ladies Day consists of an all-area lift ticket, equipment rental, and a $13 voucher towards lunch for only $81 every Wednesday (excluding holiday periods). This incredible deal is available to ladies of all abilities who love to ski or snowboard, and are at least 13 years old. Ladies Day is not valid during holiday periods.
Group lessons are offered outside of our Learning Center at 9:20 AM, 11:20 AM & 1:20 PM.
Ladies Day lift tickets, rental, lesson and lunch vouchers are non-transferable and not for resale or auction. Vouchers must be used by 3:30 PM on the day purchased.
Get details here https://www.huntermtn.com/deals/ladies-day/
Pennsylvania Ski & Ride Events for Women
March 6-7,2020 Seven Springs. Rossignol's We Rise Women's Camp encourages all women, whatever their age, skill level, or background, to get outdoors and into the mountains. To feel the exhilaration of sliding on snow no matter the application. To create a positive and inspiring community where women across the globe can interact, offer advice and share ideas. Rates $250-$379.
Includes:
Ski & Snowboard Ticket Valid for Saturday and Sunday
Two Days of Snowsports Instruction
Welcome Party Friday Evening
Apres Ski Reception on Saturday
Utah Ski & Ride Events for Women
January & February 2020. Snowbasin provides weekly coaching from Snowbasin's finest women instructors on Thursday or Saturday mornings for skiers and snowboarders. Ladies enjoy 3 weeks in a row of coaching by women for women, plus early VIP access to the slopes for one hour before the public, and an end of a program luncheon all for just $299. 
March 13-25, 2020. WE RISE women's camp with two time Olympian, Jillian Vogtli at Snowbasin. 
Snowbasin is partnering with Rossignol to create a camp full of learning opportunities and FUN. Après activities including spa night, group dinners, yoga and more. Whether the women guest are just starting out or an expert looking for their next on-snow breakthrough, WE RISE at Snowbasin Resort is for the ladies on the slopes.  Activities, including a professional boot-fitting, ski selection clinic, video analysis, 2/3 days of skiing & instruction. Get pricing and details www.snowbasin.com/womenscamps or call 801-620-1015. 
March 1 – 5, 2020 Alta Women's Intermediate-Advanced Ski Camps.  Alta Lodge teams up with top instructors from Alta's Alf Engen Ski School for these popular Women's specific camps which offer three days of skiing, four nights of lodging, great food, and camaraderie.
Ski sessions include morning and afternoon on-snow instruction in a fun and supportive environment. In similar-ability groups, you'll focus on fundamental skiing skills to improve speed control, confidence, and efficiency, allowing you to access and enjoy more of Alta's world-famous terrain.
This program brings together fellow female skiers looking to improve their skiing and enjoy a fun ski vacation. It is geared towards intermediate to advanced skiers who meet or exceed the following skills:
Skill requirements-Consistently use parallels turns. Confidently ski blue more difficult terrain at the flow traffic (you are comfortable cruising blue groomed runs!). Ready and excited for an introduction to off-trail skiing.
Includes:
four nights lodging, breakfasts, and dinner
three full days of ski instruction
three days Alta lift tickets
high-end demo skis; boots available if needed
two buffet lunches
yoga class (optional)
$2,955 per person, double occupancy, standard room
$3,715 single occupancy, standard room
Get more details here www.altalodge.com/ski-adventures/womens-intermediate-advanced-ski-camps/
Vermont Ski & Ride Events for Women
March 2-3, 2020. Sugarbush Women's Discovery Camps. Levels 4 and up; skis are sometimes parallel, wedge or stem when uncomfortable, starting to explore easy blues. Enriching 2-day learning experience hosted by some genuinely inspirational coaches. The specific content is custom tailored to the needs of each participant and each group. Includes video analysis, group meals, après ski parties and optional ski demos all included in the cost of the program. Get pricing and details here.
March 21-24, 2020. Bolton Valley Babe Force event. Levels 5 and up. No Backcountry experience needed. 2 days of backcountry focused events, breakfast & lunch both days, one apres drink ticket per day, tech talk, yoga class, hot tub and sauna access + moonlight skin. 
Lodging:Participants get a standard room at a discounted $79 a night, and a deluxe room at $99 a night, at the Bolton Valley Base Lodge Hotel, Fri&/or Sat &/or Sun. Details in your confirmation email.
Rental Equipment: limited amount available through Bolton Valley Backcountry at a discounted rate for a $40 a day hardgoods rental package. Details in your confirmation email. 
Get pricing and details here www.boltonvalley.com/events-calendar/bolton-babe-force-presents-babes-in-the-woods-backcountry-camp/
March 18-20, 2020 Stratton Women's Ski Camp. Led by Stratton's ski and snowboard instructors. Take some time off midweek so you can unplug and relax. With a quieter mountain, you'll have a lot of time on the hill with our expert ski and snowboard coaches, with minimal lift lines and less congestion. Ski and Snowboard demo equipment will be available from First Run or the Burton store. In addition to the on-snow piece, we have invited a meditation and mindfulness coach that will guide participants through a morning session in order to mentally prepare everyone for a happy and productive day on the hill. Daily yoga sessions will also be included in this camp session. Participate in other activities around the resort as well, including an evening snowshoe hike, time in the sauna at the training and fitness center or even a massage at the spa. Let us help you plan a trip that will allow you to learn, grow and unwind!
Get more details here https://www.stratton.com/plan-your-trip/camps/womens-camps
March 5-6, 2020 Okemo 2-day Women's Adventure Program. Enjoy two days on snow with our dedicated WAA coaches to improve your skiing or riding. Bring your ski pals along or meet new on-mountain friends. This program features hours of comprehensive coaching from Okemo's world-class instructors. Cost: $522 with lift ticket. $470 without lift ticket
Get more details here https://www.okemo.com/plan-your-trip/ski-and-ride-lessons/category/womens-alpine-adventure.aspx
Saturday, March 14, 2020 Mad River Glen's Women's Telemark Ski Clinic. Coached by women to help your technique, tactics and attitude in conquering Mad River's Legendary Terrain. These clinics include: two 2-hour clinics and lunch. Let us help you get to the next level. 9:30AM to 3:00PM Cost: $139 per person or $194 with ticket
More camps available and more details here: https://www.madriverglen.com/womens-only-2/
Wyoming  Ski & Ride Events for Women
Jackson Hole does offer women's ski camps. Stay tuned for the 2020-21 dates. Take a look at last year's offerings here www.jacksonhole.com/elevate-womens-camp.html
MORE SKI FEATURES FROM MOMTRENDS
PIN IT!
Use pinterest to save your favorite family travel features. Be sure to follow our Ski Moms Pinterest Board.