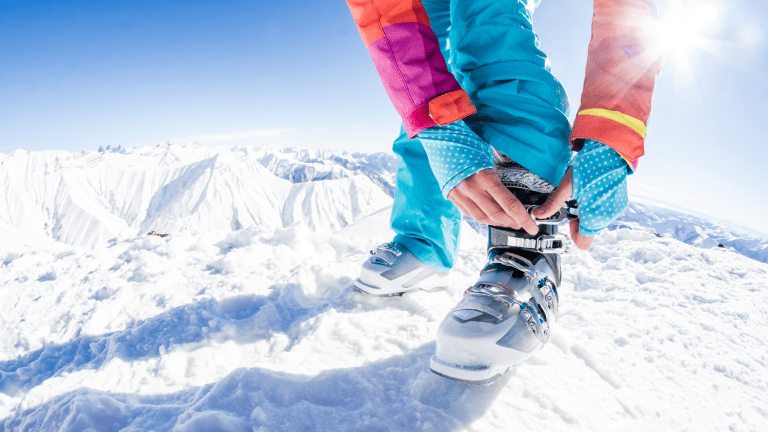 Best Boot Dryers for Ski Families
Keep your feet warm and dry this ski season with our picks for boot dryers for your home.
The snow is coming down outside my window. Winter seems to be just getting started. I'm excited that my ski days will be continuing and as a ski mom, I always like to have my gear ready to go for the next fresh snow. We use boot dryers to keep our boots toasty and dry and I've put together a list of the best boot dryers for families that ski and ride. 
Related: Three Ways to Fight Chapped Lips
Why Dry?
When you ski, your feet sweat. Ski boots also get snow inside them. Add these two things together, and you've got a moisture issue. When moisture builds up in your boots a few things happen. First, they can get stinky. Second, it can wreck the boot liner. Ski boots are expensive and can be a pain to replace. A little TLC can help extend the life of your equipment. Read on to learn about our favorites.
Portable Boot Dryers
If you want to speed things up, try a heated boot dryer that pops right into your ski boots. We love these small portable devices. The price is right and they work very well. Plug them into a wall (or your car) and drop a heating unit into your boot. It's a quick way to get the wetness out and warmth in. They also work in gloves (though the manufacturer doesn't recommend that.
I like the Hotronic boot dryer because it can work in my car or inside. I always travel with one of these and use the dryer overnight to have my boots ready in the morning. This version is extremely portable and well-priced ($40). It's great for travel. I keep one in my boot bag.
Hotronic boot dryer on Amazon here. (note this is an Amazon Affiliate link)
We also love the eco-friendly Green Glove Dryer. It works right with the vents in your home or ski rental. Set it up over the air vent and let the air go to work. It's best for small boots and gloves, but will dry boots if you get the right angle. It's a little clunky to travel with and best to set up at home. At $25 it's a smart investment in dry gloves. I like the fact that you don't have to plug this into a wall.
Get the Green Glove Dryer on Amazon here. (note this is an Amazon Affiliate link)
Multi Boot Dryer
If you are ready to invest in a more sophisticated system, the PEET wader dryers might be for you. You can dry two pairs of boots at the same time (or a pair of boots and a pair of gloves. They are safe and can remain plugged in continuously, without creating a safety hazard. A PEET shoe dryer ($119) will conserve space by offering frequently worn boots or shoes a place to rest, warming until they are ready to be worn. You'll need a few of these for your family...so you might want to go for a wall unit if you are serious about skiing. 
Get the PEET boot dryer at Cozy Winters here.
Heated Boot Bags
This Snow Eagle bag ($240) solves two problems at once. First, it's a snazzy way to organize your gear (most notably boots and helmet). Second, it will heat and dry your boots. Without a heated boot bag, your cold or room-temperature boots rapidly draw the heat out of your feet, and as soon as you go outside your feet are cold. By using a heated boot bag, your boots heat your feet so when you go outside your feet stay warm for hours. 
This bag has a rechargeable heat element inside. Includes both 110V AC wall plug and 12V DC auto adapter plug. This is a great investment if you have to leave your boots in a cold locker room or car. 
Momtrends Tip: We'd recommend, wiping off excess snow from your boots before placing them back in the bag
Get the Snow Eagle heated boot bag here.
Wall Units
Since we live on a mountain in Vermont, we have a lot of gear for the outdoors. Our family of four can quickly fill up a wall unit. We picked this one from Torre. It's not too ugly, and made from durable aluminum. It features concentrated cold-air drying that is energy efficient and more hygienic. Since it isn't heated, Torre will not alter the interior shape or composition of any type of boot or shoe.
If you want HEAT and AIR, this Cyclone system is for you. Cyclone is engineered to provide the perfect combination of massive airflow along with gear drying warmth. At $1600, I realize it is a big investment. This would be ideal for a ski condo or mountainside home. Since it has a heating system, it can dry gear faster. The sleek design would work in many luxury ski homes. Plugs directly into common 110 Volt wall socket.
Get the Cyclone Wall Mount Dryer at Cozy Winters here
The Custom Boot Dryer company also make large units and smaller units that cleverly re-use old skis and snowboards. You can contact them at www.custombootdryers.com/store1
MORE SKI FEATURES FROM MOMTRENDS
PIN IT!
Use Pinterest to save your favorite family travel features. Be sure to follow our Ski Moms Pinterest Board.
Momtrends was not paid for this post.