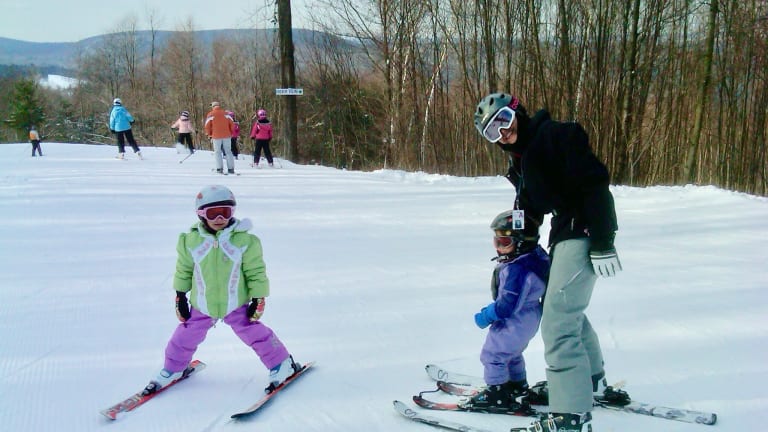 An open letter to the ski industry from a ski mom
We are passionate about this sport for ourselves and our kiddos. We hope you see us.
Ten years ago I started covering the ski industry. I stumbled into it. After a trip to Solitude, Utah with two kids under 4 that went off pretty smoothly, I thought I had some wisdom to share. I wrote up my stories and noticed the high volume of blog traffic these pieces earned. 
My tactic was to take a lot of photos showing how mountains got it right (hurrah for wagons to schlep gear and convenient on mountain daycare!). I shared stories and tips to help other moms pull off this fabulous sport. More traffic meant more ski articles.
I served a niche --helping moms plan ski vacations. Spring break trips are pricey and time consuming and easy to get wrong. With a few helpful articles, I saved families tons of time and money and thought I was doing my part to promote the sport. And the followers came.
My coverage expanded to include gear and the overall ski industry. And the invites came.
I was able to cover more mountains and grow the reach of the families we served. And speaking engagements materialized. I was a bit of a novelty -- a woman in a room full of men. I thought this was it, my big chance to really start effecting change in the industry. As an outsider, it was easier for me to notice the gaps than those who had been at the party for a while.
The Ski Industry Can do Better
I started looking at ski marketing a lot more critically. And I bristled at who was getting invited on press trips and to share in the spoils of being "industry insiders." Really, there's enough snow to go around (putting global warming aside).
After a decade of coverage, I think my novelty has worn off. I am becoming more and more vocal about what is missing. 
To be fair, I never stop celebrating what is great -- and there are many places and brands doing it right (I'm talking to you Okemo, Ski Utah, and Skida).
After nearly a decade of being an outsider, I decided to create my own party.  At my party, I made a space for moms of all colors and sizes and geography. My team and I host influencer weekends, we create online ski guides. We've built micro communities of ski and boarding moms where we listen and make women feel heard.
But I'll admit, I'm a little greedy. I want more. I want a bigger party and I need the ski industry to listen.
Here's what I want you to know about ski moms
We don't just wipe noses and stuff kids into snowsuits. We shred. We jump. We staff ski patrol. We race. We wipeout. We just don't brag about it.
We plan the trips. We buy cars, and we put the snow tires on them. We earn a lot of money and we spend it well.
We aren't one color. We aren't all married. We don't all have a ski dad responsible for teaching the kids the ropes. We do that.
We buy gear (oh so much gear). And it doesn't have to be pink, it has to be sturdy and strong and cool--like we are.
We aren't all a size 2 (please, please make ski pants for girls with curves). We are over 6' and under 5'.
We have periods (and those empty mid-mountain tampon containers make us crazy).
We are bananas about our children, but we also like to have fun without them.
We drink beer. And whisky, but probably not until after the ski day ends.
We want to see ourselves in ads: with crows feet, hips, skin of all colors, and big smiles showing us outdoors doing what we love.
We laugh until we cry when we are together.
We are passionate about this sport for ourselves and our kiddos. We hope you see us. 
More Ski from Momtrends
MORE SKI FEATURES FROM MOMTRENDS
PIN IT!
Use pinterest to save your favorite family travel features. Be sure to follow our Ski Moms Pinterest Board.