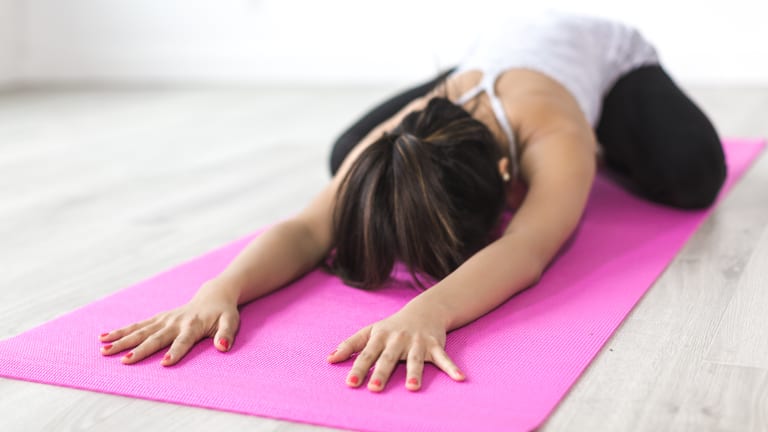 Yoga Trends for National Yoga Month
A relaxing and fun exercise for kids of all ages, here are some of our favorite yoga essentials for you and your kids.
Did you know that September is National Yoga Month? While we love to soak in any zen moments that we can, we also love this activity for kids, especially after reading the TIME article "Exercise Makes Kids' Brains More Efficient," showing that there is evidence to support that exercise increases white matter in children's' brains, the area known for focus and memory. A relaxing and fun exercise for kids of all ages, here are some of our favorite yoga essentials for you and your kids.
Related: Yoga for kids
Yoga Items for Kids: For the ultimate yoga products for kids, we are loving the collection of books, CDs and DVDs from mompreneur Lisa Flynn, founder of the international programs ChildLight Yoga and Yoga 4 Classrooms. With a mission for our kids to be "healthy, happy, and resilient," the yoga collection includes the fantastic book, Yoga for Children: 200+ Yoga Poses, Breathing Exercises and Meditations for Healthier, Happier, More Resilient Children where you will learn the tools to teach kids about yoga through 200 yoga poses, meditations, and activities! 
We also love the fun I Grow With Yoga, Yoga Songs for Children that features a collection of songs while following the movement cues for a fun and effective way to utilize the breath, while building self-awareness through yoga-based activities. We also love the Yoga 4 Classrooms® Activity Card Deck, a box of 67 cards that can go beyond the classroom. This includes illustrated instructions, discussion points, sub-activities, and educational tie-ins, for a total of more than 200 beneficial classroom practices. All activities can be done standing beside or sitting at desks and address the whole child – physical, social and emotional.
Yoga at Home
While we love getting our 'zen on' at a yoga studio, it can be challenging as a mom. To help us out we have been using Yoga for Belly, Butt, and Thighs, an all-in-one yoga system that targets a women's troubled spots. Developed by Chrissy Carter, a senior yoga instructor, teacher trainer, mentor, and anatomy teacher at Yoga Works in New York City, the fun video showcases four practices that target the belly, butt, thighs and total body. We love how this is a calming and all-in-one workout that uses your time effectively to burn fat, sculpt, strengthen and tone the body.
Yoga Mats for Kids
We love the yoga brand, Manduka and they recently created the fun LiveON Kids mat. These vivid and sustainable yoga mats feature printed animals patterns that are made from 100% reclaimable & recyclable PLUSfoam. This allows kids to be able to use them for years to come with its supportive cushion to protect bones and joints as well as a sticky surface with a great grip.
Yoga Travel
If you happen to be traveling this month, be sure to visit Kimpton Florida who is helping guests channel their inner warrior pose to inspire a healthier lifestyle through complimentary yoga-inspired wellness offerings. Kimpton's EPIC Hotel, centrally located in downtown Miami at the edge of the Miami River and Biscayne Bay, offers guest unparalleled, transformational mind body programs within an inspiring yet relaxing sanctuary through Exhale, the acclaimed "mind body spa" brand. Guests have the option to choose from a variety of yoga classes including Exhale Chill Yoga, FlowYoga and Power Yoga. Kimpton's Surfcomber Miami, South Beach, located on the Atlantic Ocean's edge along 200 feet of oceanfront property in the heart of the Art Deco District in South Beach on historic Collins Avenue, offers complimentary beachfront yoga classes everySaturday at 9:30 a.m. to guests looking to achieve the ultimate holistic wellness experience on the sands of Miami's South Beach.
Yoga Online
For access to yoga via your phone, we love the new PRIV app. Through this service you can connect with vetted personal trainers, yoga instructors, hairstylists, and more that come straight to your door, in under an hour. Perfect for busy mothers who can't get to a yoga studio, the PRIV app is perfect for the modern mom who wants to stay connected to their zen.
Another yoga app that we love is YogaDownload. Through this app, you can enjoy online classes led by the legendary yoga instructor! The sessions focuses on deep breathing, heart-opening asanas and bring inspiration and healing into your practice. This allows you to de-stress, relax and refresh right in the comfort of your own home.
Yoga Gear
We love Yogasphere, a series of slim, colorful, comfortable yoga circles (narrows straps) that will assist and enhance yoga practice at every level. Created by yogis for those who truly enjoy their yoga time. Mama Kuka Yogasphere (the strap series) comes in a muslin bag making it easy to travel with and already "gift wrapped." 
The Yoga lovers in your life will love you for bringing them Mama Kuka's new bag of straps! And you will love how even the most difficult pose is now within reach. A natural gift for the grounded, spiritual and fit individual in your life, you can choose from the Soul Shine palate (Pink, Gold, Turquoise and Kelly Green) or the Earth Child palate (Olive, Black, Hunter, and Maroon). Available online from www.mama-kuka.com. 
MORE YOGA FROM MOMTRENDS
PIN IT!
Use pinterest to save your favorite ideas from Momtrends. Be sure to follow our Fitness and health board here.