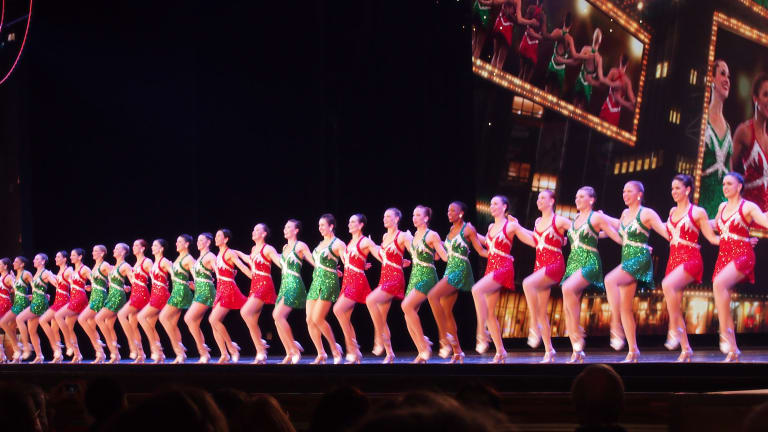 What We Love About NYC During the Holidays
Plan the perfect holiday in NYC. Ideas for family fun in NYC DURING THE HOLIDAYS. From shows to tree lighting this is the must-do list.
We all know NYC is a special place, and during the holidays it can seem even more magical. From classic shows to store windows to the Rockerfeller Christmas tree that we can't get enough of - here are some of our favorite things to do this holiday season:
Nicole, Founder of Momtrends: 
Driving through Dyker Heights in Brooklyn to see the lavish light displays.
The beautiful train show at the Bronx Botanic Garden.
Taking in an Alvin Ailey dance performance at the City Center.
Michelle of "Synching Your Style": 
Every year we take in the famous Rockettes at Radio City Music Hall. My grandparents would get us all dressed up, we'd take in the show and sometimes we'd even get lucky enough to take a tour and meet one or two of the performers. 
St. Patrick's Cathedral: we loved walking down the aisle in our "fancy" clothes. This is a tradition that we will continue with our own children.
Pre thanksgiving day parade-We loved going in to watch the giant parade floats getting filled. We have even been lucky enough to be part of the process. Those balloons are HUGE and so heavy! I always attended the parade too and loved seeing everything from behind the scenes in action.
Every year we love to visit the Bronx Zoo right before Christmas. We gather with my college roommates and their families and visit the decorated zoo, go caroling, and finish out the day with a family-style dinner on Arthur Avenue.
Brianne "Brianne in the City"
This will be our 4th year experiencing Breakfast with Santa at Rockefeller Center. We start the morning with a lovely breakfast at Rock Center Cafe'. Santa comes around and gives the kids little presents. After breakfast the kids enjoy hot chocolate and ginger bread cookies. Then we are able to have private access to ice skate right under the famous tree! It's a lovely setting and event we look forward to every year!
Another favorite is visiting Santaland at Macy's Herald Square. Before sitting on Santa's lap, kids can walk through "Santa's workshop" set up with trains, animated bears, and snowy scenery!
Serena, Managing Editor 
I love taking my kids' to shows during the holidays. This season alone we have explored Angelina Ballerina The Very Merry Holiday Musical and Disney on Ice. 
We are also really excited about the Frolic! Presents: 3rd Annual Rockin' Holiday Show 
Laurie Berkner holiday show that I know the whole family will love.
For a special treat we also love The Rawther Fancy Tea experience with Santa where guests are welcomed to the Eloise Shop for a lovely tea party, complete with tea sandwiches, fruit, and an assortment of desserts. After the meal and writing letters to Eloise, the children all visit Santa in his workshop where he reads a story everyone (book provided by Eloise) and invite the children to take turns having their picture taken with him. Photos are distributed to the families and the children to take home, along with their favor bag from Eloise.
Another fun experience is a tour of the Empire State Building where you and your family can take in the splendor of its custom holiday decorations in shades of gold, bronze and silver that enhance the building's own architectural Art Deco details, colors and ambiance. This includes giant snowflake installations, 20-foot, LED-lit holiday trees oversized, holiday wreaths and a lobby window with holiday scenes. They also have holiday music, select school choirs and festive concerts throughout the month of December. Be sure to check out their website for more details.
MORE NYC CENTRIC THINGS TO DO
PIN IT!
Use Pinterest to save your favorite NYC outings. Be sure to follow our New York City board here.
Momtrends was not paid for this post. Some tickets were received.