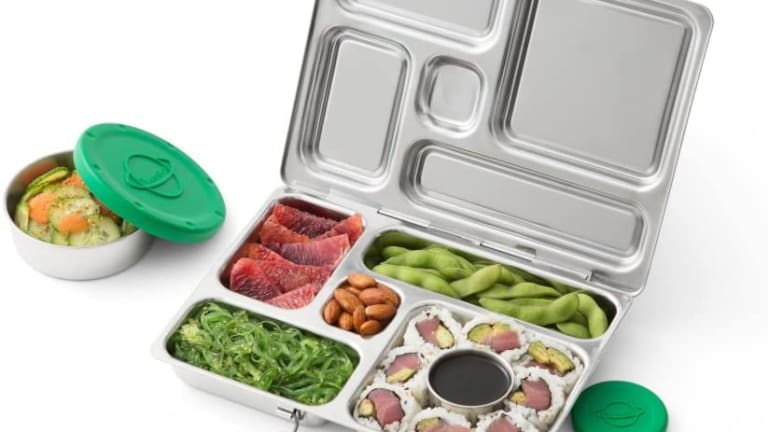 (Video): Packing a Better School Lunch: Bento Lunch Inspiration
You planned and stocked up on all of the back-to-school essentials (if not be sure to check out our complete back-to-school guide), and now it's time to think about lunch! we love healthy and different options for our kids that will fill up their bellies to avoid a sugar crash!
Related: How to create the cutest bento lunches ever
Using the bento-style lunch box from PlanetBox, we love how this high quality stainless steel lunchbox allows you to organize your kids' lunch and pack healthy options. Part bento box, part TV dinner tray, the segmented containers simplify packing, encourage healthy eating and portion control, reduce waste, and keep food fresh and contained for school, work or on-the-go. 
For this video, this includes a recipe for a hummus sandwich, snack options like fruit, Brad's Kale Chips. 18 Rabbits granola bars, Yum Nuts, Little Me Tea and more to make lunch making a breeze as you transition back to school in style.
Best Bento Lunch Boxes
We love the Planet Box Rover sets (available on Amazon). Each Rover Set includes 1 Rover Lunch Box, 1 Big Dipper food container, 1 Little Dipper food container, Insulated Carrying Bag, and Magnet Set. Check out the features:
5 compartments
Stainless steel lunchbox contains no lead, PVC, phthalates or BPA materials
Carry Bag fabric is made from durable, 100% recycled polyester fiber with multi use pockets that fits our dipper containers along with general water bottles and utensils. 
Adjustable strap can be adjusted for carrying as either a long or short handle
MORE FOOD IDEAS FROM MOMTRENDS
Need more meal inspo for your family?
PIN IT!
Use Pinterest to save your favorite recipes. Be sure to follow our Healthy Eats board
Momtrends was not paid for this post.