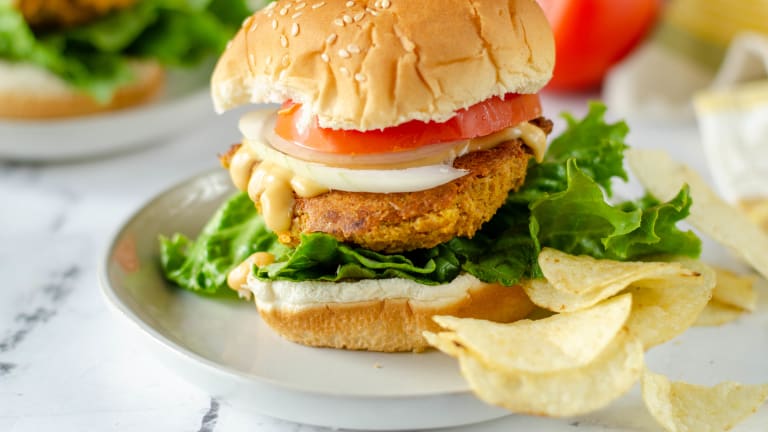 Publish date:
The Best Veggie Burger
Why is it the Best Veggie Burger? It's tasty and got loads of great ingredients.
Why is it the Best Veggie Burger? It's tasty and got loads of great ingredients.

We're sharing our favorite veggie burger this week for our recipe swap. Why is it the Best Veggie Burger? It's tasty and got loads of great ingredients. While we're not ready to completely give up meat, with a burger this tasty, it's easy to try out the meat-free movement.
Why Veggie Burgers Are a Thing
We've been really intrigued with the vegetarian movement and eager to try more and more meat-free recipes.
As we all know burgers are so good, and so satisfying. When it comes to meal planning at home, we thought: why not turn burger night into something healthier. I know when you think veggie burger you think it will probably think it will taste like cardboard but not this one. Shhhh--Your family wont know the difference. Here's the recipe that your family will instantly adore.
The Best Veggie Burger Recipe
Nutrition: 262 calories, makes 4 burgers
Ingredients:
2 cups ( one 14- ounce can) black beans, red beans or chickpeas, drained
1 medium onion, quartered
1/2 cup rolled oats (we like Bob's Red Mill)
1 tbs. chilli powder
salt for taste
freshly ground black pepper for taste
1 egg
Bean-cooking liquid, as needed
1 tbs. olive oil or neutral oil, like grapeseed or corn for cooking

Five Tips To For a Girl's First Leg Shave
Do you remember your first time shaving? Mine wasn't pretty. I snuck my dad's razor and shaved my legs dry. It wasn't pretty. Get your daughter ready for this rite of passage with the right tools and a quick education. We've got five tips to help you navigate your daughter's ...read more
Why You Should Add Wild Blueberries to Your Diet
Do your New Year's goals involve healthier eating? Adding more fruits and vegetables to your diet? Or even adding tasty new recipes to your repertoire? We've got five reasons for you to add wild blueberries to your diet. Our friends from the Wild Blueberry Association have ...read more
Why Moms are Loving This Blueberry Couscous Salad
It's blueberry picking time. And while most blueberry recipes revolve around baked goods, we've got something different to share. First, a few sentences singing the praises of this lovely fruit. Blueberries are high in antioxidants, improve memory function and reduce the effects ...read more
How to Make The Best Veggie Burger Recipe:
Place the beans, onions, oats, chili powder, salt, pepper and egg in a food processor and pulse until chunky but not pureed; if it seems dry or not sticking together well, add a little liquid ( a tablespoon at a time). You want it to me moist but not wet. 
Let it sit in the fridge for a few minutes.
With wet hands, shape into patties
Refrigerate for 15-20 minutes
Heat a large skillet or griddle (whatever you have) over middle heat and add just enough oil to coat the bottom of pan. When its hot, add the patties and cook until they are nicely browned on one side (about 5 minutes) turn over carefully and cool on the other side until firm and browned (another 5 minutes). 
Serve on buns and make sure you have everyone's favorite burger fixings! If you want to make it even more fun, why not create a burger bar like we did a few summers ago. 
More vegetarian recipes from Momtrends
PIN IT!
Use Pinterest to save your favorite recipes. Be sure to follow our Healthy Eats board
Momtrends was not paid for this Best Veggie Burger post.