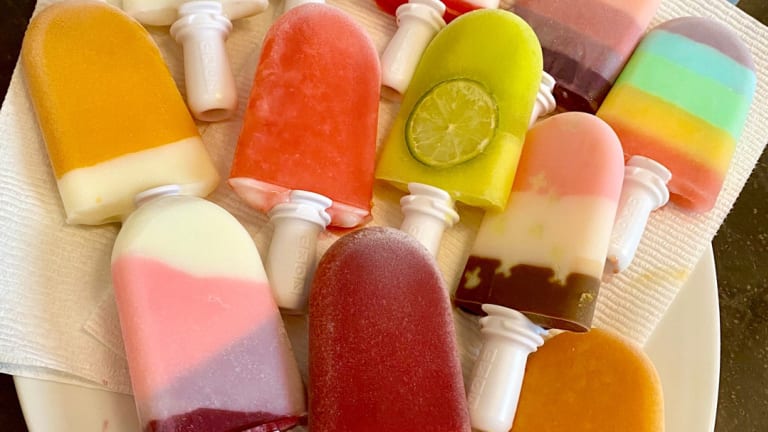 Momtrends MVP'S: The Best Family Staycation Ideas
Sweet and simple staycation tips for families.
Do you need some easy tips for a fun summer staycation with your family? Read on because we have loads of ideas in our latest edition of Momtrends MVP'S. We have fun products for everyone from babies to parents!
Now a staycation might not be on your mind just yet because it is officially summer and that means many of us have vacations on the horizon. But even if we're headed somewhere fabulous soon, we most likely won't be there the whole summer.
That is why we are going to talk about the perfect staycation. You can achieve easy-breezy vacation vibes right from your own home with our fun staycation ideas! For me, summer is all about quality time with family. And I want my kids to remember their childhood summers as magical. 
So, let's talk about how to plan a family staycation shall we? Or maybe you just want to bookmark this post so you have some new ways to entertain your little ones now that they're home ALL the time, bwah! Either way, we have you covered!
Must-Haves for the Perfect Family Staycation
How do you plan a fun family staycation? The key is to be flexible. Have plenty of family staycation ideas on hand that you can turn to no matter where the day takes you. And plan a variety of activities to account for your family's moods on any given day! 
That means you have ideas for things to do outdoors AND ideas for inside quiet time as well. Because if your kids are anything like mine, they can only handle so much time out in the summer heat before they need to chill indoors! So, part two of this subject will focus on inside fun...Stay tuned for inside family staycation ideas soon!
On that note, you can expect plenty of ways to enjoy outdoor activities in today's best family staycation ideas post. Let's dig a little deeper and talk about our family staycation must-haves for babies and beyond... 
The Best Water Table for Kids
If you have a toddler and haven't yet introduced them to a water table, what are you waiting for? They provide hours of entertainment and the right table can occupy more than one child!
My current favorite water table for summer is the Best Choice 3-in-one Kids Sand & Water Table because up to 4 kids can enjoy it at the same time! That leaves time for you to sip an ice cold drink and put your feet up, just sayin'.
And did I mention that you can remove plastic bins to play with sand, water or even just use it as a pint-sized picnic table?! Plus, it comes with an adjustable umbrella! And the all wood construction, apart from the removable bins, means it looks great in your yard or patio area!
Get the 3-in-one Kids Sand & Water Table here
The Best Water Obstacle Course 
If you're familiar with Momtrends you know how much we value being active. A water obstacle course is a great way to keep your kids moving and cool them down during those hot summer months!
Your kids are sure to race through The Banzai Aqua Blast Obstacle Course by jumping hurdles, hopping through the tire jump and sliding under a big pole again again! 
I love what a wide age range of kids this course works for. Ages 5-12 are all free to enjoy it!
Get the Banzai Aqua Blast Obstacle Course on Amazon here. (note: this is an Amazon Affiliate link)
The Best Pool Float Battle Set
If you have a pool, you need a pool float battle set in your life. Don't know what a pool float battle set is? Well, it is exactly what it sounds like. Kids, and adults for that matter, float on two floats and bop each other with inflatable "boppers!"
What's cuter than floating hot dogs and mustard and catsup boppers? Not much if you ask me!
Swimline Hot Dog Battle has long been one of my go-to pool float brands so it doesn't surprise me that they came up with ridiculously fun Hot Dog Battle!
Get the Swimline Hot Dog Battle set on Amazon here.
The Best Water Ballon Launcher
Bickering can infiltrate even the best of staycations. It's just the nature of siblings in the summer. If you find yourself in a similar situation, send those kids outside with a whole bunch of water balloons and a couple of water balloon launchers.
It's hard not to smile when playing with the Neon Splash Bunch O Balloons Dual Launchers! Things might get competitive with how far they can launch in balloons, but it will all be in good fun!
I love how simple these Zuru water balloon launchers are, yet they launch those fun, brightly colored balloons SO far! I am talking up to 70 feet!
Get the Neon Splash Bunch O Balloons Dual Launchers on Amazon here.
The Best Family Sunscreen
Our family goes through so much sunscreen in the summer, I try to buy brands that the whole family can use. Thinkbaby Safe Sunscreen is one of those brands and, thankfully, they offer a family size bottle in their SPF 50 Sunscreen, my favorite.
Their natural, non-toxic and water-resistant sunscreen is one you can feel good about putting on your kids and yourselves! And it goes on nice and smooth which is a must for this mama!
I also love that Thinkbaby is reef safe. That is simply something that every sunscreen should be at this point! Our oceans need us to care!
Get Thinkbaby Safe Sunscreen on Amazon here.
The Best Ladderball Set
There are so many outdoor game sets to invest in, but one of my family's absolute favorite lawn activities to do together is Ladderball! We can all while away many an hour with a set.
And one Ladderball set I love in particular is the GoSports Indoor/Outdoor Ladder Toss Game Set GoSports Indoor/Outdoor Ladder Toss Game Set because, just like the name says, you can play with it inside or outside.
So, if a summer storm hits while you're playing you can just bring everything inside and head down to your rec room to finish the fun!
Get the GoSports Indoor/Outdoor Ladder Toss Game Set on Amazon here.
The Best Popsicle Molds
Nothing beats an ice cold frozen pop after an outdoor play sesh and Tovolo makes the cutest popsicle molds in shapes like penguins. You can get robots, dinos, monsters and even zombies, put I am partial to those sweet little penguins!
The super flexible silicone helps the pops slide out of the mold a breeze. If you've made homemade popsicles before you know that isn't always the case!
And I love that Tovolo pop molds are dishwasher safe because I do not have time for hand washing in the summertime...or any time really. Haha!
Get the Tovolo Penguin Pop Molds on Amazon here.
The Best Slushy Maker
When your family is ready for another frozen treat, you can never go wrong with the slushy route. And you don't have to run to your local gas station to get one either. 
The Zoku Slush & Shake Maker lets you custom make your own healthy fruit slushy, smoothie, shake etc. You can even make adult frozen beverages in it. Hey, this is your staycation too!
This slushy maker couldn't be any easier to use which you know I love! Summer is all about laid-back, easy days that complicated machines do not belong in. That's just my two cents.
Get the Zoku Slush & Shake Maker on Amazon here.
Now that you have plenty of festive family staycation ideas, it's time to check out some of our other baby and kids focused MVP favorites!
Don't forget to stay tuned for our next Baby Momtrends MVPs list…
More of Our Favorite Momtrends MVP's Winners
Follow the Links Below:
Pin It!
Save your fave baby gear and ideas on Pinterest and follow along with our Gear for baby and kid board!
Momtrends MVP's is a non-sponsored series. Brands must meet our strict standards to be included. When naming winners we take several factors into account, including expense, convenience, and style.
We make our picks annually based on editors' research. In some instances, we may request and receive samples so that we can more thoroughly assess products. Our opinions are our own, and our goal is to help our community of moms make more informed decisions on everything from baby gear to beauty products to vacation destinations and more. We scour the abundant options and painstakingly hand-pick our favorites, so you don't have to. Our hope is that our most valuable players become your most valued purchases.