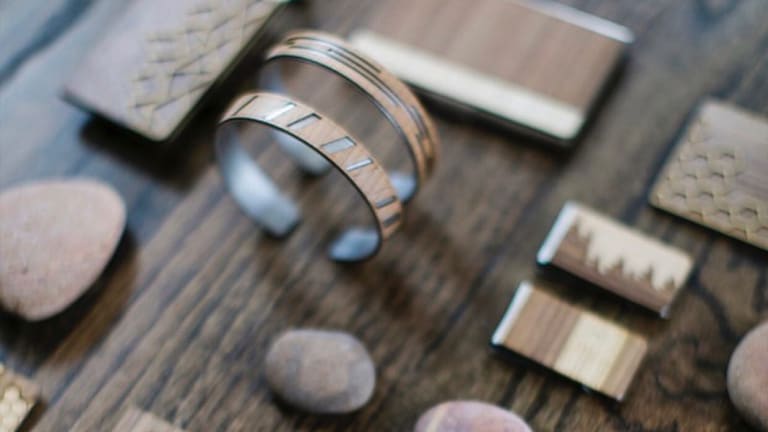 Stunning Wood Jewelry by Treeline and Tide
Innovative and timeless jewelry using sustainably-forested wood.
We just discovered some gorgeous jewelry for fall from Treeline and Tide. Owned and designed Damian and Jenn they focus on bold graphic shapes and unique materials that are equally eye-catching, modern, and sophisticated laser-cut jewelry.
This includes a collection of on-trend and fun necklaces, earrings and bracelets - all of which are made from real walnut and birch wood. We love their stunning geometric patterns, each piece is a work of art ­­– uniting the soft natural look of wood with the edgy and on-trend fashion of modern design. This includes favorites like the Arch necklace, Pleats Earrings, the Metropolis Cliff - all of which are handmade from wood and other quality materials. We love how they offer women a unique look that is also durable and comfortable.
This also includes a line that adheres to sustainable practices such as their cuff bracelets that are made from 100% recycled materials whose veneer is sources from sustainable forestry lumber. Additionally, the line is made by laser cutting (much of which Jenn does herself), sanding, oil finishing, and assembly by hand - which creates the gorgeous and unique aesthetic that the line is renowned for.
Created in 2012, Joyo was born when founder Jenn Liddiard realized her skills in graphic design and jewelry making could be combined. After discovering laser technology, Jenn knew she could move beyond gemstone designs to bring her graphic patterns to life as cutting-edge jewelry pieces. Inspired by museums, architecture, history, and nature, she sees the beauty of intricate patterns in the ordinary things around her, translating them into comfortable, beautiful, and fashionable pieces that any woman can enjoy.
Located near Boston, MA, Treeline and Tide is dedicated to quality craftsmanship and Jenn designs, laser cuts, sands, and assembles each piece herself.
For more information please visit www.treelineandtide.com/
Momtrends was not paid for this post. We were given samples for review.
For even more Momtrends, follow us on Facebook, Twitter, YouTube, Pinterest and Instagram!