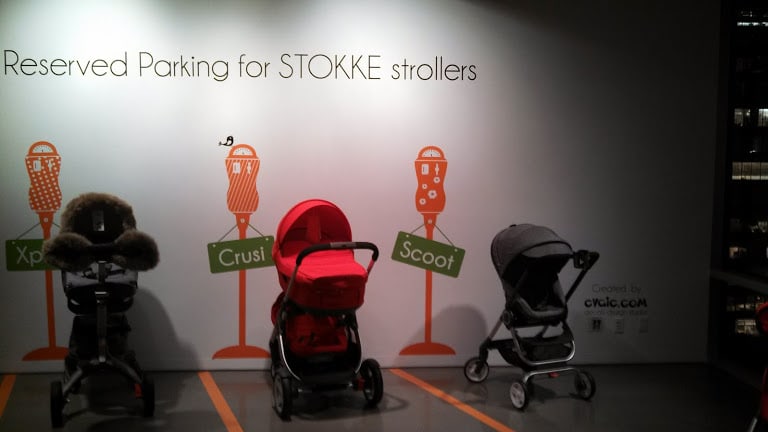 Publish date:
Momtrends Celebrates the Launch of STOKKE's New Strollers
Stokke showcases two new strollers the Scoot and Crusi at an exclusive blogging event.
Stokke showcases two new strollers the Scoot and Crusi at an exclusive blogging event.
A few days ago Momtrends celebrated the launch of the latest collection of strollers from Stokke, manufacturer of high-quality baby products. Having worked with Stokke for over three years, Momtrends was thrilled to connect bloggers with the brand to showcase the new strollers - Scoot and Crusi as well as to check out the classic Xplory (check out our review here) that is considered the ultimate connection stroller that facilitates bonding with baby, along with the multi-functionality and the Scandinavian aesthetic that STOKKE is known for.
Held at the Glasshouses in NYC, the strollers were on display with an unique backdrop created by Evgie Wall Decals with the cute banner "Reserved Parking for STOKKE Strollers" showcasing the latest line of sleek, fashionable and functional strollers. Members from the Stokke team were also on-hand to demonstrate the ins and outs of these new systems including how they fold and lock as well as how they move with ease. 
To kick-off the event, Hilde Angelfoss, Stokke's Director of Innovation and Design (her brainchild was the Xplory), spoke of how important it was to think of the baby first when picking out a stroller. For Stokke that means a stroller that is high and enables them to be up and close with their parents.She also mentioned how the urban parent was the inspiration of the Scoot and the Crusi - taking into account the needs of the parents and the comfort of the baby/toddler. Stokke also recognized the need for a streamlined stroller for the rugged city streets while also still offering the same functionality and design features from the Xplory.
What's New from Stokke
At the event, guests had the chance to see demos of how to use the Crusi and Scoot. The Scoot is an ideal lightweight and compact stroller for parents with one baby or toddler. In addition to featuring the same functional and gorgeous design elements that Stokke is renowned for, the new Scoot stroller is also very easy to push and fold and carry with one hand - making it ideal for mass transit or travel. 

5 Pretty Ways To Organize Your Jewelry
I admit - I'm guilt. Despite my best efforts, my "jewelry drawer" has become a tangled mess of necklaces, bracelets and earrings. This cluttered collection not only makes it hard to see what I have, but difficult to untangle the pieces I do want to wear! This summer, I'm ...read more
This Year's Coolest Jumbo Pool Floats
Pool season is almost here! I can't wait to relax, read a book, and sip a cocktail while lazily drifting in an oversized float. (Just kidding, I have two toddlers--but a swim mama can dream, right?). If you've got a staycation planned, check out this year's coolest jumbo pool ...read more
Crystal Clear and Pristine: Pool-Cleaning Tips
Tropical Storm Isaiah gave us quite the midsummer surprise here in the suburbs of New York City. We just got our power back on after a whole week of darkness! With trees down, debris everywhere, and lots of uncertainty, one thing we forgot to check on: our above ground Intex ...read more
At the event, I loved to check out the wheels that were so sleek and easy to move that can be locked in one direction as well as handle rough surfaces - making it ideal for city streets, buses and narrow doorways. There is also substantial storage and incredible comfort for the baby or toddler with two seating positions - facing parents for up close bonding and the freedom to turn the seat around when they get older. I also loved the adjustable handle bars that can accommodate the height of the parent.
The Crusi is perfect for parents of two children, and definitely one that I wish was around last year. This multifunctional stroller starts as a single stroller, but a second seat can be added to it to make it a double. This is a great option if you have a baby and are considered a second baby, or one that can be used as your single stroller. As a double, a baby can fit up top in their carry cot while the toddler is on the bottom. The wheels are incredibly smooth and this stroller also offers various hand positions that accommodate the height of the parent.
The beauty of their entire stroller collection is that they all come in a variety of colors and offer numerous side accessories from a sibling board to summer and winter accessories, so that you can personalize your stroller and truly make it your own.
At the event, we also showcased spring jewelry from Stella & Dot and gorgeous bright and fashionable bags from Brahmin where guests strutted on the 'step and repeat' showcasing the stunning accessories and strollers - completing the ultimate look for the modern mom.
This was a sponsored event put on by the Momtrends event team.