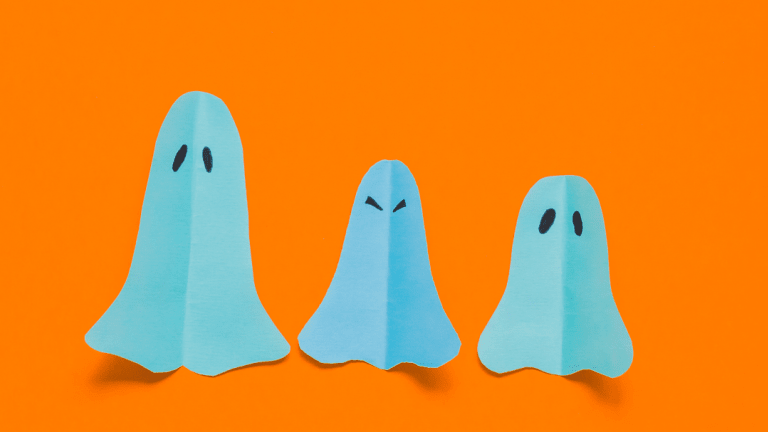 Publish date:
Spooktacular Kids Books for Halloween
Here are six spooktacular reads sure to entertain your little goblin this Halloween.
With Halloween right around the corner, now is the time to stock up on some enjoyable reads to slip inside your child's trick-or-treat goody bag. Go ahead and start a new tradition by cuddling in front of a warm fire with some delicious sweets and a ghostly read. Sharing your love of books is the best way to teach your kids the importance of reading. Not to mention, it's a fun way to spend some quality time together. To help you select the best appropriate titles for your child's needs, here are six spooktacular reads sure to entertain your little goblin.
Related: Our favorite Halloween treat bags
One of our favorite new books for Halloween is Room on the Broom by Julia Donaldson. This fun story follows a witch and her cat as they fly through the sky and then loose their hat, bow and precious wand. We loved the beautiful illustrations by Axel Scheffler that showed how their animal-friends want to help out with a ride on the Witch's broom. Great for kids, this is one story that is sure to be a new Halloween classic that kids will love reading every year.
Where's Boo? by Saline Yoon is a hide-and-seek board book designed especially for young readers. As the kids search for Boo the cat among favorite Halloween novelties like bats, spiders, and ghosts, they are able to learn key sight words along the way. The bright colors and vivid illustrations make this an exciting story for the little ones. Also, the black fuzzy cover adds some textile stimulation for curious hands to touch and feel.
Madeline and the Old House in Paris is written by John Bemelmans Marciano, the grandson of Ludwig Bemelmans who is the creator of the original series. In this new adventure, Madeline is back in action with her favorite sidekick, Pepito. These two partners in crime meet a mysterious figure named Felix de la Morte who has been living in an old attic in Paris for hundreds of years. This delightful read is the perfect companion for kids ages 3-5 years.
The Berenstain Bears Trick or Treat by Stan Berenstain is a classic holiday tale for kids 5-8 years. As brother and sister bear prepare to go trick-or-treating without Mama Bear by their side, the cubs have every intention of avoiding Miz McGrizz's spooky home. Yet as these curious cubs soon come to learn, looks can be deceiving.A feel-good story ideal for this time of year, this book is a must-read for kids of every age.
Calendar Mysteries October Ogre by Ron Roy is an easy read geared for kids ages 6-9 years. A Stepping Stone Book ideal for the emerging reader, this tenth installment in the series takes place in a haunted house. The usual suspects Bradley, Brian, Nate, and Lucy are having second thoughts about their spooky adventure. When they discover something rather peculiar going on, they fear the witches, ogres, and ghosts might be brewing up a cauldron of trouble.
My Weird School Special: It's Halloween, I'm Turning Green by Dan Gutman, Jim Paillot (illustrator) is a fan-favorite series for kids ages 6-10 because the characters are funny and relatable. The stories center on a boy A.J. who absolutely detests school. In this latest release, A.J. and his hilarious friends from Ella Mentry School are preparing for their favorite pastime, trick-or-treating. With candy on the brain, they are all set for another laugh-out-loud adolescent adventure.
WANT MORE HALLOWEEN FROM MOMTRENDS?
PIN IT!
Be sure to follow Momtrends on Pinterest and for more spooky inspiration follow our Halloween and Thanksgiving Boards here. 
Momtrends was not paid for this post.