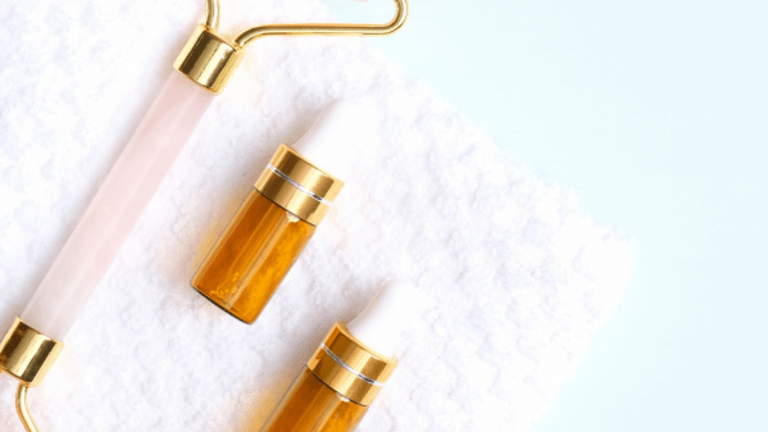 Momtrends MVP's : The Best Serums and Facial Oils
Not all anti-aging products are made equal so we've rounded up a bunch of  serums and facial oils that tackle most of the common anti-aging complaints.
What are the elemental parts of a skincare regimen? Sunscreen is definitely a top component which is why we feature it again and again. And there are two more products that I consider essential anti-agers, as well. They both play very important roles in my own daily beauty routine. On that note, let's talk about the best serums and facial oils out there, my friends!
In our eternal quest to provide you with the very best test-driven product recommendations, we're proud to continue to feature our favorite beauty picks in our ongoing Momtrends MVP's series. And this particular edition just might be one of my favorites because I don't make a move without serum or facial oil. I might not always wear both in one day, but I always have one or the other on... always.
Why You Need Serums and Facial Oils
I'm not twenty anymore, after all, and that is why you will always find anti-aging products on my vanity. If you don't have a go-to anti-ager holy grail product yet, how about we change that? The thing is, not all anti-aging products are made equal. And as much as I want to take care of my skin, I also want to streamline my beauty routine. I am simply not into throwing a bunch of unnecessary products on my face.
In fact, I very carefully selected these products because they're proven game changers for me and many of my industry friends. That's right. I brought together a bunch of serums and facial oils that are so effective, they will give you enough of an anti-aging boost all on their own. So, if one of these serums and facial oils is your only anti-aging course of action, you'll be ok. No matter which way you go, adding in the other type of product certainly wouldn't hurt. 
That being said, you have to select your facial oils and serums according to your skin's needs. Different faces have different issues. So, while, personally, I live for Vitamin C based products, you might not necessarily want them. Maybe a nice calming serum that quells redness is more up your alley. Or maybe you need them both like moi. Haha!
Best Serums and Facial Oils for Moms
Whatever your skin issue, there should be something for you here. I've rounded up lots of serums and facial oils that tackle most of the common anti-aging complaints! So, grab a pen and paper -- if you're still into that sort of thing, or get ready to save some links.
Oh and you might need your wallet, too. I have a feeling you're going to want to order at least one of our best serums and facial oil picks. And, don't worry, whether you really want to invest some serious funds into your skin care routine, or prefer more budget conscious options, I have chosen products at a variety of price points for you!
Best Serum for Even Toned Skin
While we're on the subject of Vitamin C, it's my favorite ingredient to fight age spots. After just a few weeks of using this serum, I noticed that my dark spots were lighter and my skin less dull. 
First Aid Beauty has a Vitamin C serum that is now my go-to in the winter. That is when the dullness really takes over. An even skin tone helps me look more youthful, which I'm totally here for. It also gives me a great glow, but if you really want to glow, this next oil is worth looking into...
First Aid Beauty 10% Vitamin C Brightening Serum
Best Serum for Irritated Skin
So, another anti-aging ingredient that I love is glycolic acid. And I recently found an exfoliating scrub that definitely improved the texture of my skin, but also left it rather irritated. 
Enter this calming serum. It really helps soothe my inflamed skin after treatments that bring out redness. Ingredients like Zinc, Vitamin E and Aloe amplify the soothe factor. If you have sensitive skin, but don't want to avoid anti-aging powerhouse products, this serum is for you.
Get MAELOVE NIA 10 CALMING SERUM here.
Best Serum for Breakout Prone Skin
Have you noticed that breakouts are a part of your life again? You aren't alone. That phase of our skin's life tends to come back around again, and skin care products can help, but they can also exacerbate breakout prone skin. 
I did not find that to be the case with this lightweight serum. When my skin is less than clear, I know I can turn to this serum to brighten my complexion without worrying about getting more blemishes.
Get TULA ILLIMUINATING SERUM here.
Best Nighttime Facial Oil
Until it gets really, really cold out, I steer clear of heavy cream based moisturizers because they tend to clog up my pores. I also won't use retinol based products any time but at night, because while I love retinol's efficacy, it more often than not makes my skin good and red. 
That's why this facial oil is the best of both worlds. The retinol in it takes on my wrinkles AND there are soothing properties in it as well, so by morning my skin has not a hint of redness, plus it's nice and moisturized.
Get SUNDAY RILEY LUNA SLEEPING NIGHT OIL on Amazon here. (note: this is an Amazon Affiliate link)
Best Organic Serum 
Not only is this serum great because it's natural, but I just love the opportunity for portability. Right in my makeup bag it goes! And there is no mess with this lightweight stick. Plus, you can use it around your eyes, which isn't always the case with serums. 
It also absorbs super fast. You can even use it to help freshen up your makeup throughout the day by smoothing it over any dry spots. It's a real game changer and just wonderful for winter's dry skin. You know it's coming!
Best Facial Oil for Glowing Skin
I know I already included a Sunday Riley product on this list, but they're just really good at facial oils, bwah. So, if you're ready to literally glow, pay close attention to this next one!
C.E.O. Glow contains both Vitamin C and Turmeric. You already know how much I Iove Vitamin C, well Turmeric is right up there with it. It's the instant glow factor for me! Not only does it warm up your skin and give it that immediate radiance, but it contains protective antioxidants too!
Best All Around Serum
Ok, most of the serums I shared here are anti-aging serums, but this one does so much because it's two serums in one. It will help give you firmer, smoother skin which is something we can all get behind, right? 
What really sold me is the Turmeric. Yep, it's another product with turmeric. I can't get enough! Not only does it help you when you ingest it, but Turmeric is a powerful anti-aging ingredient in skin care, too. 
And it's so lightweight, it's perfect to apply in the morning before your daytime moisturizer. This is another pricey one, but I don't recommend any product I don't think is worth it.
Best All Around Facial Oil
Of all the facial oils I featured, this one has the thickest consistency. That's not to say that it is thick, because it really isn't. It's still a facial oil. It is just incredibly hydrating and repairing, without feeling greasy. 
My skin is super soft after I use Love 31. And I just love the soft hint of natural rose fragrance. Oh and it's gluten-free too. I don't know why, but while I follow a mostly gluten-free diet, it never occurred to me to look for gluten in my beauty products. You live, you learn my friends!
MAELOVE LOVE 31 PRECIOUS FACIAL OIL
So, are you ready to grab your next go-to beauty product? I can't wait to hear whether it was a serum, facial oil or both! You can't go wrong with either this time of year...or any time really!
Stay tuned for our next Beauty Momtrends MVPs -- coming soon will be our daytime moisturizer picks.
Momtrends MVP's is a non-sponsored series. Brands must meet our strict standards to be included. When naming winners we take several factors into account, including expense, convenience, and style.
We make our picks annually based on editors' research. In some instances, we may request and receive samples so that we can more thoroughly assess products. Our opinions are our own, and our goal is to help our community of moms make more informed decisions on everything from baby gear to beauty products to vacation destinations and more. We scour the abundant options and painstakingly hand-pick our favorites, so you don't have to. Our hope is that our most valuable players become your most valued purchases.
MORE BEAUTY MVP'S FROM MOMTRENDS
PIN IT!
Use Pinterest to save your favorite beauty finds. Be sure to follow our Beauty board here.