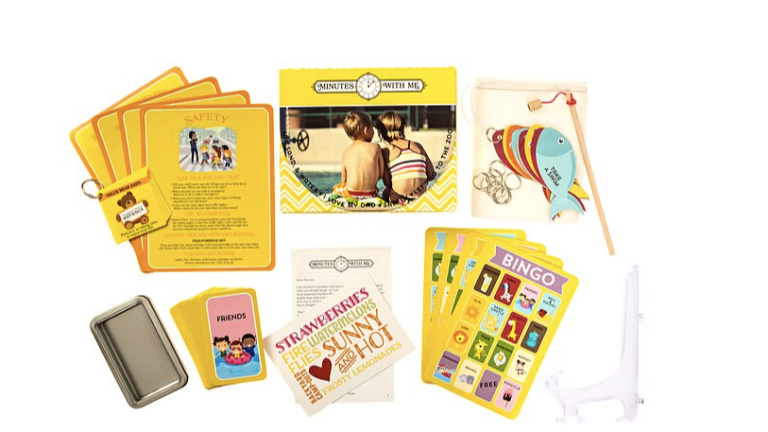 Minutes with Me Subscription Box
Boxes packed with activities that are meaningful to both parent and children alike. The Minutes With Me activity box has been a been nothing short of a hit.
Every parent longs to spend quality time with their child. I try to make the most of the time I spend with my children, making each minute purposeful. But honestly, as a busy mama of three, I find myself taking on too big of projects and before I know it, I am cutting what's supposed to be special "together" time short. I recently was introduced to the "Minutes With Me" box. I have been working with my daughter on the activities included in the box and we are both loving the time we are spending completing the suggested activities.
Related:Best monthly subscriptions for toddlers and babies
We had the chance to try out the January box which included themes Fairy Tales, winter, All About Me and Healthy Bodies. I loved that the box contained relevant activities that were meaningful to both myself and my children alike. The Minutes With Me activity box has been a been nothing short of a hit. At first I was focusing on working through the box with just my five-year old daughter but after the second day, my six-year-old son joined in too. The interaction between the siblings has been priceless. They ask me to make time for Minutes With Me every day and have even made a space for it on our ever busy calendar.
The real beauty of the activities box that seems to be different from all the rest is that I can used the suggested activities anywhere, anytime, for any duration. The recipes are kid-friendly and get everyone involved, the games are fun and really engage the children and the conversation topics are interesting and really get a good chat going. I have been putting the "conversation cards" in the car and spending a few minutes on them while we wait for the bus to arrive. I love that I am sending my kids off for their day in a positive, cheery manner. The Minutes With Me box has been rewarding for all of us.
The women behind Minutes With Me created the box so that you're spending your time where "Time Where It Matters Most". Minutes With Me is a series of 12 monthly, theme-based activity kits that include recipes, games, conversation topics, and many other ideas for spending time with your young kids, whether you have an hour or just a few minutes.
MORE BABY TIPS FROM MOMTRENDS
PIN IT!
Use Pinterest to save your favorite articles on parenting. Be sure to follow our, Gear for Baby and Kids board here.
For even more Momtrends, follow us on Facebook, Twitter, YouTube, Pinterest and Instagram