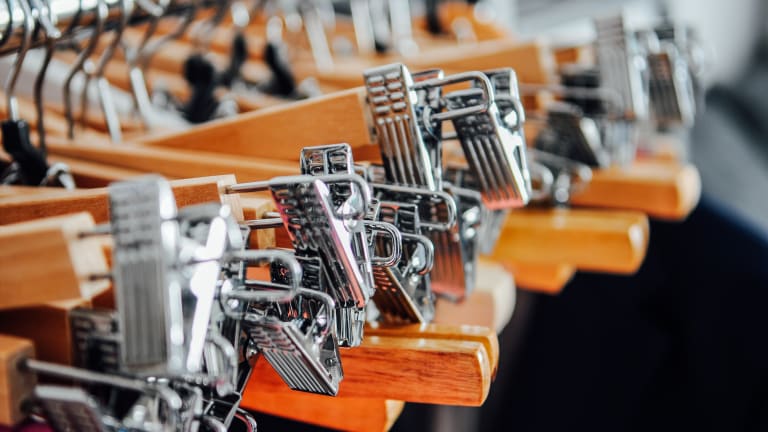 Publish date:
Insider's Guide to Consignment Shopping
11 tips to help you get the most out of consignment shopping.
11 tips to help you get the most out of consignment shopping.
As clothing prices continue to rise, many shoppers are now turning to bargain hunting at luxury consignment shops. One place where you can find high-end clothing and accessories is at Michael's, The Consignment Shop for Women.
Related: Making money with The Real Real Consignment
In business for 60 years and guarantees authenticity for all merchandise sold, you can expect to find the gamut of top labels including, Coco, Hermes, Alexander McQueen, Louboutin, Manolo, Prada and everything in between.
To learn more about consignment shopping, check out these great tips from Laura Fluhr and daughter Tammy Fluhr-Gates, the Mother Daughter team that runs this ritzy boutique hailing from a long line of New York City, about how to get the most out of consignment shopping.

Five Tips To For a Girl's First Leg Shave
Do you remember your first time shaving? Mine wasn't pretty. I snuck my dad's razor and shaved my legs dry. It wasn't pretty. Get your daughter ready for this rite of passage with the right tools and a quick education. We've got five tips to help you navigate your daughter's ...read more
Why You Should Add Wild Blueberries to Your Diet
Do your New Year's goals involve healthier eating? Adding more fruits and vegetables to your diet? Or even adding tasty new recipes to your repertoire? We've got five reasons for you to add wild blueberries to your diet. Our friends from the Wild Blueberry Association have ...read more
Why Moms are Loving This Blueberry Couscous Salad
It's blueberry picking time. And while most blueberry recipes revolve around baked goods, we've got something different to share. First, a few sentences singing the praises of this lovely fruit. Blueberries are high in antioxidants, improve memory function and reduce the effects ...read more
How to Shop Consignment Like an Expert
Shop outside your size. If you're a 6, shop sizes 4-10. Designers don't regulate their sizes; consignment shops do their best to make sense of it all.
Don't force a fit. Even if the tag is your size, it may have been altered.
Inspect, Examine, and Try. In most shops, all sales are final so make sure you know what you're buying.
Have an open mind. Don't come in looking for a specific item. Come in looking for a treasure... you won't be disappointed.
If you love it, buy it! Everything is one of a kind and if you love it, the likelihood is someone else will too.
Buy brands you know and like. That way your items will work with other things you have and will fit you in a way you are used to. Always try on items because they may have been altered.
Shop often. The great consignment stores get new merchandise every day.
Mondays are a key shopping day. Many people clean out their closets over the weekend so the stores often have new items for sale.
Be wary of undocumented second-hand dealers. The Internet has made it very easy for fakes to enter the marketplace. Know who you are buying from, make sure they have a strong extensive reputation, good reviews and a brick and mortar location.
Consider the cost per wear factor. If you typically wear jeans 4 days out of every week, then splurging on a pair of fabulous $250 jeans may be a good investment. Four times per week, for one year is actually only $1.20 per wear.
Know your style and your lifestyle. You may love that structured power suit by YSL but unless you're pitching new business to fortune 500 companies three days a week, the cozy Marc Jacobs sweater may be a better fit.
MORE FASHION FUN FOR MOMS
PIN IT!
Use Pinterest to save your favorite fashion posts. Be sure to follow our Mom Fashion Pinterest board here.
Momtrends was not paid for this post.
For even more Momtrends, follow us on Facebook, Twitter, Pinterest and Instagram