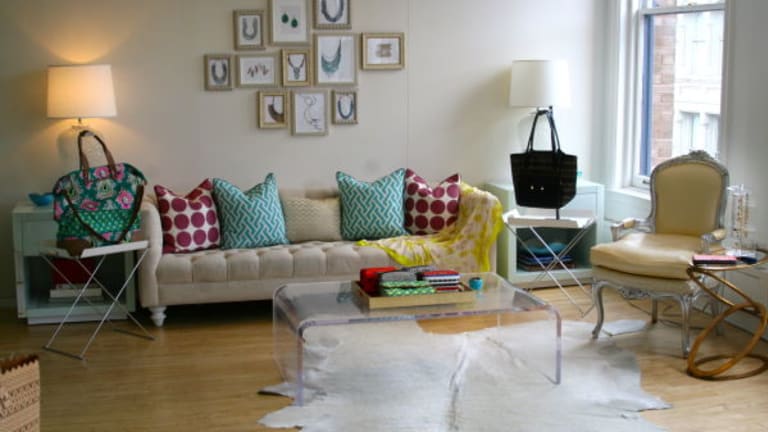 Publish date:
We Love Getting Inspired at a In-Home Styling Party
Do you have a line or products you sell from home? Find out how to entertain guests to promote your business.
Do you have a line or products you sell from home? Find out how to entertain guests to promote your business.
This month we are sharing the how-to's to throwing an In-Home Styling party. This is the perfect party inspiration for anyone with a side hustle where they sell products from home. Check out creative ways to display merchandise, bodega floral arrangements, savory snacks and a stellar signature cocktail.
Related: Transform your outdoor space with Pier 1
Inspired at a In-Home Styling Party
In-home styling parties are all the rage these days. Whether you are a professional stylist working for a company or just prefer to have friends over for a clothing swap, it is important to style the product (just like you style yourself) using subtle props that organically integrate the merchandise into the space. 
Add props: We've styled the latest designs from Stella & Dot using props from CB2, Pier 1 Imports, Crate and Barrel and The Container Store. 
Brighten up the room with bodega flowers using various textures and colors to give the arrangement depth and contrast. 
Create a signature cocktail and a self-serve bar to spend more time with your guests. My favorite is the strawberry-peach sangria. TIP: Cut up fruit beforehand and keep extra in the refrigerator. Let the sangria stand at room temperature for at least 1- 2 hours or chill up to 4 hours. Serve sangria over ice. 
Strawberry-Peach Sangria
Ready to entertain? Try this simple summer recipe for Sangria.
1 750-ml bottle dry white wine
1 1/2 cups sliced strawberries
1 cup Cointreau
3 peaches, each cut into 12 slices
1 large orange, cut crosswise into 6 slices
1 large lemon, cut crosswise into 6 slices
3 to 4 cups ice cubes
Sangria Directions
Mix white wine, Cointreau, strawberries, peaches, orange slices, lemon slices, and in large pitcher, smashing citrus slices slightly. 
For the non alcoholic drink you can add 7up, seltzer or sprite.

Sleep hack to give moms a more restful night
Looking for a life hack to get better sleep? Here's my go-to sleep hack to give moms a more restful night: get better pillows. Thanks to perimenopause, my sleep has been interrupted and I was finding it hard to get back to sleep after my 3am wake-up. I lowered the temperature in ...read more
Our Best Brow Tips
If you've been on TikTok at all in the past couple of years, you know that full brows are where it's at. Sure, the 90s are back, but thankfully, the kids left that decade's overplucked brows trend good and buried. Now even if you don't have the naturally full brows you once did, ...read more
5 Pretty Ways To Organize Your Jewelry
I admit - I'm guilt. Despite my best efforts, my "jewelry drawer" has become a tangled mess of necklaces, bracelets and earrings. This cluttered collection not only makes it hard to see what I have, but difficult to untangle the pieces I do want to wear! This summer, I'm ...read more
Menu
Serve savory appetizers on festive and stylish dinnerware. See below to enter to win a Novogratz serving tray, plate, bowl and mug to enjoy at your next party. 
We made easy choice on what to serve our guests.
The savory snack is toasted bread, squared and layered with meats, cheeses and olives held together with a toothpick
Styling Inspiration Ideas
MORE SUMMER FUN IDEAS FROM MOMTRENDS
PIN IT!
Be sure to use Pinterest to save your favorite ideas for date night. And for more Summer Fun, be sure to follow this board.
Momtrends was not paid for this post.