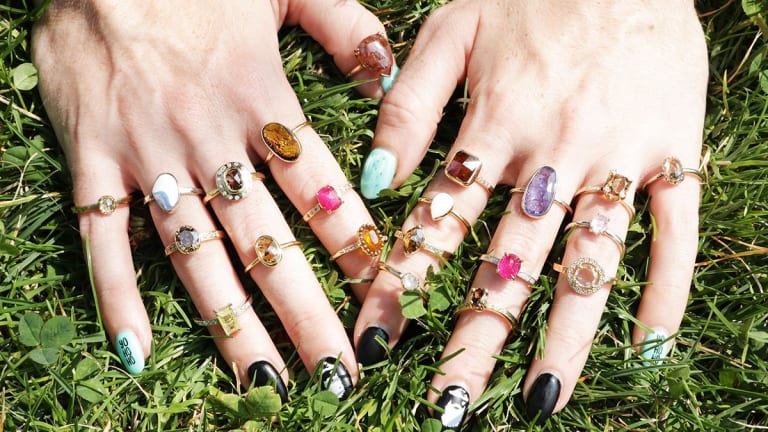 Handmade Jewelry from Chinchar/Maloney Fine Jewelry
Jewelry inspired by nature and created in small batches in a small Portland studio.
With the holidays approaching we love the idea of giving a personalized gift that is truly meaningful and special. One of our favorites is the handmade and gorgeous jewelry from Chinchar/Maloney Fine Jewelry.
Related: 5 pretty ways to organize your jewelry
Inspired by Nature
Chinchar Maloney was founded by Colin Chinchar and Marian Maloney and the company is based in Oregon. Colin was a carpenter, sound designer and self-described rock hound. Marian was an artist and creative arts therapist with a lifelong passion for jewelry and all things sparkly. This duo built a creative life together based on the values that they shared. They were inspired by the desire to create wearable art. 
The pieces are all made in their Portland studio with gemstones purchased directly from miners. There's nothing mass market about these one-of-a-kind pieces.
As a family run jewelry business, Chinchar/Maloney Fine Jewelry features unique rings, necklaces, earrings, bracelets and more with some of our favorites being the Initial Charm Necklace, the Birthstone Bracelet and the cute Cat Earrings with Gold.
We also recently had the chance to test out one of the pieces where I opted for the chic and beautiful White Diamond Birthstone Ring where I picked the gemstone from my birthday and my husband's birthday. A stunning piece, you can pick your own birthstone gemstone that comes in 14k yellow or white gold in a 2mm SI quality white diamond and a 4mm gemstone of your choice. A piece that is custom-made for each customer, we love how meaningful this gift idea is that you will treasure forever.
A truly special way to customize and create lasting and personalized gifts, we love the selection from Chinchar/Maloney Fine Jewelry as a way to give a custom and memorable gift that will be a treasured item for years to come.
Momtrends was not paid for this post. We were provided with a sample for review.
For even more Momtrends, follow us on Facebook, Twitter, YouTube, Pinterest and Instagram!