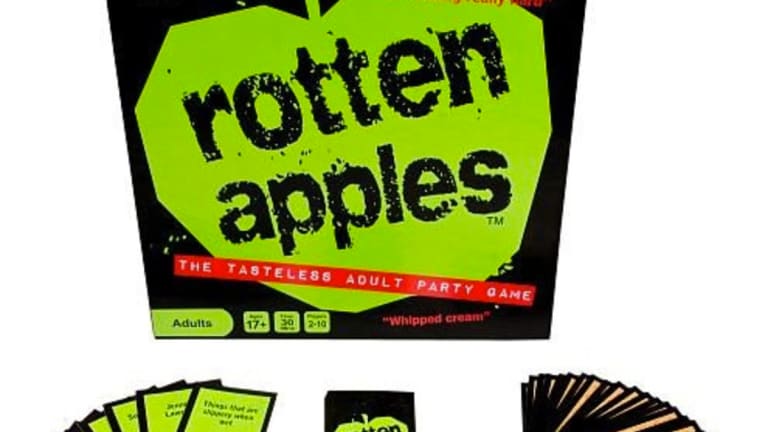 Girls' Night In: A Good Time with Rotten Apples
Call up a few of your favorite girlfriends and blow off some steam with a Rotten Apples game night.
Whether you love or loathe your family, after all the holiday festivities, you may welcome a break from them -- which makes January a perfect time for a Girls' Night In with a few of your favorite friends. For the first time ever on Momtrends, we are revealing the secret to a great G.N.I:
Combine a handful of fabulous friends + a few bottles of wine + chocolate + a fun activity
Some times we do a rom-com or DIY pedis, but this month, we gathered some of our good girl friends together to play a naughty game of Rotten Apples.
You may be familiar with that other Apples game....Rotten Apples is similar in how you play but decidedly more, ehm, adult.
We tried Rotten Apples during a recent Wednesday get-together. As you can see, we gathered all the important elements for this mid-week G.N.I. - a few bottles of Spiral red wine (a current affordable, everyday wine from Trader Joe's), a variety of chocolate nibbles including Bark Thins (of course - have you tried the pumpkin seed?) and a collection of our favorite friends.
After glass number one and some catching up, we got down to some serious game playing. Oh my....
Suitable for 2-10 players, each person receives 6-7 green cards with "answers" on them. Whoever goes first chooses one brown card and reads it aloud. Then each player submits the answer they think best suits the asker.
The great thing about Rotten Apples is that the only knowledge or skill you need is knowing your friends. If Alexis draws the "My guilty pleasure card?_______" "Whipped cream" could be just as right of an answer as "Brad Pitt" or "vampires". Winning the point depends on having the cards that best match the answer that particular friend would pick. Hilarity, shocking reveals and laughter guaranteed.
So this January, call up a few of your favorite girlfriends. Dish about the holidays, raise a glass to the new year, and blow off some steam with a game night. You'll recharge, have fun, and with Rotten Apples, learn a surprising thing or two about your besties.
Momtrends was not paid for this post. We did receive a game and gift card to create our GNI. This post may contain affiliate links. By clicking and shopping, you help support Momtrends and allow us to keep reporting on trends.
For even more Momtrends, follow us on Facebook, Twitter, YouTube, Pinterest and Instagram!