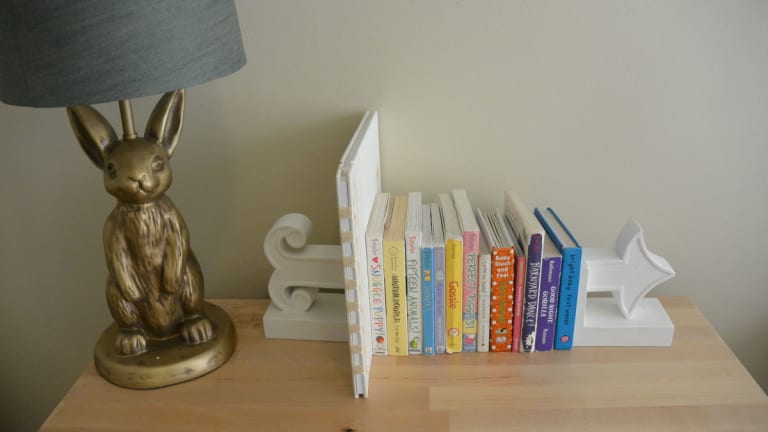 Designing a Gender Neutral Nursery
How to locate items that based on functionality and form, and less on color and characters.
With our third baby on the way in four weeks or less, I can honestly say that the nesting instinct has kicked-in! Since we decided to be surprised about the gender of the baby, we had some new challenges in creating a gender-neutral nursery. As the first time creating this type of nursery (I found out the gender of my two daughters), it was fun to locate items that were based on functionality and form, and less on color and characters.
Related: 10 tips for a greener nursery
We started by clearing out the girls' playroom, with thanks to family, helped us to donate, purge and consolidate our stuff that transformed into a functional and sweet nursery that I am really excited about. Here are some staples that we filled in this beautiful new room.
The Crib
The staple of this room is the beautiful crib from Numi Numi Design. This modern design is clean and unfussy making it a great pick for a gender-neutral nursery. As someone that isn't great with putting furniture together, I really appreciated their detailed and specific directions that didn't include that many steps. What resulted is a piece that is inspired by the city, the subway, and the space in between the skyscrapers that showcase everything that is NYC. In addition to the amazing design, I also love that the crib is made of highly durable NAUF (No Added Urea Formaldehyde) bamboo with finishes that are non-toxic.
Bedding
For the bedding, I opted for the fun and organic bedding options in yellow. This lovely set features a super soft organic cotton shell with no chemical flame retardants. This includes a yellow-striped collection that is made with low-impact and non-toxic dyes that is super comfortable and gentle on a baby's skin. 
Another bedding favorite is the collection of modern and chic sheets from Babyletto. Featuring beautiful designs, we love the In Bloom Fitted Sheets, a collection of red and blue stars and the cute Galaxy Sheet with its collection of robots and planets.
Mattress
As for the mattress, I used my younger daughters' Colgate Mattress from her toddler bed (she is now in a bunk bed). As a part of the Nuzzle Snuze line, this super comfortable crib mattress does not contain foam, coir, coils or any of the traditional components; but rather it features the revolutionary AirWeave, a spun matrix of totally recyclable, synthetic fibers that allows air to flow through their unique core to produce the most perfect microclimate for sleep and comfort. Unlike any other crib mattress available, the Nuzzle Snuze Line comes in a variety of unique designs in muted, fashion-forward colors. We also love how these unisex mattress designs provide an eye-catching gift for baby showers, as they complement the European, modern influence of AirWeave.
Decor
We wanted to keep the decor modern, yet classic where we opted for the Wee Alphas Print. We love this colorful collection of characters that gives the room some personality and charm with fun characters like Alexander the Angelfish, Biki the Buffalo, and more with the hidden alphabet. 
Lighting
With night feedings, we also wanted to make sure that we had a dimmer light where we opted for the chic and fun Emily + Merritt Brass Bunny Lamp from Pottery Barn Teen. Featuring a whimsical details, this cute and stylish bunny lamp was designed exclusively for PBteen by celebrity stylists and fashion designers Emily Current and Meritt Elliott. I love the fun antique brass and denim shade that also features a simple on/off switch to make night feedings (a little) easier. 
Furniture
In keeping with classic and modern style, we opted for a dresser and chair from IKEA. I didn't want to spend a ton on furniture and since I wanted to match the crib I was looking for really specific pieces that didn't look tacky. During a recent trip to IKEA, I loved the Mandal, a four-drawer chest that featured solid wood and white drawers. Not a part of their nursery line, I loved how modern this piece was that can transition beyond the baby years and offers ample storage for onesies and blankets.
Instead of a rocking chair, we opted for the Poang chair that went well with the room. We loved the neutral cream color that matched really well with the dresser.
MOMTRENDS PICK FOR NEW PARENTS
PIN IT!
Don't forget to save your fave baby gear and ideas on Pinterest and follow along with our Gear for baby and kid board!
Momtrends was not paid for this post.