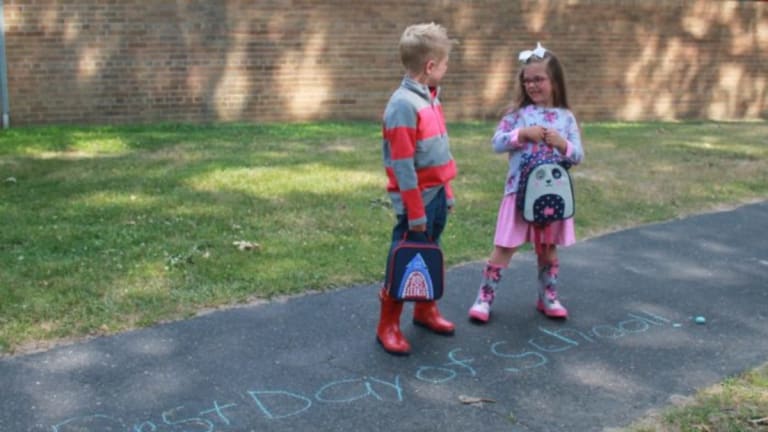 Back to School Shopping with Joules
Head back to back to school with Joules clothing for kids. We shared our top trends from Joules-everything from casual dresses to rain coats.
One of my most vivid memories of starting a new school year was our Back to School shopping haul. I loved to spend the day perusing clothing that suited me. My mom determined to get each of us a mix and match wardrobe that would last until spring, my sister and I making sure we made complete outfits before giving the final nod of approval. Once home we would put on a fashion show of all of our goodies, the excited anticipation rising as the first day of school approached.
Related: Get organized for Back to School with Mabel's Labels
Now that I am a mama to three littles I love to indulge my own children with the same tradition. I am always on the hunt to find styles that are unique, stylish and durable. I am usually hard pressed to find a brand that suits the style looks of both my son & daughter, but this time I hit the jackpot with a brand that is new to me, Joules. One look at their Back to School line and I was hooked.
Joules brings you quality pieces that pay attention to the details down to every last stitch. The clothing feels classic and refined yet each piece is cut in modern silhouettes that stay up to date with the current trends.
The Joules collection for girls is feminine, fun and the color palette just right. This floral and striped jersey sweatshirt dress is a healthy mix of fun and casual comfort without compromising on sweet style. The cut is perfect for the classroom and the playground, a must in all our clothing picks.
The striped accent cuff matches the striped skirt underlay of this faux two piece look. The sweatshirt top in the floral print keeps it from being sloppy all while maintaining the coziness you'd expect.
The Joules collection for boys is equally stylish, made with great, long lasting fabrics and just as easy to wear. For my son, the classic stripe half-zip sweatshirt feels updated with the accent at the neck, and the fabric is comfortable, soft and looks great even after a full day of school and play. The jeans are a great cut with just enough styled detailing on the back pockets.
Not only can you count on Joules to bring you back to school clothing, but their outerwear is just as cute. For him, I can't say enough about this packable jacket. I love the pop of color added in at the lining and hood. Don't let the lightweight material fool you, it can stand up to whatever winter throws your way without the bulk or over-bundled look. And, for her, not only do the zebras make any rainy day more cheery, the bright mix of colors draws you in and adds to the whimsy of this waterproof, Sherpa-lined coat.
Make sure your little one is top of the class with the Joules children's collection. Perfect for heading back to school in style, pick up pencil cases, lunchboxes, bags, coats and much more.
MORE BACK TO SCHOOL ORGANIZATION FROM MOMTRENDS
PIN IT!
Use Pinterest to save your favorite recipes. Be sure to follow our Back to School board for more tips.
This is a sponsored post. All opinions expressed are our own.
For even more Momtrends, follow us on Facebook, Twitter, Pinterest and Instagram.